DOUALA, 2 June 2023
At the reception after the funeral of Bryan Achou*, people commiserate about death of the young man, who was only 28. "He's a kid from my neighbourhood! In less than two weeks we lost two children. One was in the oceans between Turkey and Greece, the other was in Tunisia," one mourner exclaims, her face showing disbelief. "Really before 2035 this country would have been emptied of its citizens," another mourner replies. The year 2035 is a reference to the government's new paper, "Cameroon Vision 2025-2035", an outline of new plans by the 90-year-old autocrat, Paul Biya, to turn his ailing, conflict-ridden nation around. Judging by the resigned reactions to the remark, none of the people here believe that this is likely to happen. There have been so many plans since Biya came to power in 1982.
Those gathered here – businesspeople, teachers, office workers – are not starving. Nor are they directly affected by the armed insurgency that rages in the western part of Cameroon. But they understand why the youth wants to go, even if it means risking death.
Spiders and poisonous snakes
Shortly after attending Bryan Achou's funeral, I hear that a friend, Eva*, plans to leave the country via the American route: flying to Brazil and taking buses north from there, eventually reaching the Panama border jungle called the Darien Gap. From there she'll have to proceed on foot through hot and thick forest infested with poisonous snakes, spiders, and criminal gangs. Survivors of the 80-kilometre trek through the Gap have described it as "littered with bodies." Eva knows all this, since a friend of hers died in the Darien Gap not long ago. "Yet, I'll try," she says.
The American dream: making it from Cameroon to the USA

With the European route becoming more and more difficult, Cameroonians are increasingly embracing the American dream. Of 5,000 African immigrants who were apprehended at the border between Mexico and the USA by US customs border control in 2019, nearly half were reported to be from Cameroon. Of immigrants detained by Mexican border police, half of that number were Cameroonian, too.

The trek to the USA however, is as dangerous if not more dangerous than the one over the Mediterranean. Looking back, Anyu Clovis*(29), who made it to the US where he is currently seeking asylum, recalls: "I went via Abuja, Nigeria by taking a flight for what I thought was Guyana, the place I had a visa stamp in my passport for. However, the plane landed on the Caribbean Island of Antigua. The agent explained that the Guyana line had "gone wrong in the last minute, because the visa was fake."

Ever new agents

The transit on Antigua, where over 600 Cameroonians amassed and that was supposed to have been a matter of days turned out to be four months. "To date there are still Cameroonians there trying to find a way out of the island," Clovis says, as he narrates how his group eventually got to Guyana, from where he and the others then kept paying ever new agents for further transport, first to Brazil by bus and boat across a river; then by bus to Peru, then Ecuador, then Colombia, being helped across borders by 'agents' every time. "There were people from many different countries being smuggled alongside us."

The infirm are left on their own

In Colombia, the dreaded Darien Gap, -a rough jungle which one must cross to enter Panama-, awaited. And even though the smugglers operation was, according to Clovis, still "very organised," with "scouts and hotels ahead, continuous communication and tracking of police movements," the trip became deadly for some. "There is no time to wait for the incapacitated, the infirm or those not strong enough to push on. They are left on their own. Corpses fill the banks rivers, robbers attack migrants, those not able to swim, die." In the end, with new agents waiting at crucial points and demanding new payments, Clovis paid US$ 20,000 for a trip -partly financed by his mother- he was made to believe would cost half of that.

"Every mother wants to see her children successful in life"

Nevertheless, he would still have gone if he had known all that awaited him, he concludes. "There were moments that I wanted to turn back, but couldn't because of so much money that was spent already. Still, I also knew that the future (in Cameroon) would also be bleak because of the corruption. It's not like my parents were not aware of the dangers on the road, but every mother would want to see their children successful in life."

See also 'From Angola to America", by Pedro Cardoso, here.
But while stories of missing Cameroonian migrants flood the media, and the risk of death is clear to all, many still nurse their desire to leave. Asking around in Douala, I find that seven out of ten young Cameroonians would prefer to go abroad rather than stay. My interviewees are all aware of the dangers of migration, but the success of some Cameroonians abroad, like the prominent athlete Nganou, inspires hope. "If Nganou can, I can too," says one of my interviews.
Many of those who "made it" confirm to those back home that what they went through was better than staying. "There is no hope in Cameroon. I felt like a dead man (when I was there) and therefore I was no longer afraid of death. Why should I be afraid, when back home, people live just to die?" asks young Cameroonian Njoya, who "made it" to Berlin, Germany after he had almost drowned together with other migrants when their boat sank in the Mediterranean. They were saved just in time by what he calls a "European safety ship" and now await their asylum applications.
"I felt like a dead man back home"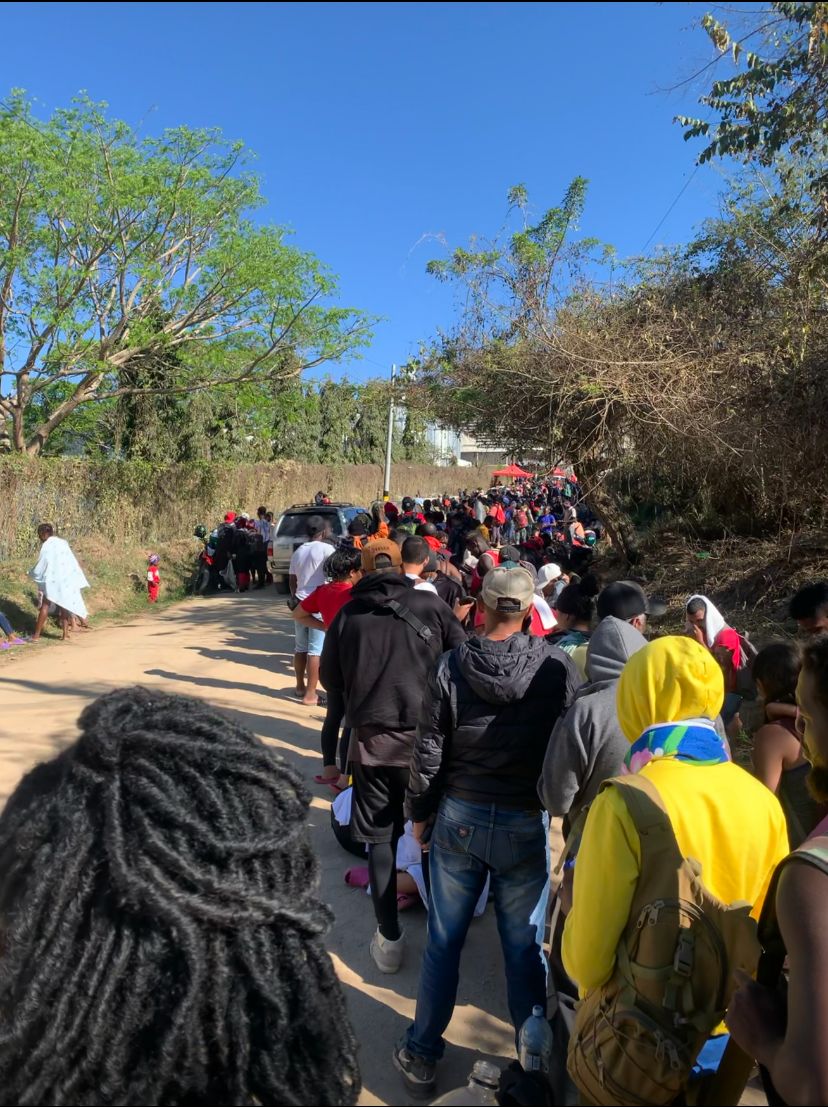 Remittances
The hope to "make it big" elsewhere, one day, could even be said to be the one thing that keeps an important portion of Cameroonians going. In some ways, literally: the country's economy received close to US$300 million dollars in remittances from citizens in the diaspora in 2021 alone, while the production of passports in Cameroon in that year, at a rate of 1,500 per day at a price of US$180 each has created a turnover for the state of US$270,000 per day.
For the rest, prospects for economic revival have evaporated under the iron-fisted rule of President Biya and his political elite, under whose reign unemployment has surged. The cost of living is now exorbitant in this oil-producing country of more than 27 million people, where opposition and dissent are repressed and multiple humanitarian crises spread like the plague. Besides recent the conflict between separatists and government forces, which erupted in the country's English-speaking regions in 2016, Boko Haram insurgencies affect the Northern regions. According to Human Rights Watch reports, over 700,000 persons have been displaced.
"The answer to most asylum seekers shall be negative"
But as Europe further closes its borders and rejects migrants, more die. And for those who make it, even claiming asylum is becoming a dead end fast. "Previously Cameroonian asylum seekers in Belgium were around 400 annually," said Belgian Immigration Office Director, Freddy Roosemont, whom I met earlier this year when he visited Cameroon's capital Yaoundé. "Then last year in 2022 it was 800, and within the first six months of 2023, the figure had risen to 1,000 asylum seekers from Cameroon to Belgium alone. Belgium cannot cope with the rising number. So the answer to (most) asylum seekers shall be negative."
Scammers and blackmail
As legal visas are becoming harder to secure, human smuggling syndicates and scammers have been widening their nets. Later in 2023, I meet two young women who have just returned, traumatised and penniless, to Douala from Lagos, Nigeria. They tell me, crying, that the man who promised them a trip to the United States abandoned them in Lagos, and that they had a terrible time making their way back. They had trusted the man, they say, because he was so well-dressed and well-spoken. He had said he was a doctor in America and he really wanted to help them have a bright future. They had paid him a "down payment" of one million CFA francs, around US$ 1650, each, for the promised visa.
A few weeks later, the French vice consul, Christian Hué, is found dead in his villa in an apparent suicide, amid allegations that he has been blackmailed into issuing close to 500 visa by a Cameroonian businessman. "Unofficial sources" have told local media that Hué was pressured "with sensitive information" into doing so by a Cameroonian businessman who has a history of fraud. The man is arrested on 13 September, arriving back at Douala airport from France, facing allegations that he charged his clients US$6,000 per visa, netting him close to US$3 million. Media reports link the man to powerful government and elite circles, as well as to French construction multinational Bolloré (1), which has a large presence in Cameroon. He is released soon after his arrest.
Neither the police nor the French consulate have commented on the case so far, but visa issuance to France in Cameroon, already down after a spate of anti-French rumblings in the region, appears to have come to a complete halt after the affair. "The latest events have not helped the situation," a French diplomat who requested anonymity confirms.
A 2023 report by the US State Department's Office to Monitor and Combat Trafficking of Persons, mentions "corruption and official complicity in trafficking crimes" as "significant concerns" in Cameroon, while a recent investigation by the Museba Project uncovered involvement of Cameroonian state and UNHCR officials in a scam whereby would-be migrants were sold fake refugee papers.
The returnee project has stalled
Cameroonian socio-political critic and journalist Ashu Akepe feels that migrating is not the right thing to do. "The huge amounts of money spent on these trips could be used in trading back home," he says. "But people are spending their wealth in exchange for dreams. Youth have been brainwashed by their peers who have already travelled, they think the best life is elsewhere, irrespective of the route. A chunk of diasporans don't tell the truth. Many have left and have regretted it."
The view that individual wealth could be invested to make a future within Cameroon has formed the basis of a returnee project led by Germany-based Cameroonian migrant and entrepreneur, Miranda Oben. According to her Facebook page, Oben's plan was to invite Cameroonians who had built up businesses abroad to come and invest back home, and also to encourage foreign investors to sponsor home-based projects. The vision was ambitious: to entice no less than 90% of the estimated over 100,000 Cameroonians residing in the West to return, build businesses, and create prosperity.
Oben's project began in 2017. Success stories were initially celebrated at events with the participation of Cameroon's GICAM chamber of commerce and on Oben's Facebook page, apparently including a returnee who opened an eye clinic in Yaounde, one with a tech company, and "a pioneer in the sector of healthy and processed baby food Made in Cameroon." However, according to project coordinator Kristelle Asek, the project, whose website is now offline, has stalled since 2020 "due to COVID and the armed conflict in the country." Neither Asek nor Miranda Oben responded to questions about the investments, records and successes of the project between 2017 and 2020.
Broiler chickens
There are also European-funded projects, managed by the International Organisation for Migration (IOM), that aim to return Cameroonians who have been trekking north on their way to the Mediterranean to their home country. According to the IOM, 5,450 migrants have been "enabled to return and reintegrate … under the EU-IOM Joint Initiative for Migrant Protection and Reintegration" between 2017 and 2021. In a report covering the period between January and June 2021, the IOM reports that 233 Cameroonians benefited from its "assisted voluntary return and reintegration programme" in those six months. The organisation notes that this has been "far from a smooth ride" and that "there are lags for some reintegration projects because of lack of constancy and/or dedication of some returnees applying for socioeconomic reintegration." Quoting a returnee identified as Arnaud, 31, who returned from Algeria in January this year, and who "initially faced a tough time" but now "keeps and sells broiler chickens," the report says that, in his case too, "challenges remain."
While the figures published by the IOM hover around just over 1,000 returnees per year, eight times more – 8,115 Cameroonians – left to apply for asylum elsewhere in 2020 alone, in the overwhelming majority of cases outside Africa. (Only around 600 asked for protection in fellow African countries.) It is not known how many perished or were left without means to continue their journeys. It is also not known what happened to the 67 percent – 5,437 individuals – whose applications were rejected.
The deported returnees suffered persecution
Human Rights Watch, meanwhile, has reported that between 2020 and 2022, 80 to 90 failed asylum applicants to the US who were deported back home to Cameroon suffered persecution and other serious human rights violations as soon as they were back in their country, with some saying they were arrested, beaten, and raped by gendarmes afterwards. 
Fighting the injustice
Prominent opposition leader and civil rights activist Kah Walla sees little point in returnee projects for the time being. In her view, it is logical that Cameroonians want to leave. "They have failed us for 40 years," she says angrily, meaning the government, rolling up her sleeves as if for a fight. "No one leaves their home if it is comfortable. (…) If I believe that, for my survival, I need to leave my country, I will use every means to do that. It is this scenario that puts our children in peril."
Walla has been at the forefront of the fight against corruption and social injustice in Cameroon. She withdrew her Cameroon People's Party (CPP) from all political activities after the 2011 election, saying that she "won't take part in an election organised by a corrupt dictatorial system carefully crafted to maintain the regime in power" and doesn't see the situation changing any time soon. "As long as we are in this regime, things will continue to get worse and more and more people will leave," she says.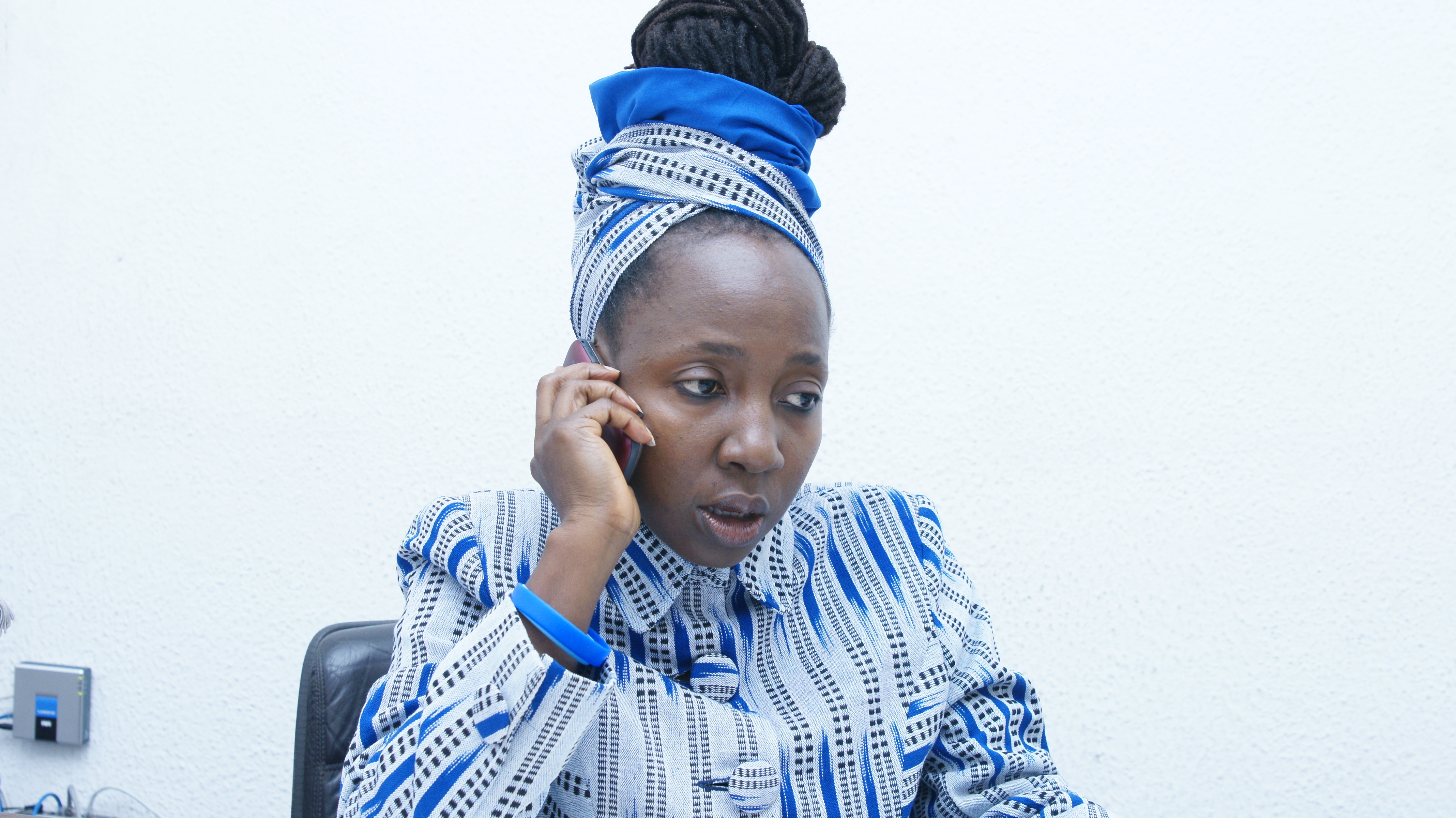 Her NGO, Stand Up 4 Cameroon, advocates for the international community to help local democratic forces and stop un-monitored development aid that lands in the pockets of the Biya regime. Their pleas fell on deaf ears recently when the IMF, contrary to activists' specific demands, again extended a massive US$300 million grant to the Cameroonian government (see 'The IMF is complicit' here). She still hopes that the international community will come to support the democratic forces in Cameroon, however: "If we can change the regime and rebuild our country, even people who have emigrated will come back."
A fellow Cameroonian pro-democracy activist, when asked how he feels about Western concerns that breaking with African regimes would lead to a tighter embrace between these regimes and Russia or China, asked in return: "But why can't they just support us?"
"It is better to die trying"
Bike courier Elia Kowam is preparing to leave for the US, he tells me as he texts on his mobile during one boring afternoon in Douala. He has been in talks with his elder brother in America about his plans. Asked if he was not afraid to die, Kowam calmly responds: "Living in itself is a risk. It is better to die trying than not to try. Some survive, some do not, but still it is worse if one does not try at all."
Even I am presented with temptation on a visit to Europe (with a visa I suffered to secure). On my outward flight, an elderly man in the seat next to me tells me not to go back. My flight companion tells me he has lived in France for close to 25 years, and that it is "definitely better" for me to find a place to live anywhere in Europe, than to return home to continue suffering.
I have returned home since.
Note: The French multinational Bolloré was earlier mentioned in ZAM's Martinez Zogo project as linked to a Cameroonian recipient of suspicious French state treasury payments. The individual in that report heads a local Bolloré subsidiary and uses a Bolloré email address.
*Names with asterisk have been changed for reasons of privacy and security.

Read all the investigative articles in this series:
• Introduction: Migration is not the West's problem, it is Africa's
• The full investigation in 4 parts: Losing Hope (Part1), Cash Cows (Part 2), Brain Drain (Part 3), Paying Dictators (Part 4)
• Five Countries: Cameroon, Kenya, Nigeria, Uganda, Zimbabwe
• Essay: The West's Slavery Apology Rumblings Are a Cynical Diversion