Zimbabwe's émigrés deliver billions into an ailing economy
"One of the most painful realities of being a teacher in Zimbabwe is that you cannot afford to give your own children a decent education," says Obert Masaraure (39). Masaraure is a teacher and a trade unionist, as well as a parent with three school-going children. He adds that the average teacher salary in his country, between the equivalent of US$200 and US$300, is "too little to even feed your family, or provide clothing and healthcare, let alone pay school fees. Many teachers at present often walk out of the classroom and venture into street vending, which is unfortunate."
This is why, he says, a whopping 95 percent of teachers surveyed in November 2022 by the Amalgamated Rural Teachers' Union of Zimbabwe, of which he is president, stated that, if given an opportunity, they would leave Zimbabwe.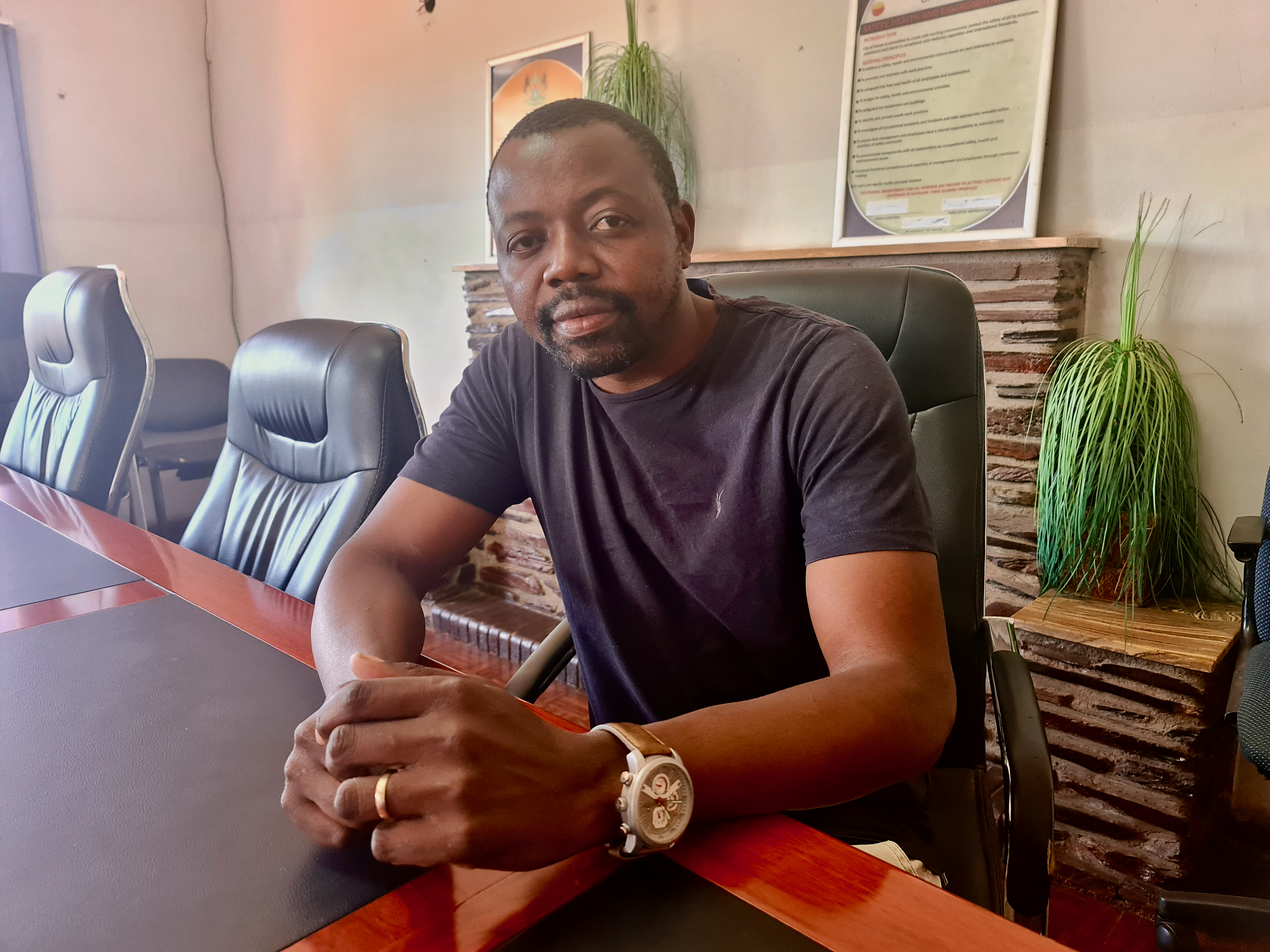 "Grossly understated"

There are no reliable statistics on the number of Zimbabweans who have left the country. The Zimbabwe National Statistics Agency (ZimStat), in its 2022 Population and Housing Census, said only 908,913 Zimbabweans, less than one million of its 16 million population, live abroad, with 773,246 in South Africa, 47,928 in Botswana, and 23,166 in the United Kingdom. Some civil society groups argue, however, that these official numbers are grossly understated, estimating that as many as one third of all Zimbabweans could now be living outside the country. The research organisation Afrobarometer estimates that currently, between three and four million Zimbabweans are living abroad, with South Africa alone hosting "perhaps more than 2 million." An Afrobarometer survey in 2017 found that almost half of Zimbabweans have considered emigrating, and a survey in 2022 found that 72 percent of Zimbabweans felt that the country was going in the wrong direction.
Masaraure remembers the "golden era" just after the country gained independence in the 80s and 90s, when educators were proud members of a new and vibrant middle class. Back then, when the country's economy was relatively stable and hyperinflation only existed in economics textbooks, the average teacher could afford to buy a house in the suburbs, own a car, provide for a family, and even save enough money for an annual vacation.
"The ruling elites are stripping the nation of all wealth."
Having grown up during that period, he later witnessed the downfall of Zimbabwe, in his view mainly due to "bad governance and unethical wealth accumulation by politicians."
Zimbabwe is not poor. The country boasts some of the world's richest gold and diamond reserves, not to mention lithium and other minerals that are in high demand worldwide. But the proceeds don't tend to reach state coffers; many reports and documentaries, such as Al Jazeera's Gold Mafia have exposed how the income is routinely appropriated by prominent individuals in the ruling ZANU PF.
"The ruling elites are stripping the nation of all the wealth," Masaraure says angrily. "They even facilitate the looting of our natural resources by foreign multinational companies. We, as teachers and other professionals, are taxed heavily, but ministers get salary packages of around US$500,000. We fund their private jets and (other) luxuries."
Charges and beatings
Masaraure is currently facing murder charges, levelled against him by the Zimbabwean state in the case of a man called Roy Issa, who died after tumbling over a hotel balcony in Harare in 2016. But Masaraure had never been a suspect in the case, and an inquest had already arrived at a verdict of "death by misadventure." Amnesty International has taken up the case, defending Masaraure as a victim of political persecution. (See also here.)
This is not the first time that Zimbabwe's judicial and security forces have acted against the combative unionist. In November 2018, he says, "They broke into my house looking for me when I wasn't home. The same thing happened again a short while later. A third time, in January 2019, they found me at home, and beat me in front of my family. They had AK47 rifles." Masaraure had apparently irked the authorities by giving an interview with Studio 7, a local channel for the US-based Voice of America. "I had said that Emerson Mnangagwa is worse than Robert Mugabe (whom Mnangagwa replaced through a coup in 2017). They were going on about this, saying 'that's not true, you're lying to the world'."
A colleague said he was lucky to be out of Zimbabwe
Later in 2019, after his union had held protest marches against the high cost of living and low salaries, Masaraure was charged with inciting teachers to "commit public violence" and "subverting a constitutionally elected government." Recently, on 31 May 2023, while out on bail, he had to appear in court again on yet another charge, this time for "tweeting a message meant to prejudice his pending trial." The tweet pertained to a statement made by Masaraure in support of his union's secretary-general, Robson Chere, who has also been charged in the Roy Issa case. In the statement, Masaraure encouraged the public to write to the president demanding Chere's release; to write to the International Labour Organisation with regard to the case; and to join a "Black Tuesday" protest by wearing black and sharing pictures online in support.
After briefly breaking down and crying during the ZAM interview, he composes himself and shares a message from a colleague who landed a job in the United Arab Emirates. "He was saying how lucky he was to be out of Zimbabwe."
Masaraure fully understands the teachers who join the brain drain, he says, going for job offers abroad. "Here, you cannot feed yourself and when you raise your voice, you're punished. We can't have a dignified life in Zimbabwe."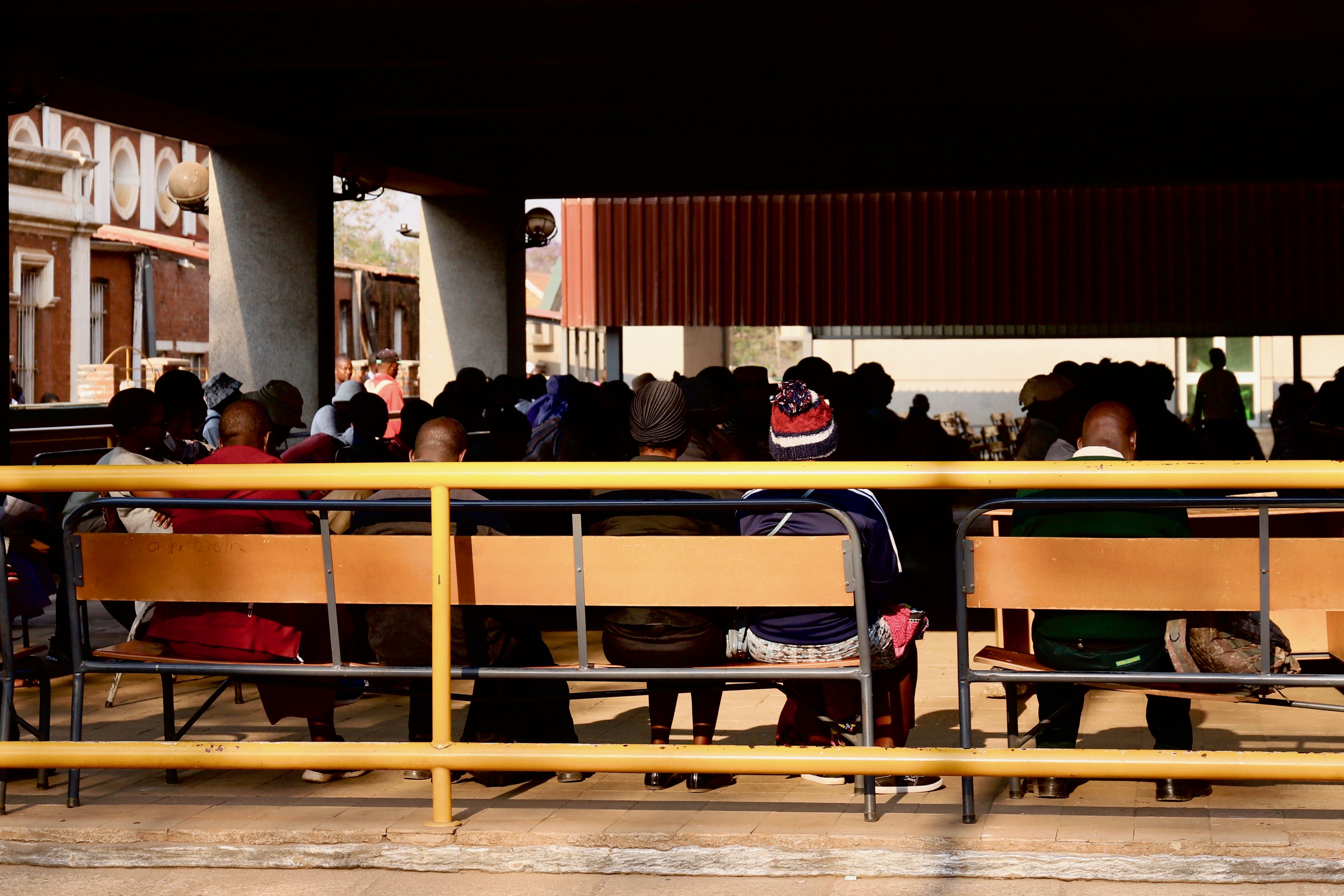 Brain drain
Though many lesser-skilled Zimbabweans also leave the country, usually crossing illegally into South Africa, the government is mostly concerned about the brain drain of skilled professionals, who, according to ZimStat's official 2022 census, make up 58 percent of all emigrants. It has complained that rich countries are fuelling a brain drain by unfairly "poaching" workers, and has even gone to the UN to demand compensation for the loss of medical personnel, who are emigrating in droves to countries like the UK.
Recently, the World Health Organisation included Zimbabwe in a list of 55 "red flagged" countries from which developed nations have been asked not to hire healthcare workers, since these countries have "fragile health sectors" and need "human resources" (see also here).
Without responding directly, the UK government has since published a revised health sector recruitment code that says that "health and social care organisations in England do not actively recruit from those countries the World Health Organization recognise as having the most pressing health and care workforce-related challenges" (which includes most African countries) "unless there is government to government agreement to support managed recruitment activities."
Crocodile tears
Nevertheless, doctors and nurses have continued to exit Zimbabwe's dilapidated hospitals, prompting an Al Jazeera correspondent to remark, "It is futile to blame the UK when Zimbabwe bears the lion's share of responsibility for the crisis it now stares at." The tears shed over doctors leaving by a government that presides over hospitals without medicines or medical machines for doctors to work with may to some indeed evoke the image of a crocodile, the nickname of Zimbabwe's president Emerson Mnangagwa.
The concern seems lost on the thousands queueing for passports at Makombe Building, the headquarters of Zimbabwe's National Registry on the fringes of central Harare. On any given day, people who can afford the hefty US$120 (for a seven-day wait) or US$220 (express) passport fee wake up in the wee hours of the morning to join this queue, hoping to be attended to on the same day.
The applicants are afraid to talk
When our team gets to Makombe on 18 May, we find that many of the mostly young applicants step away as soon as we introduce ourselves as journalists. The fear of talking in public has heightened since 23 December 2022, when the Criminal Law Codification and Reform Amendment Bill (commonly referred to as the "Patriotic Bill") was published in the Government Gazette. The law criminalises "wilfully injuring the sovereignty and national interest of Zimbabwe," a crime which, according to its stipulations, can be committed by being critical of the government. Amnesty International has described the law as "a grave assault on human rights."
"I don't want to get into trouble. They will deny me a passport if you take a picture of me here," says a lady in her mid-20s, shielding her face from view. Those who do open up about their personal situations only do so on condition of anonymity, but their stories are all similar: they want to acquire a passport and leave Zimbabwe at the earliest opportunity. At the time when we are here the general elections have not taken place yet, but it seems those gathered here are already planning to vote with their feet.
A statement from the Registrar-General's office in December 2022 reveals that passports are prepared at a rate of 5,000 a day. A simple calculation shows that this translates to a daily income of at least US$600,000 for the fiscus.
Zimbabwe's leaders don't allow émigrés the vote
This means that, even if the government complains about people leaving, emigration itself is a massive cash cow for a financially crippled government saddled with a US$17,5 billion total debt. Zimbabweans lucky enough to have relatives abroad also benefit from the emigration: remittances, calculated at US$2 billion a year, provide a much-needed boost to the starving economy.
But no matter how much the government and the country's economy depend on emigration and the diaspora, Zimbabwe's leaders are not allowing émigrés the right to vote. They only allow this to diplomats, civil servants, and members of the armed forces, in a violation of the Constitution which stipulates universal adult suffrage. In terms of section 23 of the Electoral Act, citizens must satisfy the so-called residence qualification, which means that a prospective voter must be a resident in that constituency at the date of his or her claim for registration. In the period before the general elections of August 2023 many civil society groups asked for the law to be amended to allow the diaspora to vote, but the ruling Zanu PF ignored these demands.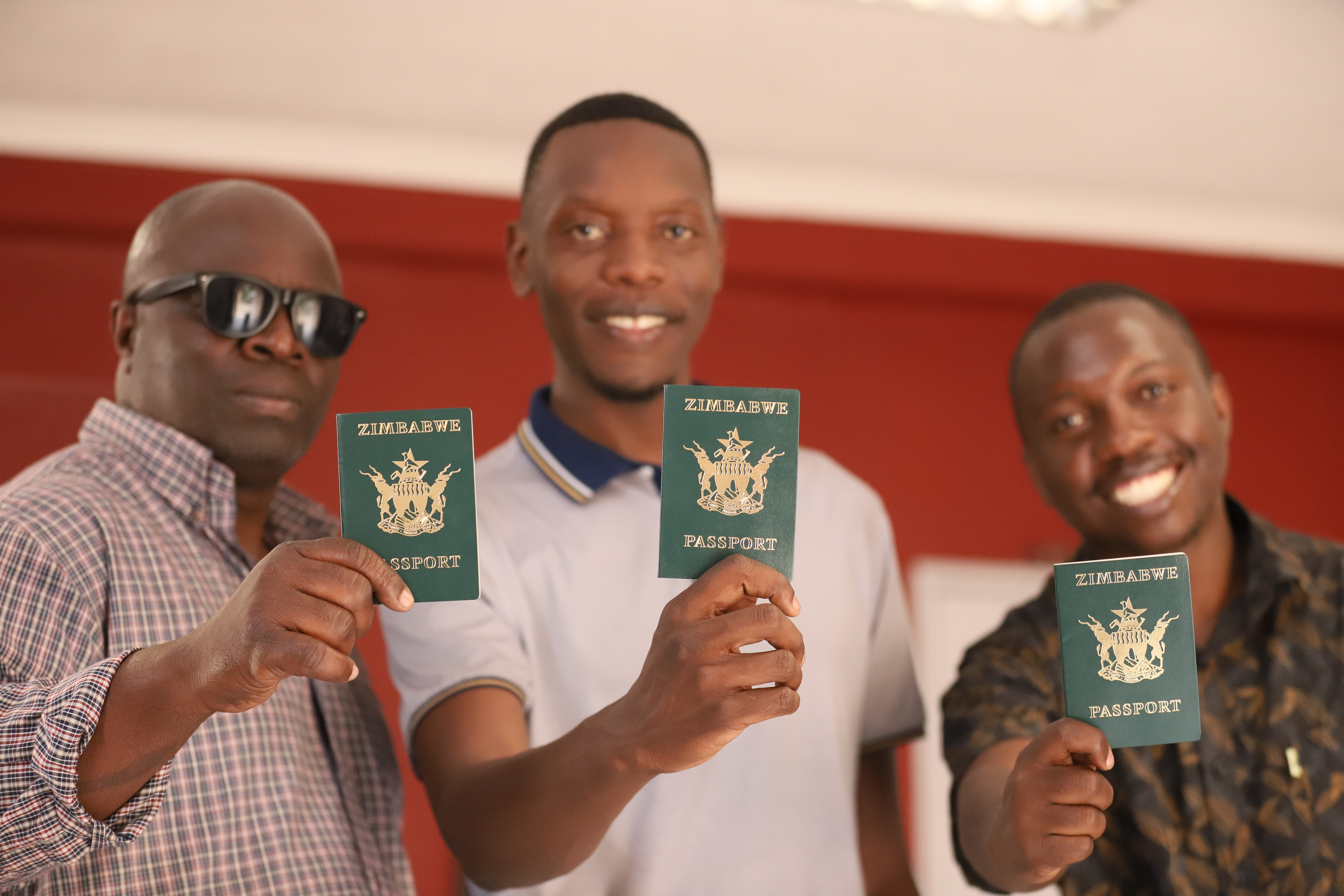 Leaving for Mozambique and Malawi
Meanwhile, Zimbabweans have become so impoverished that, next to moonlighting teachers, university graduates too have no choice but to work as street vendors: selling fruits, second-hand clothes, newspapers and airtime cards, says Boris Muguti, president of the Zimbabwe National Students' Union. Muguti adds that, in his view, President Mnangagwa's government, which heralded a "New Dispensation" after the coup against Robert Mugabe in 2017, has failed. "Instead of building a stable economy, government officials and their sidekicks are busy looting our natural resources for their personal gain," he says, echoing the words of Obert Masaraure. "Young people emigrate even to countries which were considered less developed than Zimbabwe a few decades ago, like Mozambique or Malawi."
A handy border fence

For decades, South Africa has been the biggest destination for Zimbabwean migrants who are fleeing their country's economic deterioration. But in that country, which is facing its own economic stress and governance and corruption issues, Zimbabweans have in recent years increasingly been targeted as scapegoats. As a result, xenophobia has escalated, and reports of violent attacks on foreigners, accused of stealing jobs from locals, are widespread. The South African government has meanwhile failed to fortify its border with Zimbabwe. A flimsy border fence at South Africa's northern Beit Bridge border crossing — exposed in South African media as a corrupt moneymaking venture — has reportedly already been vandalised. People living on the border now use the material for fences around their own homes.
"We're all in trouble"
Even those working in the state are complaining. As the clear blue autumn sky allows the sun to drench a backyard restaurant in a warm glow, public sector workers gather here to fork out US$1 for their lunch. It's a lot for those who, like teachers, earn around US$300 monthly, but an unlicensed eatery such as this one (many have sprouted up in the Zimbabwean capital in recent years) is still among the cheaper options. As a middle-aged man in a necktie is tucking into a piece of beef dished by the cook into a takeaway container in return for his banknote, I eat mine next to him. After some chitchat about the weather and football, he confirms he is indeed a public servant. The situation is "painful" he says, even to him. "We're all in trouble. We can't afford food, rentals, or bus fare. Every shop is demanding payment in US dollars, when most people are earning wages in Zimbabwe dollar currency."
Though the government's statistics bureau, ZimStat, lists the year-on-year inflation only at 86.5% as of May 2023, Steve Hanke, a hyperinflation expert at Johns Hopkins University, has calculated it at 1,220%, the highest in the world.
Congratulations
When in the elections of 23 August 2023, -widely condemned as fraudulent-, ZANU PF wins again, Zimbabwe Twitter is awash with messages that address its neighbour South Africa, where president Cyril Ramaphosa has congratulated his counterpart Emerson Mnangagwa on his win. "I congratulate you too; on the number of Zimbabweans coming illegally into your country soon," one says.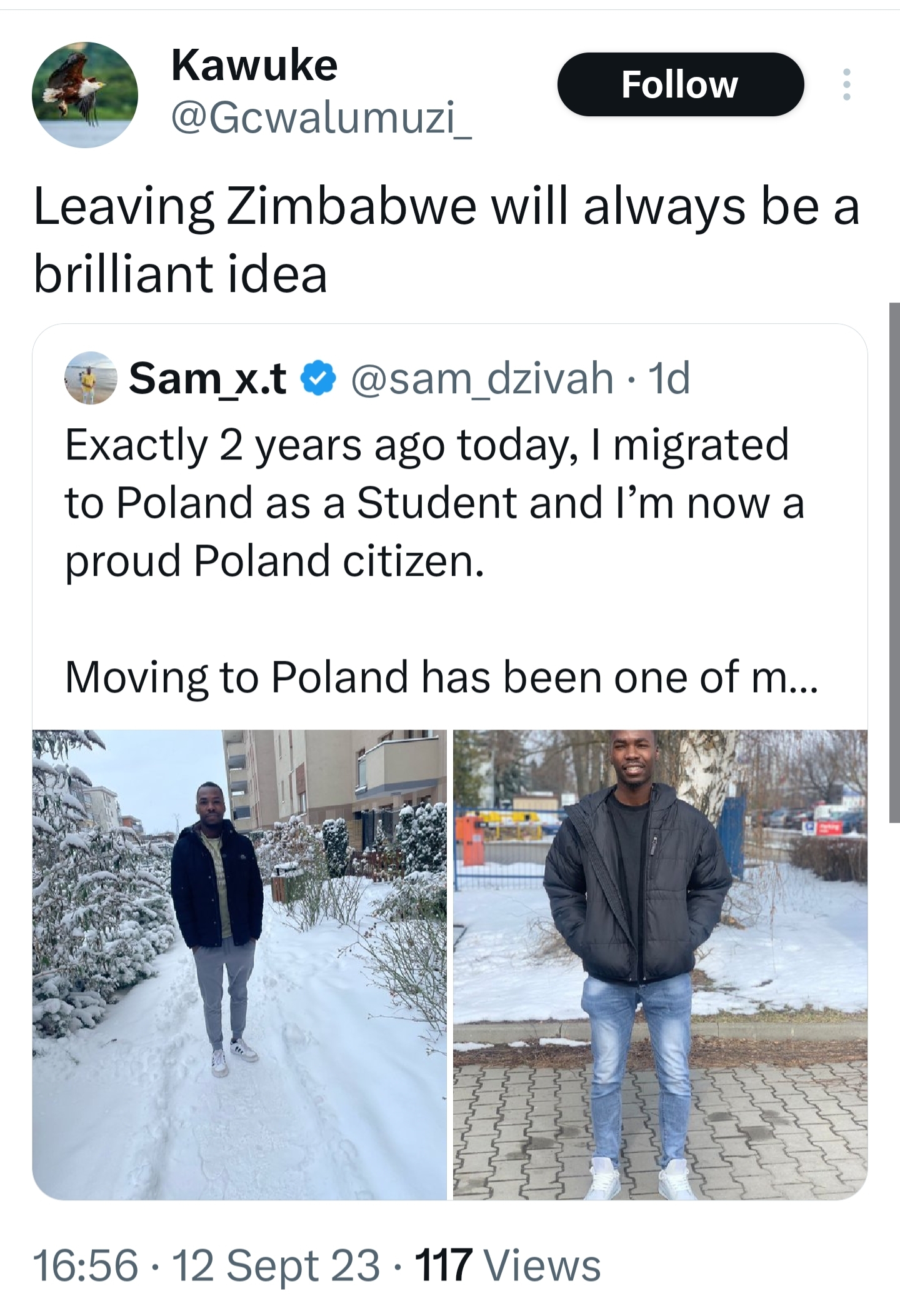 The presence of (according to Afrobarometer) one to two million Zimbabweans who have come to South Africa in the past decades has been the target of political scapegoating by South African populist politicians, who have orchestrated hate campaigns against Zimbabweans, accusing them of criminality. The Twitterati in Zimbabwe are well aware of this, referring to the hateful sentiments in their messages. "But we are still coming," they say. "If you have an opportunity to leave, please do so," the Newshawks T account darkly states after elections results have been made public. "Life is too short."

Read all the investigative articles in this series:
• Introduction: Migration is not the West's problem, it is Africa's
• The full investigation in 4 parts: Losing Hope (Part1), Cash Cows (Part 2), Brain Drain (Part 3), Paying Dictators (Part 4)
• Five Countries: Cameroon, Kenya, Nigeria, Uganda, Zimbabwe
• Essay: The West's Slavery Apology Rumblings Are a Cynical Diversion