Before 1995, very few Cameroonians outside his immediate family and friends knew much about Jean-Pierre Amougou Belinga. A man of simple beginnings, born in 1965 to farmers in Cameroon's central region, Belinga moved to the capital Yaoundé as a young adult and found a job at a newspaper, where he was mentored by its editor, Gilbert Baongla. Baongla was famous for calling himself an (extramarital) son of President Paul Biya – remarkably, without ever being officially contradicted.
It's not known if that is where Belinga learned how to make friends and influence people, but that he did learn these skills very quickly is common cause in Cameroon. Urban legends abound about his tactics, reported to range from recording conversations with highly placed officials and ministers, to even imitating the voice of the president, always with the aim to get favours.
A list of "homosexuals"
Belinga's breakthrough in this regard came in 2006, when he burst onto the national and international scene with the publication in L'Anecdote of a list of fifty alleged "homosexuals" in Cameroonian high society.
The list, which included ministers, general managers of state corporations, clergymen and media celebrities, almost caused a cabinet reshuffle, as conservative public opinion demanded that the outed ministers be "flushed out." But soon all went quiet. The ministers and senior officials who had threatened court action against Belinga did not follow through, save for one, labour minister Gregoire Owona, who eventually won his court case for defamation.
Telesud
In 2020, Belinga himself managed to get his former editor, Gilbert Baongla -president's son or not- convicted and jailed for two years on a defamation charge. The defamation in question concerned public comments Baongla had made on Belinga's acquisition of a Paris-based TV channel called Telesud, which says it caters for the European diaspora audience. Baongla had said, inter alia, that he had proof that the sale was facilitated through a Cameroon government grant and that this was a case of money laundering.
Baongla wasn't the only one who made negative comments about the deal. Other media in Cameroon also expressed shock, mostly at the amounts involved in the acquisition, which were reported to range from close to €2 million (as per a letter purportedly signed by the Cameroonian embassy in France) to €50 million (according to media reports based on unnamed sources). A commentator on the website Actu Cameroun was outraged that "millions" were used to pay salaries for staff based in France "for a channel that nobody watches." But the only one sued by Belinga this time was Baongla, who had additionally accused Belinga of "smuggling" as well as "spying" for his government minister friends. Belinga has won other court cases, for defamation and on other charges too, even when odds were said to be against him, which may or may not have something to do with widespread reports that the media tycoon's main ally in government is long-standing Justice Minister Laurent Esso.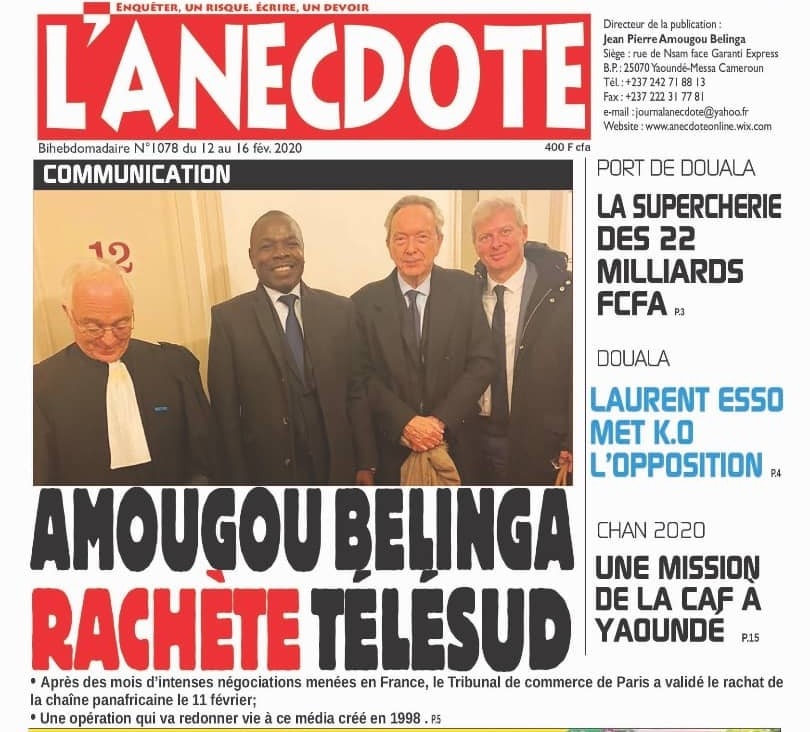 "He should be applauded," said the minister
In the media noise around the Telesud deal, a second government minister and friend of Belinga's came out to support him. In response to questions in parliament, finance minister Louis-Paul Motaze said the esteemed representatives should "applaud" Belinga, because he as a Cameroonian had had the "ambition" to "buy assets in a place of the whites (chez les blancs)."
Belinga came out on top again when Cameroon's tax authorities, from 2021 onwards, tried to get him to pay dues on undeclared income to the equivalent of around US$ 50 million. After first negotiating partial payment of the debt, the media man then counter-accused the clerks who were dealing with his case of extortion, saying that some of them had offered "to make the case go away" in exchange for money. The tax officials were briefly jailed on this charge but then released. Recently, however, in a surprising win for Belinga from prison (where he is now, on charges connected to the murder of Martinez Zogo), the tax officials have been convicted and jailed again.
Street fights
In his long career, the businessman has also been reported to be involved – allegedly through hired men – in street fights and violence. The murder of a young man called Bryan Formbor, the ex-boyfriend of a Vision4 TV anchorwoman reputed to be Belinga's protegée, saw Belinga briefly interrogated, charged, and in jail for several days in 2020. The woman, Ivana Essomba, is currently standing trial with a group of co-accused.
In 2022, one of ZAM's own reporters in Cameroon, who had written a critical story about him, was accosted at his front door and beaten up by men who claimed to be working for Belinga.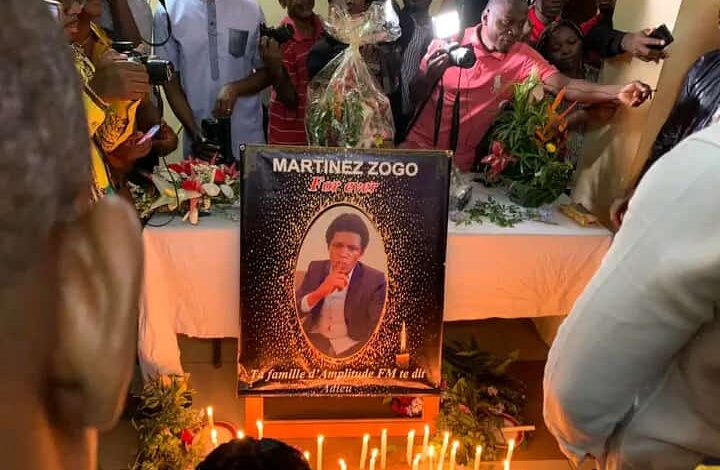 Members of the Cameroonian media pay homage to the late Martinez Zogo.
The ZAM and NAIRE Arizona Project

The Arizona Project model dates back to 1976, when Arizona Republic reporter Don Bolles, who had been working on stories about land fraud and the Italian-American mafia in Arizona, was blown up in an explosion caused by TNT that had been placed under his car. In response to the murder, Investigative Reporters and Editors (IRE) in the US put together a team of 30 reporters who gathered in Phoenix to finish Bolles's story. It was the first large-scale collaborative investigative journalism project in history.

After the murder of Martinez Zogo, the Network of African Investigative Reporters and Editors (NAIRE) initiated a discussion with ZAM on the possibilities of carrying out an Arizona Project in Cameroon in order to assist colleagues under siege in that country and retrieve important information. ZAM agreed to use its office as a base for the coordination.

The decision to send colleagues into Cameroon was not taken lightly. It would be risky because of the danger of violence, detention, and torture for which Cameroonian security forces are known. However, NAIRE found members willing to go regardless. They were Selay Kouassi from Ivory Coast, David Dembélé from Mali, and Bram Posthumus, also based in Ivory Coast. They were to work in close contact with Cameroon-based colleagues, who had access to information but could not be exposed for their safety. These colleagues, as much as ZAM and NAIRE would like to credit them in full, cannot be named for the same reason.

Investigations editor Evelyn Groenink worked full-time in the ZAM back office to coordinate the project, serve as liaison, and edit the results.

When the team discovered that illicit financial flows from Cameroon to foreign countries were a crucial factor in the murder of Martinez Zogo, international partners in the Global Investigative Journalism Network (www.gijn.org) were also ready to help. These were:

• The Investigative Reporting Project Italy, in particular reporter Edoardo Anziano, who dived into the case on the Italian side.
• Premium Times reporter Kabiru Yusuf, who, in spite of the investigative publication's heavy workload, was made available by his editors to work on the Nigerian and USA fronts of the story.
• Diario Rombe (Equatorial Guinea/Spain), which investigated a money transfer link between Cameroon and Equatorial Guinea.
• Pierre-Claver Kuvo, editor of De Cive in Togo and coordinator of the Togolese Consortium of Investigative Journalists "Togo Reporting Post", who focused on the links to Togo and Benin.

ZAM and NAIRE extend their greatest thanks to these colleagues, who worked with African investigative journalists in solidarity.

The project also owes thanks to the Committee to Protect Journalists (CPJ), which provided crucial and much-needed advice.
Read all the investigative articles in this series:
Cameroon | The murder of Martinez Zogo
Cameroon | 67 suspicious transactions