We are at the West India House, the former headquarters of the Dutch West India Company notoriously known for its history of slave trade. Colonialism and slavery are the themes of the recently launched Black Amsterdam Heritage Tours founded by Jennifer Tosch. So it's the proper place to gather for a tour with 35 participants on July 16, 2015, organized by the ZAM team as a gesture of appreciation to all volunteers, partners and friends of the movement.
Initially, Tosch came to Amsterdam for a postcolonial history course, held at the Black Europe Summer School. She also wanted to do research into the history of her mother who had lived and studied in the Netherlands for several years after World War II. Today, Tosch organizes the tour to remind Dutch inhabitants and visitors to Amsterdam that this country has a troubled past. It's somewhat ironic to observe somebody who came from far - this impressive Surinamese American woman -  pointing out the signs of slavery and colonialism in the facades of old buildings along the town's canals, the Amstel river and IJ.
And so we move to one of the houses of slave trader Bartholomeus de Moor, with a powerful image based on real life on top. Every house occupied by De Moor in Amsterdam was fitted with a depiction of a moor.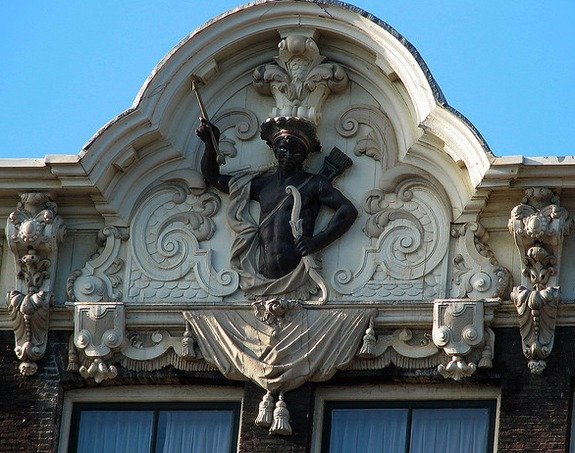 We also pass the house of scientists Petrus Camper. His book Facial Angle and his experiments were used as the basis for scientific racism. From 1758, in his lecture theatre at De Waag on the Nieuwmarkt, Camper dissected an 11 year-old Angolan boy, other black men of different ages and a mulatto. Under the skin he didn't find any differences from white people. In an article, quoted here, academic Martin Kemp states that Darwinians abused Camper's method of measuring skulls. Camper wanted to prove that denaturalization of blacks was purely based on their looks. However, racists presented his facial graphics as supposedly objective scientific evidence for white supremacy.
One of the most significant stops is at Cornelis Tromp's house. This commander of the fleet of the Republic of Seven United Provinces adopted a black boy during his travels. There are also images of black people on the right side of the entrance to his house, meant as a demonstration of white superiority.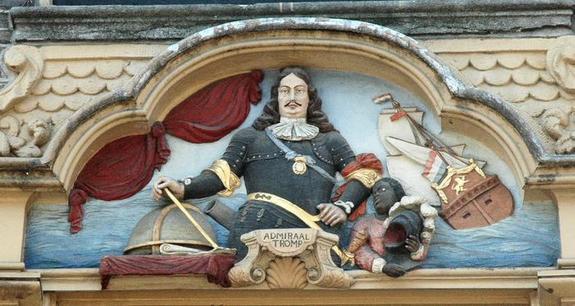 Some much to be seen. So many spots in this city remind of a history that until recently was mostly kept hidden. However, it can't be missed if you want to see it. But it's not only the tragic events that grew out of a colonial mindset, but also the resistance against these gross human rights violations, that have left traces in some of Amsterdam's markings. We passed hoods populated by free slaves, and Felix Meritis, once a centre of enlightment and debate about the treatment of black people.
The tour ended at Embodied Spaces, an exhibition at Tolhuistuin, organized by Framer Framed, a pretty young initiative focusing on transcultural art and politics. The art works in this exhibition are inspired by feminism, gender, ethnicity and sexual orientation issues. In this project, the curator Christine Eyene continues an ongoing cross-cultural dialogue with women and queer artists addressing the body, gender, and sexuality in their work within the framework of African, Caribbean, Pacific, Black and Romani cultural identities. Embodied Spaces is on until 26th July 2015.
Some debate arose when one of the South African participants in the tour questioned the explicity of female nudity in the works of Dutch-Surinamese artist Patricia Kaersenhout. He said he didn't have a problem with the nudity but thought the works – a statement against the abuse of female bodies – would easily be misunderstood by a sexist audience in a country struggling with unacceptable high figures of rape like South Africa.
 A small photo impression from the tour: