On 15 February 2023, Peter Jones, a stalwart of the South African Black Consciousness Movement and confidant of Steve Biko, passed away.
The Jones and Biko family and so many others were saddened by the news about his passing. 'PC', as he was known, was a comrade since 1969. With Biko, he was a member of the South African Student's Organisation SASO. From those days onward they intensely worked together in the struggle against apartheid, building organisations for liberation.
On 17th August 1977, Biko and Jones went on a trip from the Eastern to the Western Cape. A risky journey since a banning order was imposed on Biko. They were arrested on their way back, one hour from home. Biko succumbed under torture, Jones survived. Remembering his comrade's death, Jones commented that it felt like 'a tear that refuses to drop.' PC took over his leadership role and remained a pillar of strength to the Biko family. Ever an activist, he served his community until he was hit by a stroke in 2019.
I felt such pleasure when I met the Jones family seven years ago on a visit to South Africa. We joined in parties, dinners and so many things the good life has to offer. Peter's wife Ingrid made me feel at home, almost like a family member. In 2018 I invited Peter and Ingrid to visit the Netherlands and they stayed in my home in Haarlem. We visited the exhibition of South African artist Neo Matloga at De Ateliers and ZAM's studio in Amsterdam. Ever since I met the family when I travelled to South Africa. Their hospitality and generosity is beyond words, good food and dancing always part of our get-togethers. Peter's quiet presence impressed me a lot as it filled the room. He was a friend to many. On one of those splendid South African nights, while it was getting darker, we sat together at the big fire. Talking a bit and being quiet – together.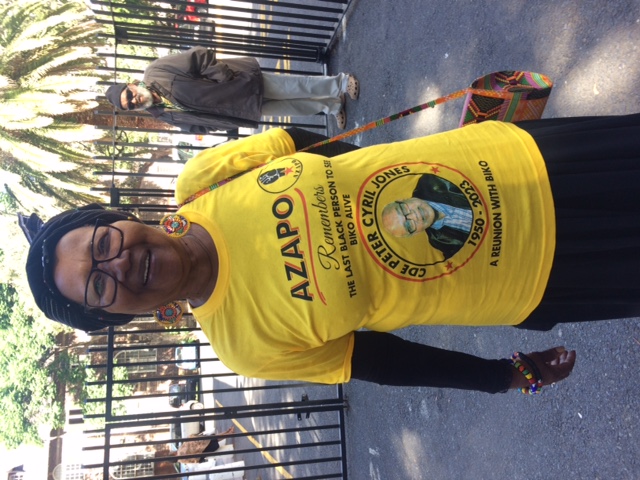 On 10 March, 2023, I attended Peter's memorial service in Cape Town's St George Cathedral. Many activists and AZAPO comrades accompanied the so-called: 'Reunion with Biko' Leaders from several organisations attended as did James Matthews. The famous poet, now in his nineties, wrote a tribute to PC.
It was a state funeral. Police stopped the traffic and, together with the family, marched behind the car. Traffic lights on red, brass band in front, and tens of people in yellow shirts – the official AZAPO colour – from all over the country.
We were all deeply saddened by the loss of this strong human being, a great father to Mailaka, his youngest, and daughters Yolisa and Graynor born in an earlier relationship. His widow Ingrid Irma Jones touched our hearts with an incredible speech, celebrating PC's life, mourning his passing. Members of the Biko family thanked Ingrid for keeping PC's infectious smile alive in those last four years throughout his illness.
It is a smile I will never forget. With all attendants in St George's Cathedral I shout: Long live the spirit of Peter Cyril Jones! Long Live! Reunited with Biko, and with many, many other heroes who once took up the fight for a better South Africa.