[*tekst in Nederlands onderaan] This the story of a South African exile, black and lesbian, who who lived on in a Dutch solidarity campaign she started. After 35 years of solidarity the Tania Leon Study Fund comes to an end.
Later, when we were past middle age and South Africa had changed into a gentle rainbow nation where the colour of your skin no longer determined where you could go, what you could become and who you could associate with, we would all live out our days in a communal house on a hilly piece of land with spectacular grapevines and some poultry near Wellington, Tania's birthplace in the Western Cape. At least, that was one of the future fantasies that came to mind when our little club of about five girlfriends, one male friend, and my father were having a holiday dinner with lots of wine and liqueurs. Tania had very concrete ideas about what this life could look like, including a division of labour for who would do what to make our collective existence in the beautiful country she had left in the early seventies a success. As the perceptive teacher she had been in South Africa and had always to some extent remained, she knew exactly where the preferences and talents of each of us lay. She would take care of the formal side of the business, me she had in mind for all writing, our one male friend would take up the position of kitchen chef, and another one of us would supervise our wine production.
In the mornings, some of us would work the soil, feed the chickens, and do all sorts of useful and necessary chores that outdoor people seem to like to do. In the afternoon, we would all take a siesta after having lunch- accompanied by whoever else had dropped by - a sumptuous meal for which she would, on special days, provide a homemade trifle, one of her favourite recipes since childhood. The rest of the day, everyone would do whatever they felt like, or lent a hand to a social project in the neighbourhood or far beyond.
One thing was clear: except for my father (I think he would just sit on a comfortable chair in front of the house reading with a bowl of goodies within reach) - we would all continue to be involved in making the world a better place in general and in particular the world around us. After all, the world was never finished, and neither was our own development. Continuous action and continuing education were of paramount importance to Tania. In any case, one had to remain alert to those in power (m/f), perhaps especially if they came from a social movement that preached equality, but also what we used to call 'internalised oppression' was often not so easily cast off. It is not uncommon for the thorniest obstacle on the road to emancipation and fulfilment to be the voice within that keeps you small and meek and insecure.
The feminism of the seventies and eighties was based on a combination of political action, mutual solidarity and personal growth. If anyone achieved a fine balance in these it was Tania, if only because she lacked dogmatism, a common trait in those days among rebels who had broken with the oppressive norms and values in which they were raised.
Mieke Kapteijn and I were part of the core of the group that was to settle, according to that one dream, in that big house on that own piece of land near Wellington. Like Tania, we were part of what would go down in history as the Second Feminist Wave, international solidarity was no empty slogan for us either, and like many of our Dutch contemporaries we felt particularly close the anti-apartheid movement in South Africa.
It made sense that Mieke and I joined in raising money to give Tania's niece Bernadette the chance to study at the University in Cape Town. It was equally logical that we agreed to serve on the first board of the Study Fund for Black South African Women that resulted from that fundraising campaign that Tania asked us to. Besides us, she drew on a reservoir of other good friends, including a fine fleur of women who had made their mark in lesbian feminism.
She made you feel seen and valued in a pleasant way.
Tania had an exceptional talent for friendship. She made you feel seen and valued in a pleasant way, she was averse to malicious gossip, and you could laugh uncontrollably with her, also at the contortions of feminists who became afraid to say something wrong about 'minorities' when the discussion about racism started in the women's movement, partly thanks to her.
As part of her training to become a district nurse, she wrote an 'Open letter to white people' in the early 1980s, which was widely. As a preamble, she chose the opening lines of 'For The White Person Who Wants To Be My Friend', by the Afro-American poet Pat Parker. These opening sentences succinctly summarise Tania's argument:
The first thing you do is forget that I'm Black.
Second, you must never forget that I'm Black.
Her open letter dates back to the time when our little club took on its final form. It consisted of a group you could call 'multicultural', although it was a term we never used when talking about ourselves. We thought of ourselves more as a randomly assembled bunch of ragamuffins with similar views – not too doctrinal – and a warm interest in the stories that each of us had to tell, whether they were about an earlier life in Chile, Morocco, Portugal or South Africa, a youth in a reformed Dutch provincial town, or growing up with resilient survivors of the Shoah.
My father (for Tania 'daddy Vuijsje') was such a survivor. She had a special relationship with him. Tania hit the right note as no other when he talked about the Second World War. While most of the others in our little club didn't know how to react to his constant anecdotes about selections, spoiled cabbage soup and cruel kapos in Auschwitz, conversations between the two of them often turned into a form of mutual understanding based on signs saying 'forbidden for Jews' and 'slegs vir blankes'.
One of Tania's stories about her former life in South Africa was about Summer holidays with a friend, also registered as a coloured person, with whom she travelled to Mozambique by train. Of course, there was huge discontent in that country with the Portuguese coloniser, but there was no official racial segregation. You could eat where you wanted, go out with whom you wanted, sleep with whom you wanted, and there were no separate toilets for 'non-whites'. When the train stopped for a border check, they walked to the wagon that was on South African territory on one side and on Mozambican territory on the other. "And then we jumped back and forth in the train and shouted very loudly "Freedom! Apartheid! Freedom! Apartheid!"'
Tania also taught us that there need not be a contradiction between aversion to the racist regime in her native country and love of Afrikaans, to many the repulsive peasant language of the oppressors who had introduced the system of segregation by skin colour. So words like 'kaaltieten' for lying topless in the sun became part of our fixed vocabulary, and thanks to her we were introduced to the poems of Elisabeth Eybers, a collection she took with her when she left South Africa.
None of us can read Eybers' poems without recalling the sound of Tania's voice. This is perhaps most true of the opening lines of 'Die gebed van verstarrende siele':
Maak ons onsterflik vir één enkele uur
gee ons die dwaasheid van één blinde daad!
(Make us immortal for a single hour
give us the folly of one blind act!)
We took for granted that we would live a long life.
Tania was in her thirties and I was in my twenties when we one day we were giggling and fantasising about a shared old age in post-apartheid South Africa. When I recollect the moment now, the thing that amazes me most is the way we took for granted that we would all become infinitely vital seniors, and that my father would live an improbably long life. But on 15 August 1996, at the age of 51, Tania died of cancer, a few months after my father had passed away. Nelson Mandela had become president of South Africa, our little club had been transformed into a somewhat looser one, and during the last part of her life she lived in a village called Nigtevecht – not far from Amsterdam – together with her last partner, Renée Römkens, on whose initiative the Study Fund for Black South African Women was changed into the Tania Leon Study Fund.
After her passing, the International Information Centre and Archives for the Women's Movement included Tania in an honorary gallery of Dutch feminists under the title 'She changed the world'. The photo used for a postcard series of the same name shows her smiling and holding a drink in her right hand. Her left hand is not visible. It could well be that she was holding between her index and middle fingers a skilfully twisted menthol shaggie of the Evergreen brand, which, thanks to her, I also smoked for a while. On the back of that photo is a little biography. It is true that 'resilience and humour' are two of the keywords used, but the enumeration of large and small organisations in which she was involved, from the Anti-Apartheid Movement in the Netherlands to the women's fund Mama Cash, gives the impression that she was mainly a steady meeting tiger.
She became best known as a pioneer among black women who felt displaced and invisible in a white-dominated feminist movement. She was the co-founder of Sister Outsider, a high-profile group of black and lesbian feminists that included the recently credited professor Gloria Wekker. They named themselves after a famous collection of essays by American writer Audre Lorde, from which feminists still draw today when it comes to 'intersectionality', the idea that social and human relationships are largely determined by racism, sexism, classism, and all those other -isms that perpetuate inequality. We were impressed when Tania corresponded with Audre Lorde to bring her to the Netherlands for a lecture, and even more so when this actually happened.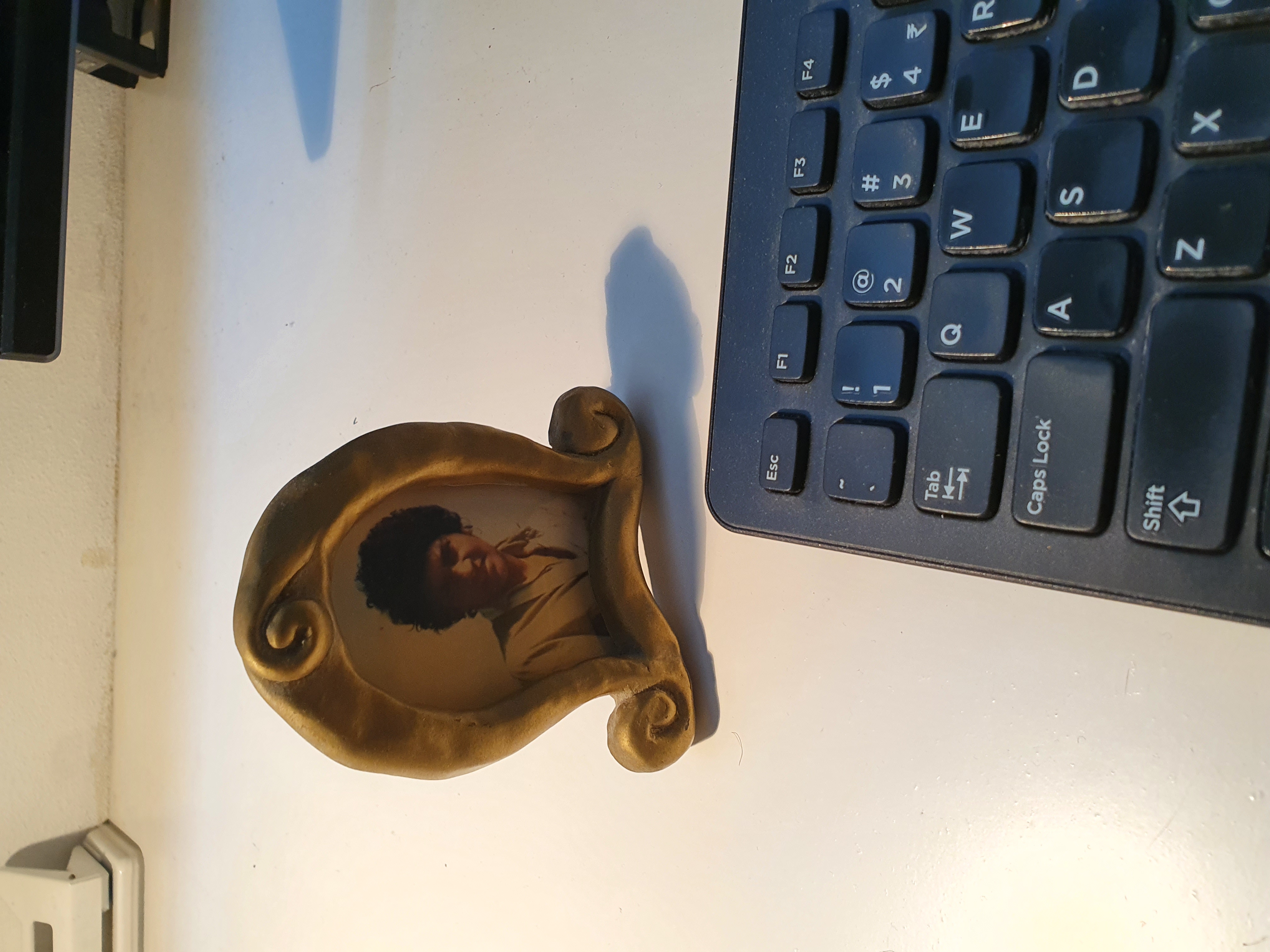 As I write this, I occasionally look at a beautifully framed and somewhat faded snapshot of Tania that she gave me a long time ago. I put it on my desk for the occasion. It was taken when we had just met and she was on holiday in the Swiss mountains with her then lover. She is looking at me with her characteristic gaze, somewhere between thoughtfulness, vigilance and jollity, as if she is about to make a cutting remark about my struggle to do her justice in this text.
Normally this picture is on my bookcase with feminist literature, near my broken copy of Audre Lorde's Zami, a new spelling of my name, towering above Simone de Beauvoir's The Second Sex, Kate Millet's Sisterhood is Powerful and Joke Smit's Hé Zus, ze houden ons eronder (Hey Sis, they're holding us down).
I will put it back later. I don't need to have her image within reach to see her in front of me. She regularly pops up in my thoughts and comments on all sorts of things, from political developments in South Africa, the United States, the Netherlands and the rest of the world, to the desserts that I make when I sit down to eat on celebration days with friends who were also hers. She lives on for all of us in many ways.
She would probably have loved it if the Tania Leon Fund had survived another 35 years.
Marja Vuijsje (1955) is a writer. This text is partly based on a piece from her book Oude dozen, een min of meer feministische leesgeschiedenis (Old boxes, a more or less feminist reading history) (Atlas Contact 2018).
This story is part of a special memorial booklet Impact van Solidariteit. 35 jaar Tania Leon Studiefonds. Interested in the booklet, send a mail to This email address is being protected from spambots. You need JavaScript enabled to view it.
On 31 October, 14h30, the fund closes its doors with a festive event. If you want to attend there are still a few tickets available. For this send a mail to This email address is being protected from spambots. You need JavaScript enabled to view it.
The Tania Leon Study Fund

In 1986 the 'Stichting Studiefonds Zwarte Zuid-Afrikaanse Vrouwen' was established. Tania inspired privileged white Dutch women to take responsibility and help create opportunities other, black women under apartheid in South Africa.

In South Africa, a small group of volunteers took care of the recruitment of students, guidance and coaching. From 1994 onwards, the foundation started working together with a professional, local partner, in order to meet new challenges in South Africa and the growth of the Study Fund.

In South Africa, a small group of volunteers took care of the recruitment of students, guidance and coaching. From 1994 onwards, the foundation started working together with a professional, local partner, in order to meet new challenges in South Africa and the growth of the Study Fund.

Over a period of 35 years, the Study Fund has been able to spend € 1.2 million on scholarships, guidance and coaching for some 350 black South African students, thanks to the contributions of donors.

The guidance of our partner REAP – 'towards self-confidence and resilience by providing a network' – led to a high percentage of students eventually graduating. This laid an important foundation for academic and social success.

Besides opportunities on the labour market, students were able to support their families and fulfil their ambitions with a social role. Vicious circles of discrimination and poverty were broken.

'The most exciting day of my life was when I received a scholarship. I was supported with everything ... I had to learn new terminology, how to approach someone ... I came from a very conservative world but found a new family on campus.'

'I could buy my mother a house and I can support my sister and helping her daughters through school. Like Tania.'

The history of the Study Fund and the results are described in detail in Impact of Solidarity, 35 years Tania Leon Study Fund.
*
Tania Leon (1945-1996) | Een uitzonderlijk talent voor vriendschap
Dit is het verhaal van een Zuid-Afrikaanse balling in Nederland, zwart en lesbisch, die voortleeft in de solidariteitscampagne die zij begon. Na 35 jaar komt er een einde aan het Tania Leon Studiefonds.
Later, als we de middelbare leeftijd waren gepasseerd, en Zuid-Afrika was veranderd in een gemoedelijke regenboognatie waar je huidskleur niet meer bepalend was voor waar je mocht komen, wat je kon worden en met wie je mocht omgaan, zouden we onze dagen met ons allen gaan slijten in een gemeenschappelijk huis op een heuvelachtig lapje grond met oogstrelende druivenranken en wat pluimvee in de buurt van Wellington, Tania's geboorteplaats in de West-Kaap. Dat was althans een van de toekomstfantasieën die kwamen bovendrijven als we met ons vaste clubje, bestaande uit ongeveer vijf vriendinnen, één vriend, en mijn vader, een of andere feestdag zaten weg te eten met veel wijn erbij en likeurtjes na. Tania had daar dan zeer concrete ideeën over, tot en met een taakverdeling aan toe over wie wat zou doen om ons collectieve bestaan in het mooie land dat zij begin jaren zeventig had verlaten tot een succes te maken. Als de opmerkzame lerares die ze in Zuid-Afrika was geweest en altijd een beetje was gebleven, wist ze precies waar bij ieder van ons de voorkeuren en talenten lagen. Zelf zou ze de zakelijke kant van de onderneming op zich nemen, mij had ze in het vizier voor alle voorkomende schrijfwerkzaamheden, die ene vriend voor de functie van keukenchef, en weer iemand anders voor het toezicht op onze wijnproductie.
In de ochtenden zouden sommigen van ons de aarde bewerken, de kippen voeren, en allerlei andere nuttige en noodzakelijke klusjes verrichten die buitenmensen graag schijnen te doen. In de namiddag zouden we allemaal siësta houden nadat we – vergezeld door deze en gene – een copieus maal hadden verorberd waarvoor zij op bijzondere dagen door haarzelf bereide trifle aanleverde, van kindsbeen af een van haar lievelingstoetjes. De rest van de dag deed iedereen zo'n beetje waar zij of hij zin in had, of verrichte hand-en-spandiensten ten behoeve van een sociaal project in de buurt of ver daarbuiten.
Eén ding was duidelijk: behalve mijn vader (hij zou geloof ik alleen maar voor het huis op een gemakkelijke stoel zitten lezen met een schaaltje lekkers binnen handbereik) – zouden we allemaal betrokken blijven bij het beter maken van de wereld in het algemeen en die om ons heen in het bijzonder. Per slot van rekening was de wereld nooit af, net als onze eigen ontwikkeling.
Permanente actie en permanente educatie stonden bij Tania hoog in het vaandel. Sowieso moest je alert blijven op machthebbers (m/v), misschien wel juist als ze voortkwamen uit een maatschappelijke stroming waarin gelijkheid werd gepredikt, maar ook wat wij destijds 'verinnerlijkte onderdrukking' noemden werd doorgaans niet zo gemakkelijk afgeworpen. De neteligste hinderpaal op weg naar emancipatie en ontplooiing is niet zelden de stem in jezelf die je klein en gedwee en onzeker houdt.
Het feminisme van de jaren zeventig en tachtig was gegrondvest op de combinatie van politieke actie, onderlinge solidariteit en persoonlijke groei. Als er iemand was die daarin een fijn evenwicht bereikte dan was het Tania, alleen al omdat het haar ontbrak aan dogmatiek, een destijds veel voorkomende eigenschap bij opstandigen die hadden gebroken met beklemmende normen en waarden waarin ze waren grootgebracht.
Mieke Kapteijn en ik hoorden bij de kerngroep van het gezelschap dat zich volgens dat ene droombeeld in dat grote huis op dat eigen stukje land bij Wellington zou vestigen. Net als Tania waren we onderdeel van wat de geschiedenis in zou gaan als de Tweede Feministische Golf, internationale solidariteit was ook voor ons geen loze kreet, en evenals veel Nederlandse generatiegenoten voelden we ons in het bijzonder betrokken bij de antiapartheidsbeweging in Zuid-Afrika.
Het was logisch dat Mieke en ik meededen met geld bijeenbrengen om Tania's nichtje Bernadette kans te geven op een universitaire studie in Kaapstad. Het was even logisch dat wij ja zeiden toen Tania ons vroeg voor het eerste bestuur van het Studiefonds voor Zwarte Zuid-Afrikaanse vrouwen dat uit die inzamelingsactie voortkwam. Naast ons putte ze uit een ruim reservoir andere goede vriendinnen, onder wie een fine fleur aan vrouwen die hun sporen hadden verdiend in het lesbisch feminisme.
Door haar voelde je je op een prettige manier gezien.
Tania bezat een uitzonderlijk talent voor vriendschap. Door haar voelde je je op een prettige manier gezien en gewaardeerd, ze was wars van kwaadsappig geroddel, en je kon onbedaarlijk met haar lachen, ook om de verkramptheden van feministen die bang werden over 'minderheden' iets verkeerds te zeggen nadat mede dankzij haar de discussie over racisme op gang kwam in de vrouwenbeweging.
In het kader van haar opleiding voor wijkverpleegkundige schreef ze begin jaren tachtig een 'Open brief aan witte mensen' die wat wijder werd verspreid. Als aanhef koos ze de beginstrofe uit het gedicht 'For the white person who wants to be my friend' van de Afro-Amerikaanse dichteres Pat Parker. Die openingszinnen vatten Tania's betoog bondig samen:
The first thing you do is forget that i'm Black.
Second, you must never forget that i'm Black.
Haar open brief dateert uit de tijd waarin ons clubje zijn definitieve vorm kreeg. Het bestond uit een gezelschap dat je 'multicultureel' zou kunnen noemen, al is het een term die wij nooit bezigden als we het over onszelf hadden. Wij beschouwden onszelf eerder als een toevallig bijeengebracht zooitje ongeregeld met zo'n beetje dezelfde – niet al te leerstellige – opvattingen, en warme belangstelling voor de verhalen die ieder van ons had te vertellen, of ze nu gingen over een eerder bestaan in Chili, Marokko, Portugal of Zuid-Afrika, een gereformeerde jeugd in een Nederlands provinciestadje, of opgroeien met veerkrachtige overlevenden van de Shoah.
Mijn vader (voor Tania 'pappa Vuijsje') was zo'n overlevende. Met hem had ze een bijzondere verstandhouding. Als geen ander trof Tania de juiste toon als hij begon over de Tweede Wereldoorlog. Terwijl de meeste anderen van ons clubje niet goed wisten hoe ze moesten reageren op zijn vaste anekdotes over selecties, bedorven koolsoep en wrede kapo's in Auschwitz, draaide het tussen hem en haar vaak uit op een vorm van onderling begrip die was gebaseerd op bordjes 'verboden voor Joden' en 'slegs vir blankes'.
Een van Tania's verhalen over haar vroegere leven in Zuid-Afrika ging over zomervakanties samen met een eveneens als 'kleurling' geregistreerde vriendin met wie ze per spoor naar Mozambique reisde. Weliswaar heerste in dat land onvrede met de Portugese kolonisator, maar het kende geen officiële rassenscheiding. Je kon er eten waar je wou, uitgaan met wie je wou, slapen met wie je wou, en er waren geen aparte wc's voor 'nie-blankes'. Als de trein stopte voor een grenscontrole liepen ze naar de wagon die aan de ene kant op Zuid-Afrikaans en aan de andere kant op Mozambikaans grondgebied stond. 'En dan sprongen we in de trein heen en weer en riepen we heel hard "Freedom! Apartheid! Freedom! Apartheid!"'
Van Tania leerden we ook dat er geen tegenstelling hoefde te zijn tussen weerzin tegen het racistische regime in haar geboorteland en liefde voor het Afrikaans, in de oren van velen de afstotelijke boerentaal van de onderdrukkers die het systeem van segregatie naar huidskleur hadden ingevoerd. Zo werden woordjes als 'kaaltieten' voor het topless in de zon liggen onderdeel van onze vaste vocabulaire, en maakten we dankzij haar kennis met de gedichten van Elisabeth Eybers, van wie zij een bundel meenam toen ze Zuid-Afrika verliet.
Niemand van ons kan Eybers gedichten lezen zonder de klank van Tania's stem erbij te denken. Dat geldt misschien nog het meeste voor de beginregels van 'Die gebed van verstarrende siele':
Maak ons onsterflik vir één enkele uur
gee ons die dwaasheid van één blinde daad!
We gingen ervan uit dat we oneindig vitale senioren zouden worden.
Tania was een dertiger en ik een twintiger toen we ginnegappend en een beetje teut zaten te fantaseren over een gezamenlijke oude dag in post-apartheid Zuid-Afrika. Als ik daar nu aan terugdenk ben ik nog het meest verbaasd over de vanzelfsprekendheid waarmee wij ervan uitgingen dat we allemaal oneindig vitale senioren zouden worden, en dat mijn vader een onwaarschijnlijk lang leven was beschoren.
Op 15 augustus 1996 stierf ze op 51-jarige leeftijd aan de gevolgen van kanker, een paar maanden nadat mijn vader was overleden. Nelson Mandela was inmiddels president van Zuid-Afrika, ons vaste clubje was getransformeerd in een wat losser verband, en zij woonde tijdens het laatste stukje van haar leven in het – niet ver van Amsterdam gelegen – plaatsje Nigtevecht, samen met haar laatste partner, Renée Römkens, op wiens initiatief het Studiefonds voor Zwarte Zuid-Afrikaanse Vrouwen veranderde in Tania Leon Studiefonds.
Na haar dood werd Tania door het Internationaal Informatiecentrum en Archief voor de Vrouwenbeweging opgenomen in een eregalerij van Nederlandse feministen onder de titel 'She changed the world'. Op de foto die werd gebruikt voor de gelijknamige ansichtkaartenserie staat ze lachend met een drankje in haar rechterhand. Haar linkerhand is niet zichtbaar. Het zou heel goed kunnen dat ze daarin tussen wijs- en middelvinger een kundig gedraaid mentholshaggie geklemd hield van het merk Evergreen, dat ik dankzij haar ook nog een hele poos rookte. Op de achterkant van die foto staat een biografietje. Weliswaar zijn 'veerkracht en humor' twee van de gebruikte trefwoorden, maar de opsomming van grote en kleine organisaties waarbij ze betrokken was, van de Anti-Apartheidsbeweging Nederland tot en met het vrouwenfinancieringsfonds Mamma Cash, wekt net iets te veel de indruk dat ze voornamelijk een koersvaste vergadertijger was.
De meeste bekendheid kreeg ze als pionier onder zwarte vrouwen die zich ontheemd en onzichtbaar voelden in de door witte vrouwen gedomineerde feministische beweging. Zo was ze medeoprichter van Sister Outsider, een spraakmakend groepje zwarte en lesbische feministen waarvan ook de sinds kort beroemde professor Gloria Wekker deel uitmaakte. Ze noemden zich naar een bekende essaybundel van de Amerikaanse schrijfster Audre Lorde waaruit feministen tot op de dag van vandaag putten als het gaat om 'intersectionaliteit', het idee dat maatschappelijke en menselijke verhoudingen voor een belangrijk deel worden bepaald door racisme, seksisme, klassisme, en al die andere ismen waarmee ongelijkheid in stand wordt gehouden. Op ons maakte het indruk toen Tania met Audre Lorde ging corresponderen om haar voor een lezing naar Nederland te halen, en nog meer toen dit daadwerkelijk lukte.
Terwijl ik dit schrijf kijk ik zo nu en dan naar een fraai ingelijst en ietwat verbleekt kiekje van Tania dat ik lang geleden van haar kreeg. Voor de gelegenheid heb ik het op mijn bureau gezet. Het werd gemaakt toen we elkaar pas kenden en zij met haar toenmalige geliefde op vakantie was in de Zwitserse bergen. Ze kijkt me aan met de haar kenmerkende blik die het midden houdt tussen bedachtzaamheid, waakzaamheid en joligheid, alsof ze op het punt staat een snedige opmerking te maken over mijn geworstel om haar recht te doen in deze tekst.
Normaal gesproken staat deze foto in mijn boekenkast met feministische literatuur, vlakbij mijn stukgelezen exemplaar van Audre Lorde's Zami, een nieuwe spelling van mijn naam, uittorenend boven De tweede sekse van Simone de Beauvoir, Sisterhood is powerful van Kate Millet en Hé zus, ze houden ons eronder van Joke Smit.
Straks zet ik 'm weer terug. Ik hoef haar beeltenis niet binnen handbereik te hebben om haar voor me te zien. Regelmatig duikt ze op in mijn gedachten en geeft ze commentaar op van alles en nog wat, van de politieke ontwikkelingen in Zuid-Afrika, Amerika, Nederland en de rest van de wereld, tot en met de toetjes die ik maak als ik een of andere feestdag ga zitten weg eten met vriendinnen die ook de hare waren. Voor ons allemaal leeft ze op vele manieren voort.
Vermoedelijk had ze het fantastisch gevonden dat het Tania Leon Fonds toch nog 35 jaar heeft bestaan.
Marja Vuijsje (1955) is schrijver. Deze tekst is mede gebaseerd op een stuk uit haar boek Oude dozen, een min of meer feministische leesgeschiedenis (Atlas Contact 2018).
Dit verhaal maakt deel uit van de herinneringsuitgave Impact van Solidariteit. 35 jaar Tania Leon Studiefonds . Heeft u hiervoor belangstelling stuur dan een mail naar This email address is being protected from spambots. You need JavaScript enabled to view it.
Het fonds wordt 31 Oktober, 14.30 uur feestelijk opgeheven. Voor deze bijeenkomst zijn nog enkele plaatsen beschikbaar. Reserveer via bovenstaande email.
Het Tania Leon Studiefonds

In 1986 werd op initiatief van Tania Leon de 'Stichting Studiefonds Zwarte Zuid-Afrikaanse Vrouwen' opgericht. Tania inspireerde geprivilegieerde witte Nederlandse vrouwen om verantwoording te nemen en bij te dragen aan de kansen van andere vrouwen, zwarte vrouwen onder apartheid in Zuid-Afrika.

Voor de selectie van studenten en de begeleiding en coaching zorgde een kleine groep vrijwilligers In Zuid-Afrika. Vanaf 1994 ging men samenwerken met een professionele, lokale partner, om te kunnen voldoen aan nieuwe uitdagingen in Zuid-Afrika en de groei van het Studiefonds.

De barrières die studentes ondervinden waren en zijn geen individuele problemen maar samenhangende gevolgen van een samenleving (apartheid en post-apartheid) waar grote groepen niet worden gezien, niet worden gehoord en niet de kennis en netwerken meekrijgen die voor anderen zo vanzelfsprekend zijn. Op grond van kleur, gender en afkomst hoor je dat je minder waard bent en dat initiatief nemen niet op prijs wordt gesteld. Je schaamt je en maakt jezelf onzichtbaar. Je doet er niet toe, is de boodschap. En niemand lijkt daarbij stil te staan. Bijna niemand.

Over een periode van 35 jaar heeft het Studiefonds met de bijdragen van donateurs een bedrag van € 1.180.000 kunnen besteden aan beurzen en voor begeleiding en coaching van zo'n 350 zwarte Zuid-Afrikaanse studentes.

De begeleiding van onze partner REAP – 'naar zelfvertrouwen en weerbaarheid door het bieden van een netwerk' – leidde naar een hoog percentage studenten dat uiteindelijk afstudeerde. Daarmee werd een belangrijke basis voor academisch en maatschappelijk succes gelegd.

Naast kansen op de arbeidsmarkt hebben de studenten hun families kunnen steunen en ambities waargemaakt met een maatschappelijke rol. Vicieuze cirkels van discriminatie en armoede werden doorbroken.

'The most exciting day of my life was when I recieved a bursary. I was supported with everything…I had to learn new terminology, how to approach someone… I came from a very conservative world but found a new family on campus.'

'I could buy my mother a house and I can support my sister and helping her daughters through school. Like Tania.'

'I could buy my mother a house and I can support my sister and helping her daughters through school. Like Tania.'