Over one-and-a half-weeks ago ZAM reported how, after Taiwo Adebulu's marriage corruption story, yet another investigation in our Kleptocracy Series had caused commotion in Nigeria. An outraged businessman by the name of Dr Aloy Chife called Theophilus Abbah's 'Border Control Syndicate' story 'lies' in as far as it pertained to him. The slighted Doctor targeted Abbah's editor at ZAM, Ruona Meyer, tweeting at her that he was a 'US national' and that 'Ruona' had 24 hours to delete her 'lies', or else he was going to see her 'in a German court.'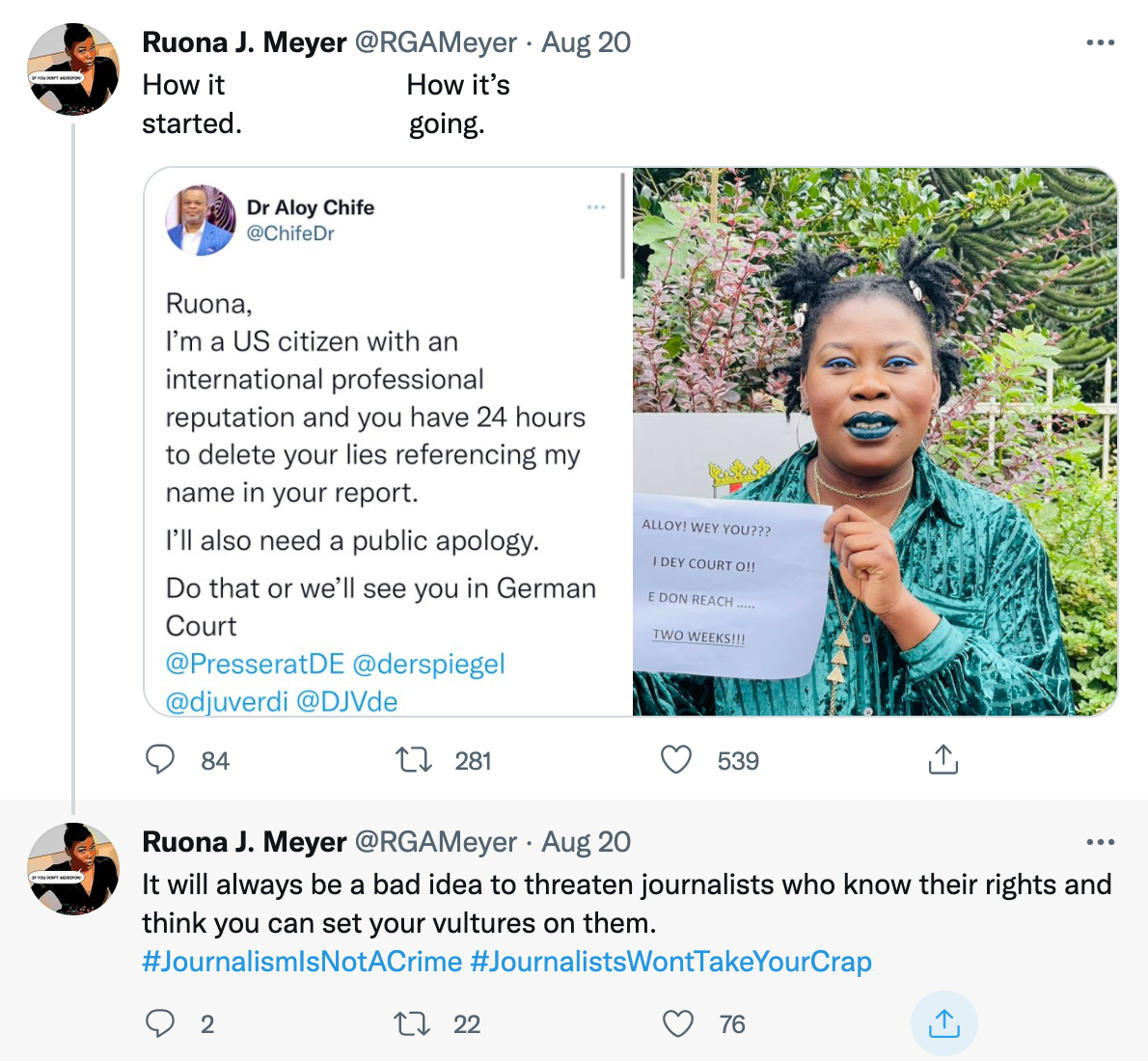 The good Doctor's references to the US and Germany were rather puzzling. Meyer is a Nigerian who lives in Germany, but what did that have to do with the veracity (or not) of the story? And why would Dr Chife write to Ruona Meyer, instead of to the story's author Theophilus Abbah, or to ZAM itself? Nevertheless, ZAM's investigations editor Evelyn Groenink responded to the Tweet, asking Dr Chife to write to ZAM if he had an issue with the story. She also assured the Doctor that ZAM would happily publish his comments.
Nothing was heard from Chife for the next week, until a 'Statement of Refutation' appeared on Twitter on 16 August, in which a legal firm said that the inclusion of its client Dr Aloy Chife among 'a syndicate responsible for plunder (…) and alleged financial misfortunes' around the Nigeria's Immigration Service (NIS) was 'false, unfounded and thoughtfully designed (…) to bring our clients to disrepute.' The lawyers particularly denied that Chife's company Socketworks was linked to a 'murderous immigration recruitment exercise' in 2014, in which sixteen hopeful job-applicants died in a stampede.1 'The linking of Dr Chife and the company related to him to the infamous and deathly recruitment exercise is to generate hate and scorn to their corporate and personal images,' the Tweeted lawyers' letter said. It also stated that this was a 'clear case of defamation,' and that the legal firm would 'retain further instructions' to 'protect' what it called the client's 'hard-earned reputation.'
As if an afterthought, the letter was only received by ZAM in an email two days later. It is published in full here.
We stand by our story.
As for Dr Aloy Chife's reputation, he is, indeed, besides a businessman, a well-known commentator in Nigeria, often verbalising opinions about corruption and Nigeria's interests as a nation (which, incidentally, intensifies the question why he started his protest against Abbah's story with the assertion that he was 'a US citizen'). Since the story aired, dozens of Nigerians have taken to Twitter to discuss this very reputation. Some of these appeared to support Chife's innocence, seeking ill intent and conspiracies behind the story. Others however applauded it, referring to Chife's questionable record as a partner in shady government contracts in Nigeria. Remarkably, tweets from June 2019 by Chife himself proudly celebrate former Nigerian President Obasanjo telling his executive that Chife's company Socketworks must get state contracts.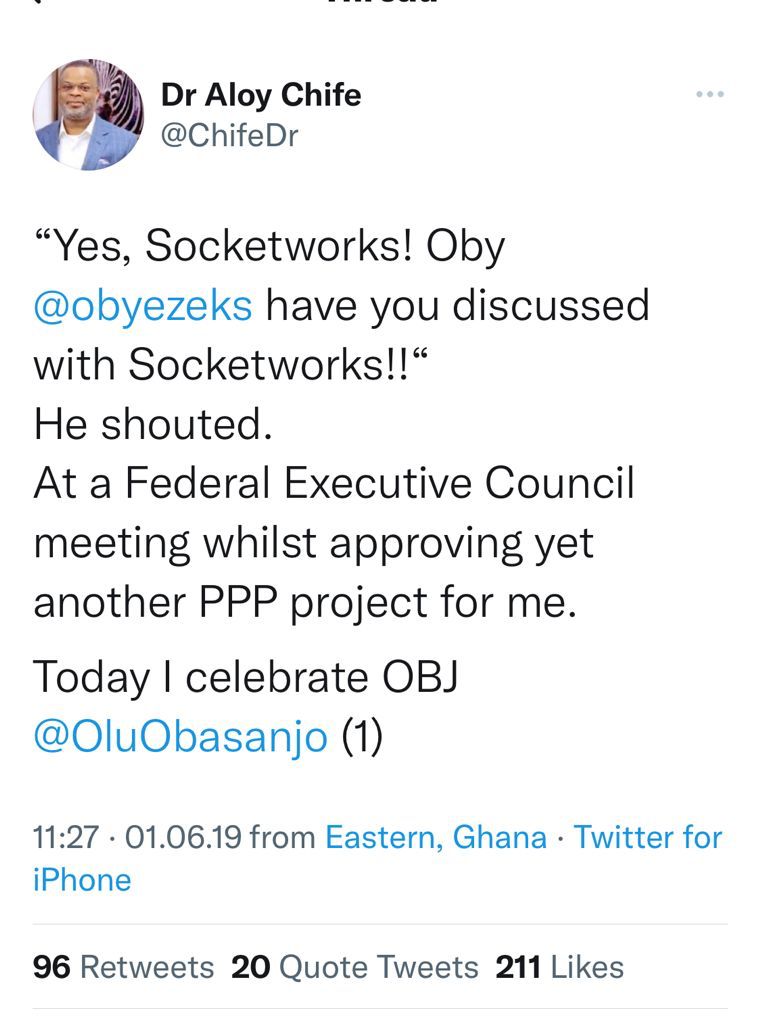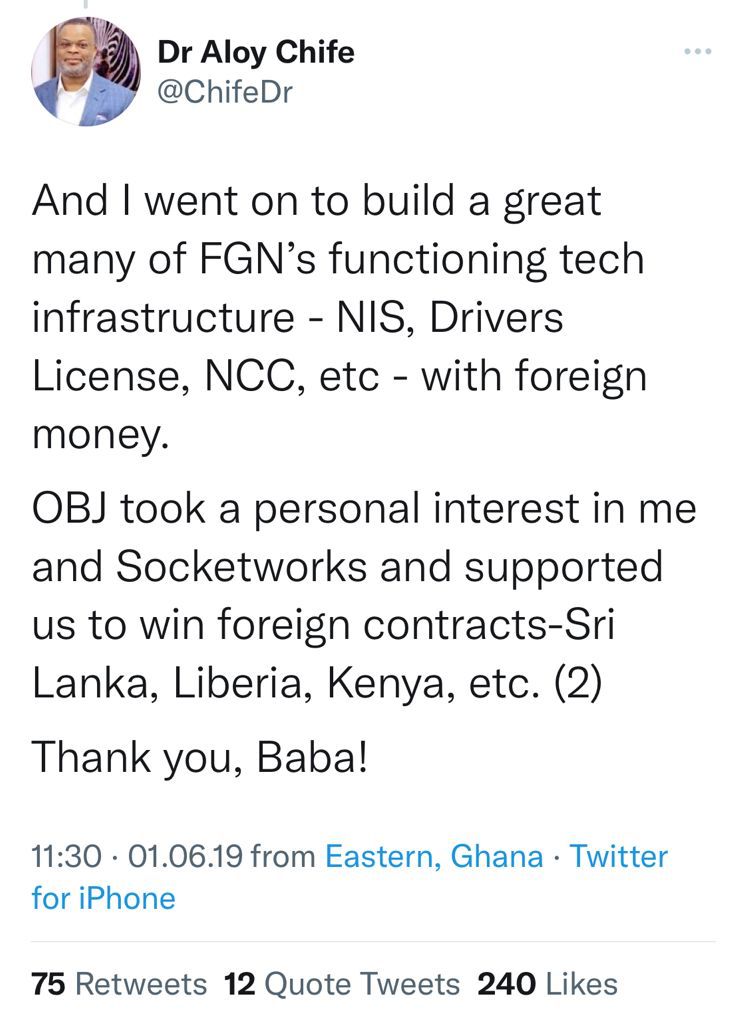 Meanwhile, ZAM editorial college's Ruona Meyer reports that she still is waiting at 'German courts' for an appearance by Dr Chife.
In the 2014 National Immigration Service recruitment exercise, over half a million job-seekers' application fees were collected by Chife-linked companies for only fifteen hundred available positions. A stampede caused by the crowding of thousands of hopefuls, desperate to escape unemployment and poverty, at Abuja National Stadium took the lives of sixteen of the applicants.