Investigative journalists visit the Face Forward festival
Of course there were visa troubles. We had ensured the timely submission of all required paperwork, including proof that our guests' stay would be temporary, but there were still headaches regardless. In Nigeria, Theophilus Abbah only got his passport back the day before travelling, while in Cameroon Elizabeth BanyiTabi found herself falsely accused of lying and failing to submit documents. The visa agency, which is contracted by European governments to process travel applications, had curiously mislaid her documents but insisted she was to blame for the loss. Fortunately, both BanyiTabi and ZAM were careful to keep the receipts, and in the end all it took was twelve long WhatsApp calls and a bit of long-distance pressure by friendly diplomats to ensure that all the journalists received permission to visit Europe.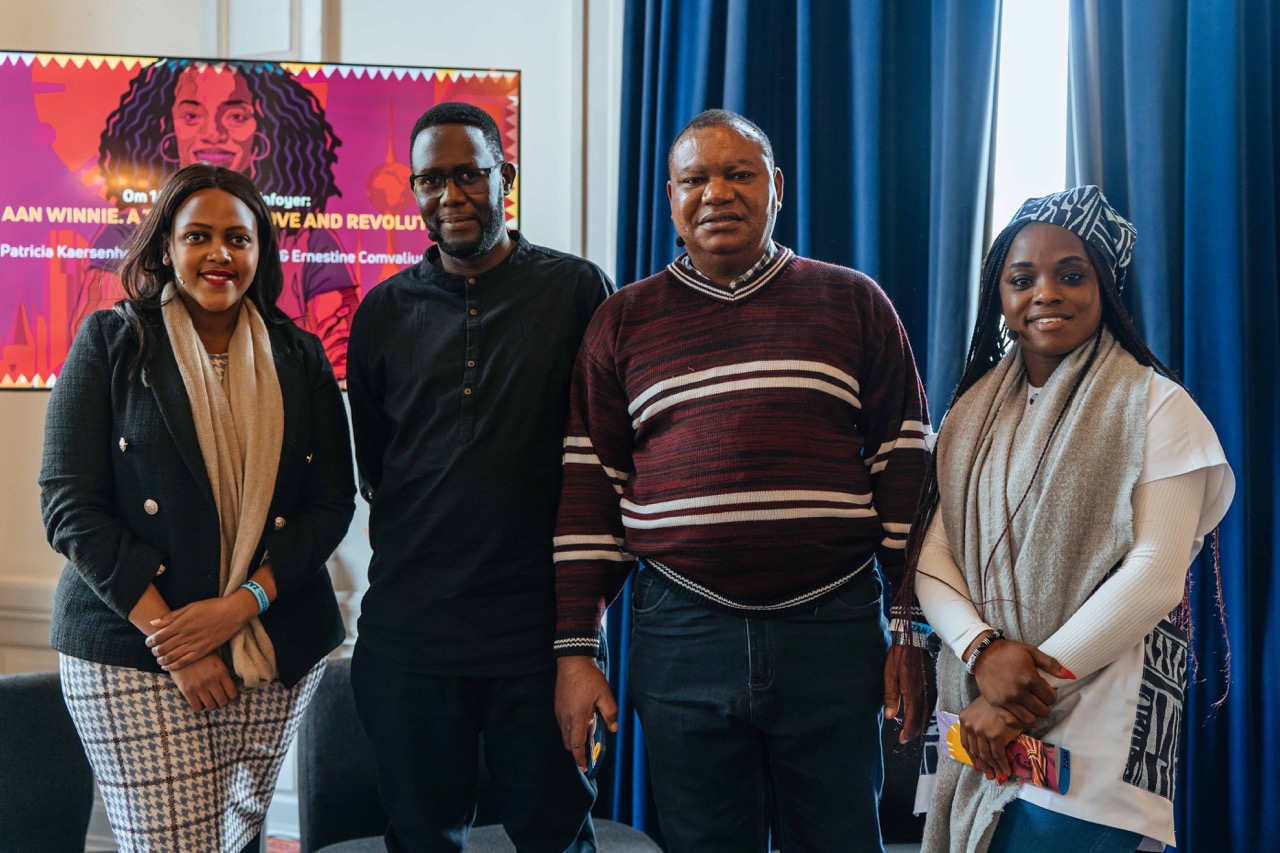 All of the trouble was worth it in the end, though. As part of the FACE FORWARD – stories for change festival, ZAM was pleased to host investigative journalists from Cameroon, Nigeria, Uganda and Kenya. All four are members of the team behind 'Cry Freedom', the recent investigation into trends of repression and resistance across Africa, and they came to Amsterdam to present their work and meet friends and partners in the media, academia and the diaspora. The festival, which was held at the International Theatre in Amsterdam, began with a panel discussion moderated by prominent journalist Bram Vermeulen. Over a hundred attendees gathered to hear the journalists' accounts of abductions, torture and killings of critics, journalists and activists in countries often still regarded as democracies.
Afterwards was the Nelson Mandela lecture, during which three speakers gave lectures on the history of colonialism, slavery, continuing inequality and the question of reparations to victims. This ignited much discussion, with Elizabeth BanyiTabi and Emmanuel Mutaizibwa both voicing support of the idea but questioning whether such restitution would be worth anything if paid to the likes of Uganda's autocratic President Museveni or Cameroon's de-facto dictator Paul Biya. The Nigerian and Kenyan members of the delegation were also less than enthusiastic about the prospect of the international community giving their home governments more support. Ngina Kirori spoke about 'evil undercurrents' in Kenya's political establishment, while Theophilus Abbah argued that holding elections does not automatically make a country a democracy, adding, 'Our politicians also stay in power with violence. We've had two hundred attacks on journalists in the past few years'.
During a meeting with the International Institute for Social History, where archives of labour and civil society movements are managed together with Africa-based partners, the conversation turned to the causes and effects of migration, particularly within African countries where so many citizens see migration as an economic necessity. How can organisations match their support of progressive movements with investigations into the drivers behind migration? 'We want to visit the rest of the world, but as equals, and not as fugitives on perilous journeys', said Emmanuel Mutaizibwa. It was here that our Zimbabwean colleague Brezh Malaba, and Cameroon's editorial mentor Chief Bisong Etahoben were most sorely missed. Both were unable to participate in the work visit because of budgetary and logistical issues, another reminder of the obstacles that face those who wish to travel.
On, then, to yet another vital meeting, this time with our colleagues at Free Press Unlimited in Amsterdam. The delegates were heartened to find so much support and help only a mouse-click away. Importantly this included legal advice, a useful resource when faced with the increasingly common deployment of frivolous lawsuits as a gagging tactic, as experienced already by Theophilus Abbah and another ZAM network member. The meeting also provided fertile ground for onward discussion about past and future threats, including a possible project in Cameroon where our colleague Martinez Zogo was recently abducted, tortured and killed after exposing a regime-friendly media tycoon's use of state cash.
The group also took part in a Black Heritage boat tour, which offered an alternative history of Amsterdam focusing on the city's past as a hub of colonialism and slavery. The journalists also visited the African Studies Centre in Leiden, where they appealed to academics to provide greater support with their research, before ending the week on a Dutch note when colleagues including Nelson Mandela lecture laureate and Kick Out Black Pete pioneer Jerry Afriyie interviewed the group for Studio ZAM The video, which will be released soon, discusses how solidarity can practically be used as a tool for fighting oppression in Africa and white supremacy and the colonial legacy in the Global North.

Read all the investigative articles in the Cry Freedom series:
Nigeria | Death by tax collector by Theophilus Abbah
Cameroon | The truth is a dangerous business by Chief Bisong Etahoben and Elizabeth BanyiTabi
Uganda | How to remove a dictator remotely by Emmanuel Mutaizibwa
Zimbabwe | No human rights for 'bad apples' by Brezh Malaba
Kenya | The hidden cost of free and fair by Ngina Kirori
Human rights violations 2017-2022 in Nigeria, Cameroon, Uganda, Zimbabwe and Kenya