Witnessing Le Zoulou Blanc's farewell tour
Our interview request was turned down by management because of Le Zoulou Blanc' s, alias Johnny Clegg's, health. "He suffers from a throat disease. He must save his voice for the show. Sorry." During the show we understand why giving interviews would just be a tad too much: Johnny Clegg talks a lot already during the two-and-a-half hours long gig -and fast, too, as if he wants to share a feeling with the audience that time is short. His voice does crack every now and then, but the moment he starts singing it's crystal clear, and warm, and powerful.  It's difficult to believe that this is a farewell tour given by a man who is ill, whom people close to him fear will die in the near future. True, he isn't jumping up and down anymore, like the Zulu warrior dancer he once was, amid Zulu dancers who more often than not happened to be ten years younger or more. He would raise his leg above his head, then, high, in absolute balance.
He used to behave like a Zulu warrior
Jonathan Clegg clearly cannot do that anymore now, but who cares? His show at YadaYada Market in Zaandam, the Netherlands, is impressive, and his Zulu lyrics still as fluent as ever. Once a white, gifted boy from an English father and a Rhodesian (now Zimbabwean) mother, but originating from Poland, Clegg grew up in South Africa as an archetypical angry young man, a rebel against Apartheid, refusing to stick to the limitations of official segregation.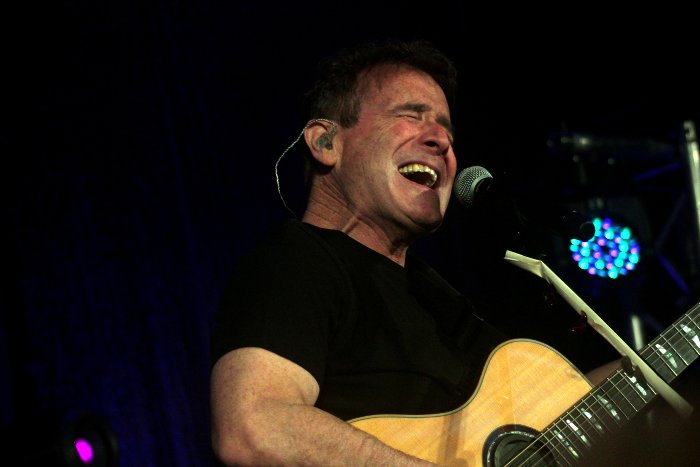 The Clegg family had moved to South Africa in 1965. Johnny, only 16 years old then, observed street musicians in Johannesburg. They fascinated him. When dwelling in the streets, the music grabbed him and he couldn't help moving and dancing. That was something in the harsh Apartheid days, when white people didn't mix with black people. Like all blacks, black musicians were regarded as inferior, second-class citizens. Black street musicians were chased away by the police when trying to earn some Rands. Clegg chose the side of the hobo's, but had no idea that by doing so he was provoking the system. His life changed at the street corners of the cruel apartheid state.
Walking songs, the Zulu street musicians called their pieces. Clegg got intrigued by them. He loved the sound, straight and simple, and the melodies, which reminded him of the KwazuluNatal Midlands he experienced during his early years in South Africa. He used to come home excited, going to his room and playing small riffs for hours on end, trying to catch the Zulu rhythms. His mom, a jazz singer, once stood in the doorway of his room and asked: "What are you doing to me?" When he pointed out that he was playing a walking song he just discovered, she asked: "Walking song? It goes nowhere!" But there was no way back. Clegg was certain: it was going to be mbaqanga for him -and some Afro-jazz. Zulu music would dominate his future compositions. "A long journey had started", Clegg explains to the Zaandam audience in one of his extended stories introducing a new song.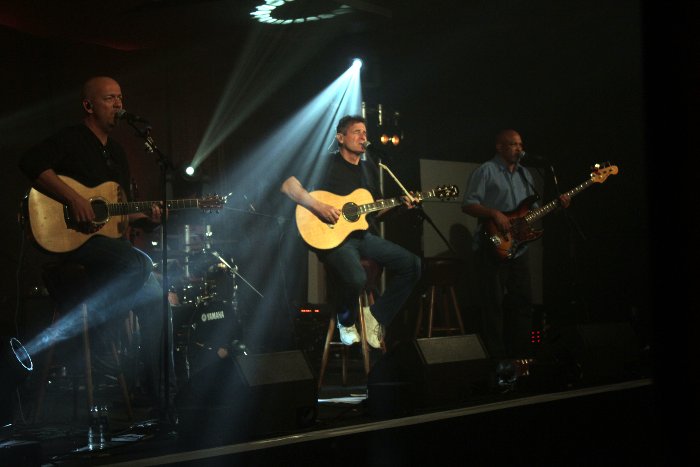 This was how 16-years old Johnny got caught in new dreams of his future life. The proud warrior tradition of Zulu nations marched into his brain. It excited him, but - more importantly - it also opened his heart. Young Clegg, adventurer and rebel, stepped out of the white shadows of the divided South African society and designed his future.
"You dance like a Shangaan!"
Then he met the person with whom he would bring his career to unprecedented heights. Dudu 'Zulu' Ndlovu, percussionist and dancer, would train Johnny Clegg in Zulu dancing for 13 years. Clegg, by then, already did Zulu dancing when touring with his band Juluka. But it wasn't easy. The black colleagues had to get used to the idea that this white guy really wanted to be a Zulu musician. "They saw me dancing and they said: you dance like a Shangaan!" Clegg had lived in Limpopo in the north of South Africa, among Shangaan and Tsonga people. But there was Dudu Ndlovu. "He became my mentor", Clegg explains. "He taught me how to do Zulu dancing and we danced side by side on stage for more than a decade. Dudu meant everything to me."
In 1992, Clegg was in the United States for the final mixing of a new album of Savuka, his second successful band, when he was informed that Dudu Ndlovu had been shot and killed in political violence. Violence was always around the corner. Performing in Apartheid South Africa wasn't easy for Savuka, since they were violating the Group Areas Act by the very fact that Clegg was white and the other band members were black. The security police was hunting them down. Performing on open stages became almost impossible, since the police could burst in disrupting the show and beating the band and audience. They tried to avoid such things by playing principally at university campuses, churches and even hostels for migrant workers. But still members of the band were arrested occasionally. Not Johnny Clegg, of course: he was a white man.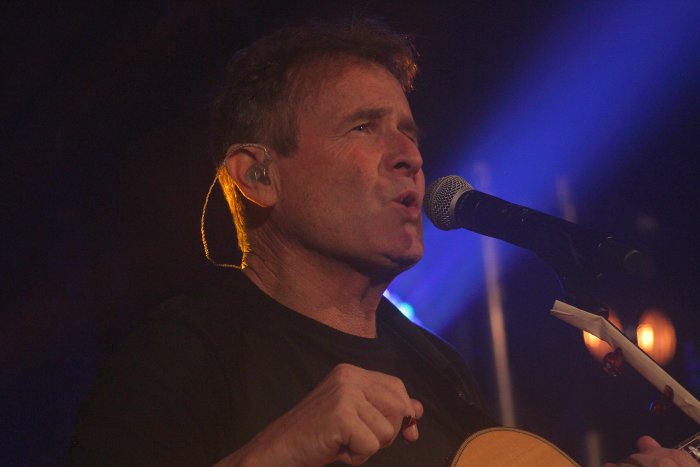 After the news of Ndlovu's tragic death, Clegg rushed back home to help Dudu's family bury him. The song "The Crossing," later to become one of the international hits of Savuka, was written to commemorate him. Clegg had to start all over again.
Savuka grew to fame both inside South Africa and abroad. But the band went its own way after Ndlovu's death. Clegg had renewed his relationship with Sipho Mcunu, recording a new album with the former band Juluka ('Sweet' in Zulu). Juluka kept touring until 1997, and Johnny Clegg concluded a periode of almost 30 years of success.
Dudu Ndlovu was shot and killed in political violence
Clegg scored international hits like Asimbonanga (1987), Scatterlings of Africa (1982), The Crossing (1992), Impi (1981) and more. He was particularly loved in France, a country he toured intensively, and where he got the nickname 'Le Zoulou Blanc'. After the Apartheid era ended with the general elections of 1994, his reputation waned slightly. But now he is here, in the middle of a farewell tour that will take him him to Canada, the US and back home to Cape Town. Fifty years of energy, engagement, and anti-Apartheid struggle. With the Impi song (1981) Juluka  had provoked the racist regime in Pretoria by openly singing about war and mentioning Umkhonto, the ANC's armed wing. Promoting the liberation struggle used to be regarded as an act of terrorism, for which one could be sentenced to up to seven years of imprisonment. But Clegg, Sipho Mchunu, Dudu Ndlovu and their musicians and dancers did not care. Even today, in Zaandam, after the two first songs -Scatterlings of Africa and Kilimanjaro-, you feel like catching the plane to Durban and wandering around KwazuluNatal. Clegg, no matter how sick he is now, transforms the small stage of YadaYada Market into a Zulu festivity, with rousing rhythms, high spirits and great story telling. Clegg might be stopped one of these days, but he surely doesn't look like he wants to give up anytime soon.
Author Fulco van Aurich is an aficionado of South African music. In 1989 he co-wrote (with trombonist and composer Jonas Gwangwa) 'The Melody of Freedom', the chapter on music in Culture in Another South Africa, Zedbooks, London.
With contributions by Erik van Aurich.
Discography
Albums
Third World Child,1987 | Shadow Man, 1988 | Cruel, Crazy, Beautiful,1989 | Heat, Dust & Dreams,1993
Singles & EPs
Johnny Clegg & Savuka, 1986 | Johnny Clegg And Savuka, 1986 | Great Heart,1987 | Scatterlings Of Africa,1987 | Johnny Clegg & Savuka / Cliff Richard Great Heart,1987 |Asimbonanga, 1987 | Take My Heart.1988 | I Call Your Name,1988 | Siyayilanda.1988 | I Call Your Name / Scaterlings Of Africa,1988 | One 'Man, One Vote,1989 | Cruel, Crazy, Beautiful World, 1989 | Dela, 1989 | One Man, One Vote, 1989 | Cruel, Crazy, Beautiful World, 1989 | Cruel, Crazy, Beautiful Tour, 1990 | Johnny Clegg & Savuka / The Alarm - Cruel Crazy Beautiful World / Love Don't Come Easy, 1990 | Ibhola Lethu,1993 | The Crossing, 1993 | These Days, 1993 | In My African Dream: The Best Of Johnny Clegg & Savuka,1994 | In My African Dream: The Best Of Johnny Clegg & Savuka, 1994 | In My African Dream: The Best Of Johnny Clegg & Savuka, 1994 | Live And Rarities, 1994 | The Very Best Of, 1997 | Premium Gold Collection, 1997 | Juluka / Savuka* Featuring Johnny Clegg - The Best Of Juluka / Savuka Featuring Johnny Clegg, 1999 | In My African Dream: The Best Of Johnny Clegg & Savuka Juluka / Savuka* Featuring Johnny Clegg - The Best Of Juluka / Savuka Featuring Johnny Clegg, 2002 | Scatterlings Of Africa, 2003 | Johnny Clegg / Juluka / Johnny Clegg & Savuka - Spirit Is The Journey - The Best Of, 2010