A new ZAM-AIPC transnational investigation shows that a "war-only" strategy creates more and more terrorists in East and West Africa.
A 'hearts and minds' approach aimed at dialogue with vulnerable populations seems desperately needed to fight the 'siren call' of violent religious fundamentalist movements, but is absent. In No Hearts, No Minds. The War on Terror in Africa Part I we present the first findings of a transnational investigation conducted by ZAM's partners in the African Investigative Publishing Collective, a recently established collective of African investigative journalists. It is the first time that an investigation into the backgrounds of terror in Africa was conducted by African journalists in several countries simultaneously.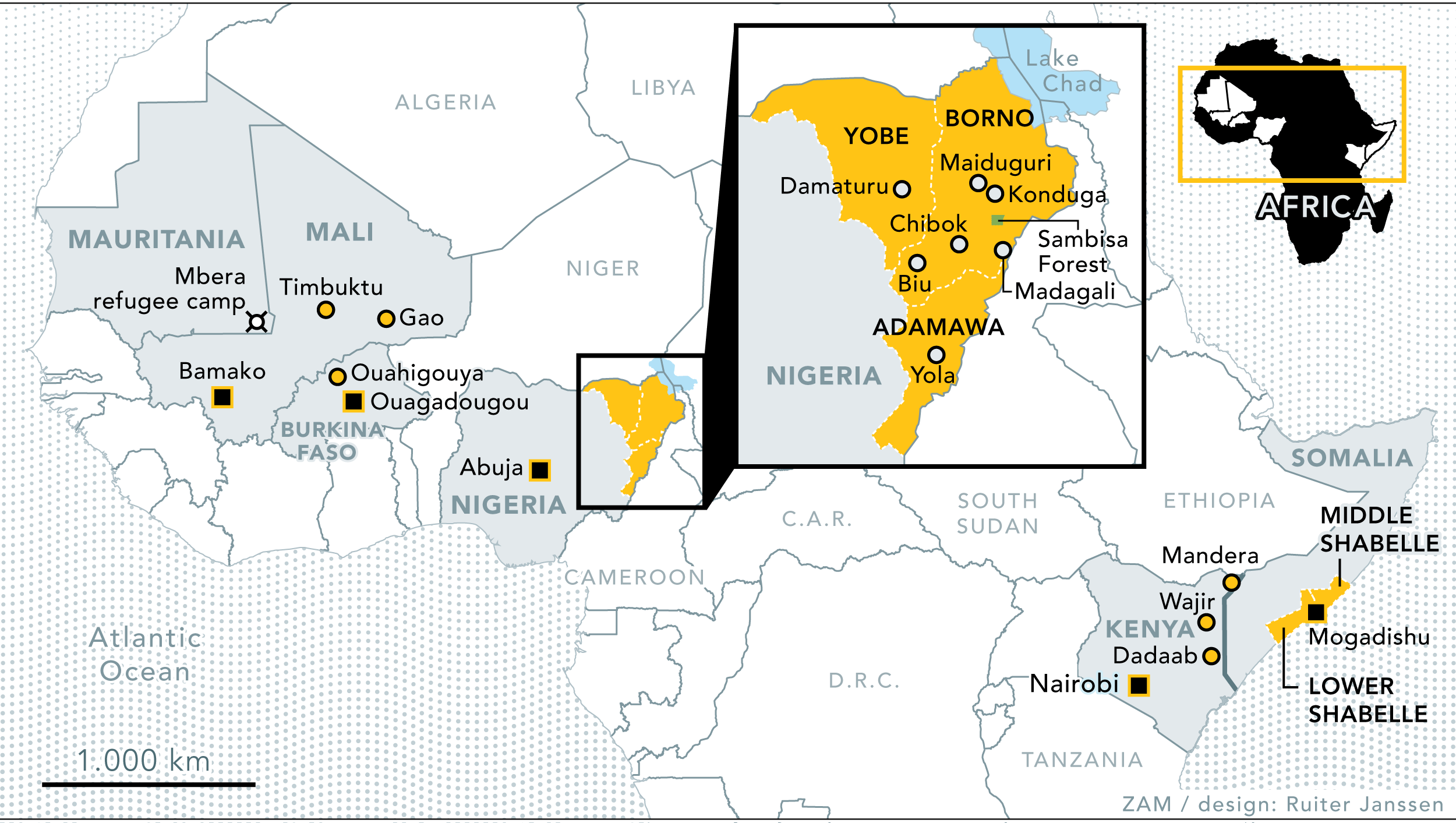 The investigation surfaces two reasons why young people – mostly boys – in forgotten areas in Mali, Nigeria, Kenya and Somalia join militant "jihadi" extremist groups that commit acts of terror. Firstly, hunger and unemployment make people receptive towards promises and money offered by these groups. But the second factor is perhaps even more important: bitterness and anger vis-à-vis mostly corrupt and callous local governments and local elites. The fact that such unjust, uncaring and often oppressive local rulers are usually supported by Western countries with billions in military and development aid creates an anti-Western sentiment that is easily tapped into by "jihadi" PR.
Strategies to make friends among vulnerable populations are largely absent
In such a situation, one would expect Western (and other) forces to conduct large scale 'hearts and minds' operations aimed at dialogue; a strategy of open arms, assuring the embittered that 'we', and not 'they', are their friends. But the investigation found that such strategies-with the exception of Nigeria- are few and far between. The ideology of anti-Western Islamism is often the only protest message that is bandied about among angry, neglected populations. It is a siren call, heeded by those who have nothing to lose except dust and pent-up rage. Then, as more Western military intervention (also called "peacekeeping") disorganises old structures in local societies, more chaos follows, hopes are destroyed and resentment grows.
"We may be forced to pray five times a day, but at least we now have security"
One of the consequences is, ironically, an appreciation for the strict law-and-order rule that some of the extremist groups represent and implement – even where locals don't feel comfortable with fundamentalist Islam. In Somalia, where some areas are controlled by the armed Islamists of Al Shabaab, some locals claim to be happier than before, when a weak and corrupt government ruled. "We may be forced to go to mosque five times a day, but at least we now have security and order here," say farmers and traders in the Lower Shabelle region that live under militant Islamist rule.
Photo: In order to track the movement of al Shabaab, a Ugandan soldier launches a surveillance drone from the military base in Qoryooley, Lower Shabelle, Somalia, April 29, 2014. Credit: Adriane Ohanesian.