How the photo collections of two families connect worlds apart
There was a corner in his grandmother's house where Farrell Ngilima was not allowed to come even when he was a child. There was a cupboard standing there containing many small yellow boxes. When he got older, he discovered the secret of those boxes: they contained hundreds of negatives, made by his grandfather Ronald Majongwa Ngilima.
Farrell realised he had found a treasure-trove. The pictures were made in the fifties and sixties in the area around Benoni, about 30 km east of Johannesburg. They showed people – black, Indian, coloured - on the streets, in their homes, or in an improvised studio. Farrell started to do some research, trying to identify places and people. That was complicated enough as the area had changed and people had moved, and he had to do most trips on foot. But he managed to develop some insights into the material he had inherited and became convinced that this material should be seen by more people. He approached the Africa Museum in the city, where some prints were put on display, in a modest way. Then, in 2008 he met Sophie Feyder, a young researcher, who was out in South Africa to study the role of photography in black urban communities. Together they formed a team and their cooperation continues until today. Feyder brought in her academic skills and network, Farrell his insider knowledge of local history.
This collaboration produced an outstanding thesis. In her study Feyder carefully reconstructs the development and characteristics of the Ngilima collection. Ronald Ngilima moved from the Eastern Cape to Benoni in the 1930's. Here he started to work at a local tobacco company, to supplement his modest salary he taught himself how to take pictures and set up a small business. He probably started already in the 30's but the earliest surviving pictures date from the early fifties. Around that time he moved to a slightly larger house with an extra room that could serve as a dark room. Photo lamps allowed him to take pictures indoor.
Ronald Ngilima stopped taking pictures around 1960. His eldest son Torrence took over the enterprise for a few years, but then left it behind and started to work for the ANC.
Since people in the African coloured and Indian townships could not afford a camera, they came to Ron for pictures of themselves and their loved ones, sometimes on special occasions like weddings, but more often portraits 'for future remembrance' as Tobias Wendl once formulated. The collection of portraits are remarkably different from portraiture in the 30's and 40's- in classic studio portraits people stand or sit stiffly and formally, and they look deadly serious. Ngilima's photographs however are dynamic, showing people in a homely atmosphere. People take movie star poses, they smile and look confident, proud, lively and real.
the Ngilima Collection a wonderful source of urban township culture
There was a strong relation in style with new and influential (picture) magazines like Drum as they were oriented towards a black clientele, and introduced a new, more glamorous urban world. It makes the Ngilima Collection a wonderful source of urban township culture, lacking the strong division between black and coloured communities of later days. It shows people constructing new identities in the midst of rough living conditions and growing apartheid. The images tell stories that differ from the so-called struggle photography. In her dissertation Feyder focusses on the complex question how photographs can contribute to the writing of black South African history. It makes sense.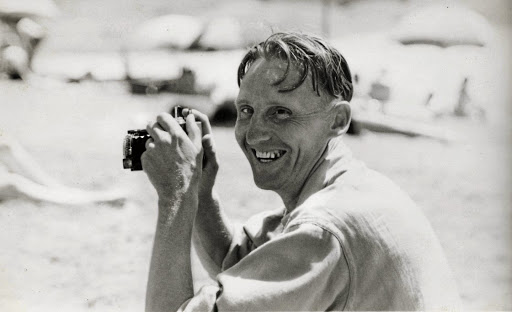 A nice selection of Ngilima-photography is presented in the beautiful designed book 'Commonplace' (Johannesburg, 2016). But who opens this unusual book is in for another surprise. The Ngilima pictures are 'mirrored' with images from another remarkable family photo archive: the Drummond Frye collection. These pictures belong to a long line of two white English-speaking cattle farmer families who lived in Estcourt and intermarried. The family is obviously well to do and could afford cameras. The lifestyle is much more opulent and the photography show private life as well as their pride in land and cattle. The contrast with the landless labourers in their small houses is striking, but what makes the book fascinating are the similarities that exist in spite of this. The poses of the sitters and the chosen occasions are often very much alike. Everyone tries to look theirbest, merriest, funniest. Look at us, aren't we cool and having a great time? These similarities are highlighted by the careful presentation of the pictures – all credits to Oliver Bastow! – that are brought in an 'imagined and creative dialogue', with a preference for visual rhyming. The order is never predictable, and often puts you on the wrong foot.
Look at us, aren't we cool and having a great time?
The book opens with photography-only, at the end some short texts explain what you have been looking at. When you begin to feel a sense of irritation because you want to know more about certain pictures, you get to an overview of all images in thumbnails with the available information. The book, made by Sophie Feyder and fellow scientist Tamsyn Adams, makes the reader hungry for more: what else can be found in this unique archive? It would be wonderful to see a selection these in an exhibition. Who will take up this challenge?  But even more important is to guarantee the accessibility of these intriguing images on a permanent base, especially in the area where they originate from. Hopefully the Ngilima-Feyder team will be able to reach this goal.
Paul Faber is curator. On November 16, 2017, he interviewed Sophie Feyder and Farrell Ngilima at the Amsterdam Zuid-Afrika Huis.
'Commonplace' is published by Fourthwall Books in Johannesburg. More information about the book and how to order here.