A transnational investigation by the African Investigative Publishing Collective
"We are in a national security crisis."
The road to Empaemu in Kwahu East district in Ghana has narrowed so that only motorbikes can pass. Ruins of homes made of mud and bricks have been washed away with no sign of their owners. A basic school which used to boast of over 200 pupils houses only rodents now.
Nana Kwaku Ansong (58), traditional ruler of Empaemu and his subjects have become refugees in their own lands. Empaemu, a farming community located in the Kwahu East District in the Eastern region of Ghana is now a ghost town after having for years, since 2002, been under constant attack of armed Fulani herdsmen who make their cattle graze in the farmlands, destroying the crops of yam, plantain, maize and cassava. At least two villagers have been shot and killed by herdsmen whilst two others sustained gunshot wounds over the past 5-months. In a voice laden with grief and dressed in black mourning cloth, the traditional leader narrates how he and his subjects are now refugees in nearby Afuni village. "They have AK 47's and Pump Action guns. We are too weak to confront these."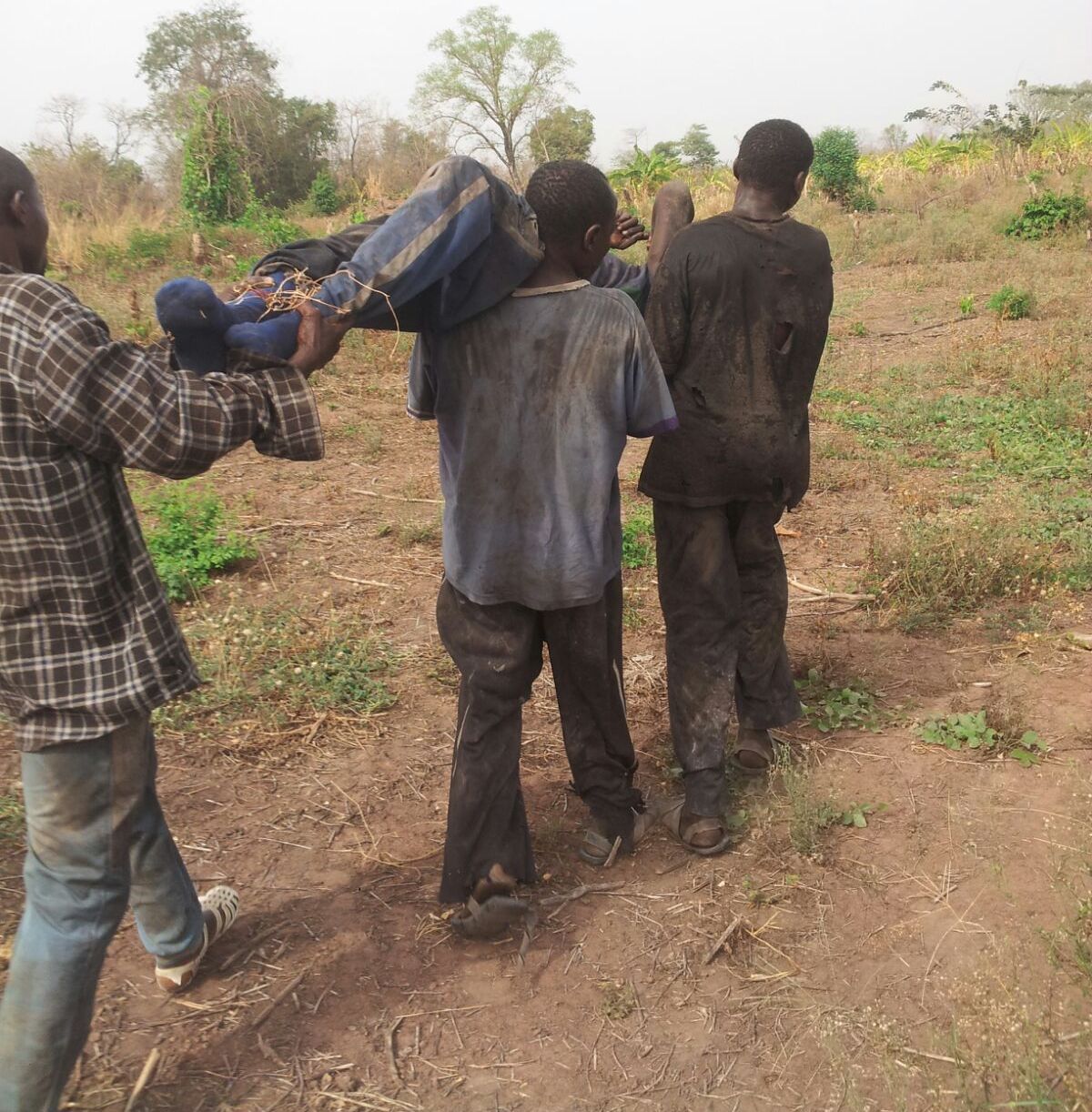 Like Empaemu, seventeen other communities in Ghana's Kwahu East district have been attacked by Fulani herdsmen recently. Demano, Nsawie, Boadikrom, Alhajiakura, Yaw Marfo, Tumi Ayebi, Wawakonton, Asegya, Kwakuakura, and others have all produced refugees. The latest to join them is Mmepamasem.  Having been attacked once before in the past two years, the latest attack on February 7, 2017 saw about eleven armed Fulani herdsmen, wearing turbans, attacking the community at night, forcing residents to flee to neigbouring Aseseaso, where they landed in the local Church of Pentecost building under the protection of the  Eastern Regional police headquarters and  Nkawkaw Division anti-terrorism unit. "The Fulanis ransacked their rooms. For now, even food to eat is a problem. We also need to be serving them with water," said regional leader at the place of refuge, Solomon Aboagye.
The bread basket is no more
Further west in the Afram Plains, attractive to cattle herds because of its Afram river and lush lands, Agogo in the Ashanti region is reeling under herdsmen attacks, too. Known for being the food basket of Ghana, the area could soon experience famine. Kwame Wiafe, a father of seven, used to harvest 7-truck loads of plantain on a day on his 40- hectare Plantain farm at Bonfum near Ananekrom, doing so well that he was able to buy a Toyota Matrix. But 30 out of his 40-hectare farm was lost to the Fulani invasion within two days last year, which made him default on the Gh20, 000 (USD 5100) loan from the Asante Akyem Rural Bank and even get arrested as a result. He still struggles to pay his children's school fees.
Lying a few meters away from Mr. Wiafe's farm is that of neighbour Peter Agyei, who had planted 9, 500 suckers of plantain in August 2016 on his 15.5 hectares. Now, February 2017, the fields are empty save for a few scattered plantain trees. "I'll call it a sports field now," says Agyei, with his trousers tucked inside a pair of black Wellington boots, and a black baseball cap to match. But he is intent on trying again. Sitting on a jerrycan and sharpening his cutlass on a sharpening stone, he prepares to start moving around the field again, to start from zero with the bits that are left.
Agyei is aware he'll have to defend himself and that nothing will come of the complaint he lodged with the Agogo police. Holding the cutlass, he expresses the desire to meet some Fulani and their cattle, not in sight today,  to teach them a lesson.
But fifty-two year old Abenaa Fosua doesn't know what to do or where to turn to anymore. She and her pensioner husband lost all savings when the 50 hectare farm at Abrewapong near the Kyenkyenku Mountains was destroyed by the rustlers and their cattle for the second time in two-years. She says that the degree of devastation is "higher this time" after the rustlers set the farm ablaze to aid the growing of grass to feed their cattle. Fosua owes Gh 40,000 (more than US$ 10 000)  from the regional farming loans entity, Sinapi Aba Savings and Loans, but she has no idea how she will ever repay it. No trace of her farm was left when cattle visited the farm in her absence. More as I try to console her, the more she cries during the interview.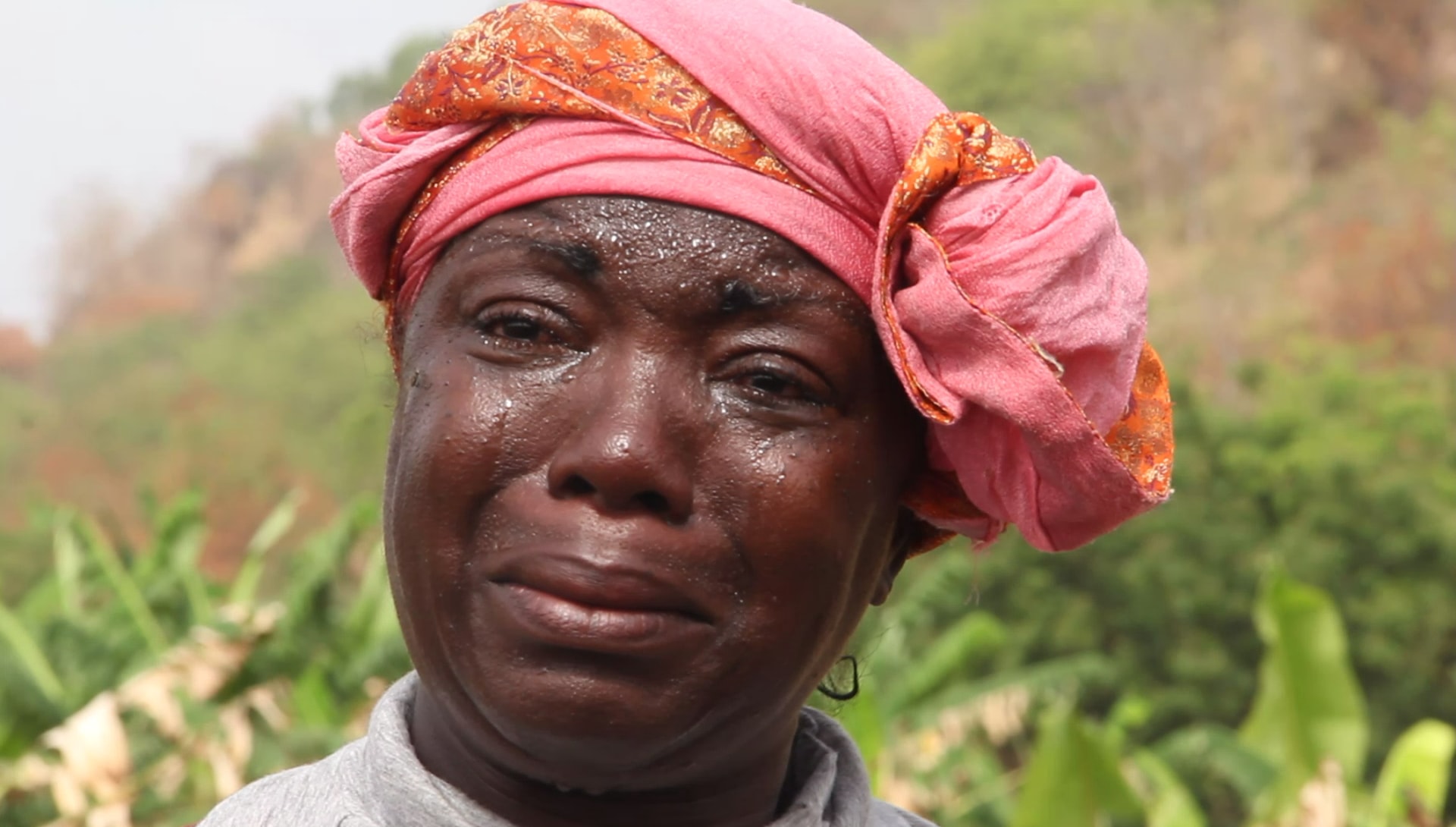 Nana Adwoa is turning to iced-water selling. Farming and selling plantains had always been good to her, too: she had been able to start the construction of a 5-bedroom semi-detached apartment and her kids' school fees had never been outstanding. It is why she had tried to protect her 30 hectares, on which she owed Gh7, 000(USD 1, 700), with a barbed-wire fence. She had erected wooden fence posts 2 meters high with about eight meters between them to hold the wires, hoping it would suffice. She had refused the offer by a group of five young men to be her security guards at a fee of Gh 15,000 (USD 3,500) for two months. That was too much money, she had thought, and besides, the unarmed young men would probably not stand a chance against the armed Fulani raiders anyway. But on that day last year when she found her farm razed down by cattle, with a long roll of barbed wire, cut and detached from its wooden base, lying behind the fence, she had decided to retire in favour of a modest trading business.
Issah Dauda is a carpenter now. "When life gives you lemons, make lemonade," he says, sweat running down his face as he uses a handsaw to cut a wooden slab, three apprentices standing around, handing him tools. "But at some point even I will have to leave this area. People are no more putting up new homes to roof and neither is there demand for new furniture. They are all running away. It's dangerous to do any work here now. Sometimes they [Fulani] pass here with guns."
As farmers report not only invasions but also warnings from Fulani to stop blocking the grazing and even instructions to desist from spraying their farms with weedicides, because it is bad for cattle, production figures in the area have dwindled. Cocoayam went down ten percent in Agogo between 2014 and 2015 alone; maize, yam, cassava and plantain by 7,6,5, and 4 %. Figures over 2016 are still outstanding; experts fear they will be worse, whilst Ghana's Planting for Food and Jobs programme had calculated increases.
Even Russia Park, a popular plantain market in Agogo and one of the busiest, where traders since time immemorial travel from far and near on every Tuesday and Thursday to buy or sell truckloads of plantain, with spillover trading stalls lining the streets next to the crops, attracts fewer and fewer crowds. "Plantain is very expensive now in Agogo. Few bags are on sale," says Akua Amponsah, busily But those days when plantain used to be the cheapest commodity is over. A bag which used to sell at Gh50 is now selling at Gh 200.00 she says, her face worried.
Farmers in arms
Residents in Agogo had protested against the damage wrought by straying Fulani cattle as far back as 2011. Then, the protests had been directed at local traditional leader Nana Akuoko Sarpong, who had unlawfully, -in 2006 and 2008-, allocated lease agreements to Fulani herdsmen and their cattle, whereas he could have known full well that over 5000 heads of cattle would wreak havoc on surrounding farmlands.
As the cattle were destroying more and more crops, protests grew with even some of the other traditional leaders joining in. They were led by the Agogomanhemaa (Agogo Queen mother), Nana Serwaa Afrakomaa Kisi, who was noted for wearing her war dress in the street protests. At one protest, Nana Akuoko Sarpong's palace had been pelted and the leader had been blocked from conducting funeral ceremonies anywhere in the area for months on end in 2011.
The protesting communities had also successfully lobbied local government and the High Court in Kumasi, the capital of the region, to act. In 2012 they had obtained a High Court ruling that the local government Ashanti Regional Security Council was to "take immediate, decisive, efficacious and efficient action to flush out all cattle" in seven villages and localities, mentioned by name. It also ruled that the land leased by the traditional leader had not even been his to lease, but government land. He had rebuked the Nana in the strongest terms: "Nana Akuoko Sarpong and his principal elders had (had) no capacity, authority or right to grant government reserved forest land to cattle rearers for cattle farming." Baah also stated that he "could not fathom why a well-known, distinguished chief, statesman and politician could flout the laws of the land in this manner."
But the herdsmen ignored the court order. They would also ignore the 'evacuation plan' for them and their cattle that a local government committee had drawn up. Even a declaration that now 'forceful ejection' was on the cards, after they missed a 30 April 2012 deadline to leave voluntarily, failed to get them to leave.
What broke the camel's back in Agogo was the gruesome murder of the community's chief priest, 35-year Okomfo Akwasi Badu, at Koweriso village on January 11, 2016. Badu had done more than praying to the gods; he had also participated in anti-Fulani street protests. Badu was not just murdered, but beheaded on that day and his body mutilated. He left a young widow and a 6-month old baby. Bringing the total of murders reportedly carried out by herdsmen in recent years in the region to 65, Badu's case has angered residents so that some started threatening to kill any Fulani man on sight. Clashes between vigilantes groups from the community and herdsmen, with both groups armed, have claimed four more lives since.
The Fulani also hurt
Local Fulani spokesperson, Chief Musa Ali, says "the sight of farms destroyed by cattle herds disturbs" him, too. "I own an onion farm, I know how they feel. Our people should keep the cattle in the pen at night. Because it is the night grazing, that happens when the herders fall asleep, that causes the destruction. I always tell them that."
But he claims that the government has not been helpful in making peace and that the Fulani are discriminated against. "In the past five years I have helped arrest not less than fifteen of my own people who did wrong. Meanwhile, the authorities ignore crimes committed by local farmers. Some youth in Agogo kill cattle and sell (the meat.) Sometimes I wonder if the prison here exists only for Fulani. The locals think we cannot understand the local language, Twi. But we do and we hear locals threatening to kill us. Whilst we are also frustrated over where the cattle will graze. Some places that used to be grasslands are now farms."
The herdsmen in their camp at Zabzugu at the Ghana-Togo border confirm that they feel under attack, too. "I have migrated through different communities for 15 years," says one called Ali Oufen. "And I have suffered so many attacks. I was almost killed in Nigeria when local farmers burnt down our settlement." Another, called Bindari, says farmers in Togo chased them for days after the cows ate half an acre of cassava. "Of course sometimes our cattle eat farmer's crops," the chief, who doesn't give his name, adds defensively. "Those are delicacies to them. But we always do our best to guide them away from the farms."
Corrupt leaders and cattle barons
"We are in a national security crisis, where the people feel left out by the enforcement system and feel  their only way of survival is to take the law into their own hands," says former director of Ghana's Bureau of National Investigations (BNI) and National Security Coordinator Kofi Bentsum Quantson. After forty years participation in committees tasked with finding solutions to the herdsmen's invasions, Quantson is exasperated at the lack of results and blames lack of political will. "The problem is that some of our politicians have taken cows (from the Fulani). Local cattle owners who feel cared for by the Fulani herdsmen will not show much enthusiasm in dealing with the problem. And it isn't the chiefs alone who are compromised. Many (high-level) people in society are involved."
Not all of these are known, but residents in Kwahu East are aware of local leaders, who include the Kwahuhene traditional leader in the district, who have also concluded formal leases with cattle owners. And in Agogo everyone knowns of Alhaji Grunsa, a co-signatory to the lease of Nana Akuoko Sarpong's land, who owns most if not all of cattle in the town. (Grunsa even used to own the -ow defunct- King Faisal soccer team in the regional capital, Kumasi.)
At the herders' camp between Bebome and Kowireso in Ashanti, which shares a stream and two hand-dug wells with the farming community, 43-year old Ibrahim Ahmad, -who is originally from Mali, claims to have lived 20-years in Ghanaian bushes, but later speaks about coming from Burkina Faso-, says he herds his thousand cows for Alhaji Grunsa's co-lessee and fellow Ghanaian cattle baron Dauda Kassim. He is aware that the communities have obtained a court order against this lease because it concerns forest land, he says and he also knows that the cattle sometimes feed on farmers crops, but adds that his group has "no option other than to wait for instructions" from the employers.
He denies owning a gun, though, and claims that two Fulani he knows, Mohammadu Denjie and a Maaoney have been killed by farmers. When I later compare dates and police reports, it turns out that the murders of Maaoney and Denjie, on the border between Kwahu East and Agogo, precipitated the attack on the village of Mmepemasem in February this year.
Another herdsman at the Bebome camp, Issaka, says he doesn't understand why the government "doesn't address the food security situation." He is not just talking about hungry cattle. The Fulani have always been meat and milk providers for the populations in West Africa, which is why Issaka finds it difficult to understand why promises of grazing lands have failed to materialise.
War on the Afram Plains
In the eastern part of the Afram Plains, the burden of law and order has so far fallen squarely on the back of Nkawkaw Divisional Commander, Chief Superintendent James Sarfo Peprah. But his 30-strong anti-terrorism unit is stretched to the limit. "We buy fuel on credit now and (have problems with) vehicle maintenance." And it is not just the money that vexes him and his men; there is trauma, too. "When we escorted the people of Mmepemasem back to their village recently and they saw their houses ransacked and fields razed, they started wailing. It was so sad," he says, confessing that even he had not been able to hold back tears. Both the police unit and the villagers are also acutely aware that the regional budget is so stretched with 'contingency' and 'law and order' needs that there is hardly any money left to address poor sanitation, the inadequate supply of potable water, bad roads and low electricity coverage.
But if it has to be war, it is war, say two local traditional leaders. Nana Simpeh has now "declared Kwahu lands a no go area for Fulani herdsmen and their cattle" and his fellow leader, the Krontihene, adds that government "will regret the consequences" when the chiefs organise to evict the herders by themselves, he says.
In Agogo, the citizen's formation the 'Agogo Worldwide Association,' is similarly ready to fight. "I don't think our people are going to sit back," spokesperson Anyan Kusi warns, adding that his group has been called in on several occasions "to restrain the youth from being violent against Fulani herdsmen," but that they might no longer do so.
The blood factor
The threat by locals to start "killing Fulani on sight" recently brought a high level police delegation to Agogo. It presented a plan to revive an old security operation called "Operation Cowleg," but neither that nor the delegations' exhortations "not to panic" failed to impress the locals. Neither did it convince security supermo Kofi Bengtsum Quantson: "Government should take concrete (action) and (stop) this verbal admonishing and appealing. When the chiefs start talking about the blood factor, they should know that this is something serious."
Click here for the other country reports: Nigeria, Somalia, Uganda