Assassinations and thug rule underpin president's third term bid in Burundi
The people of Gitega street in Bujumbura all talk in a whisper. Violence hasn't erupted yet in this middle class neighbourhood, but life is certainly not normal. "People disappear without trace. Guns are being distributed to civilians," says Athanase Nirorera, a mechanic, who lives in one of the houses here. His neighbour, teacher Dieudonné Bigirimana, won't tell me who he supports, the President or the opposition, only that it is 'dangerous to discuss these things.' Local politician Pierre Kubwimana, from one of the opposition parties, has publicly abandoned politics 'to keep himself safe.' A fourth neighbour, Didier Ndikumana, has relocated his wife and three children to Uganda for safety. "They will only return after viable peace," he says. But when that will be, nobody knows.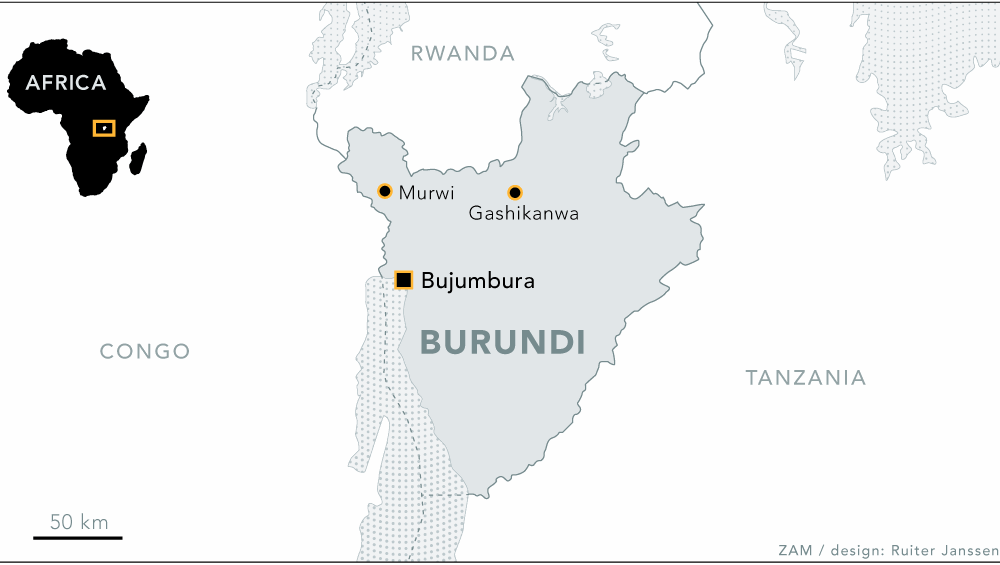 Some of them know people who have been killed. They talk of the case of opposition supporter Alphonse Mpawenimana, a trader who was politically active in his free time. Mpawenimana was shot by an army lieutenant on 17 March in Kinama, not far from the capital.
A portrait of the President on the wall
"They may not talk to you", says the moto-cyclist who takes me to meet Mpawenimana's family in Ruyigi street. And indeed, at his home, people look at us suspiciously. A young woman who introduces herself as Pamela asks why I am here now. "No one has come to see us in many months after the death of our father. No one came to help us." I want to say many things. That I heard about the death. That it was very bad. But words fall short. "I cannot speak to you before my mother comes", she says then, and beckons me to wait.
Sitting in the visitors' room in this somewhat posh middle class house, I imagine that the family has lived a better life before all this. Remarkably, a huge portrait of President Nkurunziza hangs on the wall in the visitors' room. When Mpawenimana's widow, Charlotte, arrives I introduce myself as a journalist. "I have spoken to journalists before, but it has not helped," she says. Then: "I used to be afraid but it does not matter today."
"I used to be afraid but it does not matter today"
I tell her I heard from government sources that the death of her husband was a case of mistaken identity; that the army lieutenant mistook him for a thief. Her answer is no. "That lieutenant knows my husband. He was a committed member of (the opposition party) FNL and that is why he was killed."
The family wanted the perpetrator punished and tried to report to the police but nothing happened. Knowing how difficult it will be to pursue a case where a government soldier is involved, Charlotte has decided to rest the matter for now. "I have no choice."
According to the local human rights organization APRODH (Association for the Protection of Human Rights and Detained Persons), more than 2,300 opposition activists have been assassinated, either by the military, the police, or the paramilitary governing party youth movement Imbonerakure since 2010. But though the killings have stricken panic and fear in many, protests have only grown in size and vehemence. Especially so since the announcement of the President on 25 April that he will stand for another term –something the opposition is fighting tooth and nail.
The money has gone to Kiriri
"Nkurunziza must go!" Is the cry of the protestors, for whom the social ills of Nkurunziza's regime have become too much to bear. Poverty, disease and illiteracy still envelop most of the country whilst Nkurunziza's ruling elite consumes most of the state's resources. Their base is Kiriri, the Bujumbura suburb of luxury where Nkurunziza and his fellow ruling party politicians live. "Where the money is? All diverted to Kiriri", is a staple saying among Burundians nowadays.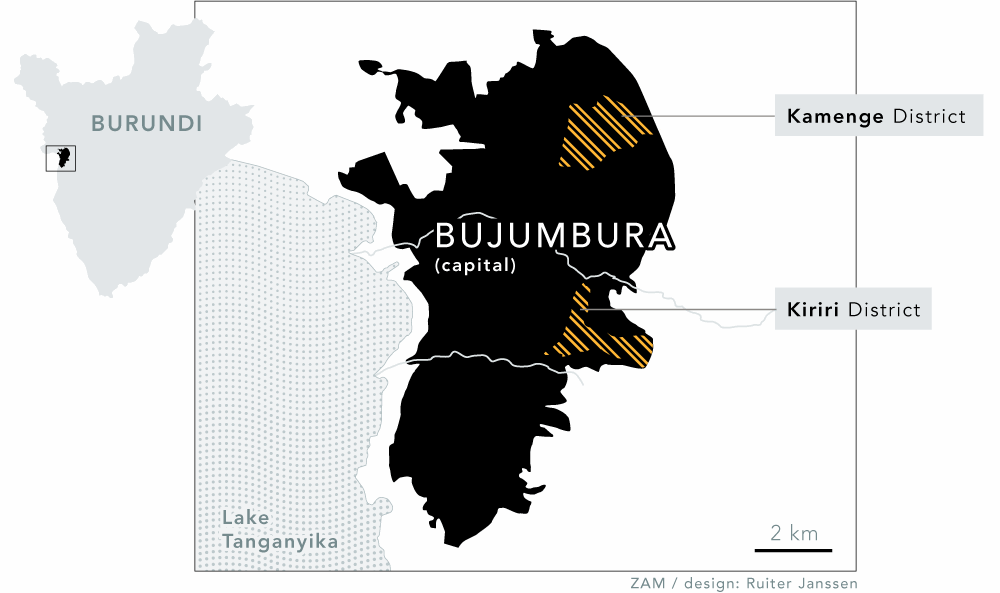 The announcement by Nkurunziza's party, the CNDD-FDD (National Council for the Defense of Democracy –Forces for the Defense of Democracy), that their leader will stand for a third term was the match that ignited the flames of protest. Observers fear these could escalate into another civil war, ten years after the devastating war between majority ended and Nkurunziza's government of national unity was inaugurated as part of a peace settlement in 2005.
But the erstwhile government of peace has become a government of oppression. The ruling party has increasingly been using its youth wing, the Imbonerakure, -said to count 50,000 members countrywide- to oppress dissent. The Imbonerakure are the 'civilians' who receive the guns the people in Bujumbura's Gitega street spoke of; they are the ones who 'make people disappear without a trace.'
They also killed 22-year old Dianne Uwineza, daughter of the house of Enid Murerwa in Gashikanwa, a small town in Ngozi province, between Bujumbura and the Rwanda border.
Gashikanwa
Gashikanwa looks like any other village in the poverty-stricken parts of East Africa. The road leading to it is filled with potholes. Two roomed mud houses. Small plots for subsistence farming. Enid Murerwa was farming here, when two girls came from the centre of the village to tell her that her daughter was dead.
Enid Murerwa was farming here when two girls came to tell her that her daughter was dead
Dianne Uwineza had been passionate about change in the country. Thanks to her mother's hard work she had made it to university in Bujumbura –and everytime she returned to Gashikanwa to spend time with her family the poverty would break her heart. This is why, perhaps unwisely, she had shouted out: "Nkurunzira must go!" when she spotted the local group of Imbonerakure youth hanging out at the corner. She knew some of them; they had been children together in this village. But the children had grown up and were now adult males, filled with anger against the protesters who were making trouble for 'their' president. Had the party not created unity after the earlier years of civil war, which had seen many of the older generation killed? Had the party not provided them with a role to play? To keep the peace?
Five of them attacked Dianne Uwineza. One blow to the head (with a 'sharp object', read the autopsy) was fatal. Two friends rushed her to the hospital, but Dianne was dead before she could be treated. "My daughter was so beautiful. She was light skinned," Enid Murerwa says when I ask her to tell me about her daughter, her face between worn-out fatigue and anger. "We have lost the future in Dianne. Those who did this are demons. God will punish them."
A boy who loved football
Dianne Uwineza's murder set off a range of protests in the village, with violent clashes between Imbonerakure and progressive students. One of the marches led to the death of another student, Godfrey Ruzibiza, who was arrested and taken from his home by local police for 'inciting violence' after a march. A day after his arrest the police was back. This time to tell his mum, Mariam Ndugute, that he 'had tried to escape from prison and was shot dead.' "He really loved football", she says. "With his friends, he really talked most about football."
After the clashes in the second half of March, Gashikanwa, engulfed in panic and fear, seems firmly under the thumb of Imbonerakure and their allies in the local police. The silent glances of the villagers don't seem to bother Adre Hakizimane, a 26 year old local Imbonerakure member. He says the group did not kill anybody. "The accusations are without merit. We don't kill people but sometimes we try to defend ourselves. We just love our President and support him", he says, his red eyes shifting, never looking straight at me.
"We just love our President and support him"
Discussing the nitty-gritty of the third term bid by his President seems beyond him as he and his group are busy drinking. But Adre Hakizimane's political leaders argue that the President is entitled to a new candidacy, since technically he only had one, not two. Nkurunziza was a president for two terms already, but the first time he was appointed as part of a peace agreement and not elected, they say. Thus he is fully allowed to stand for another, in their view a second and not a third, time. They say that the protestors, who are trying to emulate the social revolt that led to the recent ousting of Burkina Faso's old dictator Blaise Compaore, are plainly wrong when they think they can do the same thing in Burundi.
The most menial of jobs
Asked to talk about his background Hakizimane says he was 14, maybe 16, when his parents and three siblings died in the civil war. They were killed by the radical Hutu rebel movement FNL, then a militia known for its fanaticism and cruelty, including against fellow Hutus.  Still a teenager, Hakizimana performed the most menial of jobs to get something to eat -until he joined the youth movement of the ruling party. The CNDD-FDD's message of peaceful coexistence spoke to him –as it did to many, in those days.  And the membership clearly helped him. "Life is better now," he says, adding that "the President has done well."
He never went to school, though. When I ask why he still supports Nkurunziza, even though under his regime there was still no school for him, his answer is vague. "Life will change for better," he says. "And maybe our children will go to school. Anyway the opposition will never deliver better than our man."
Forced recruitment
In Murwi, fifty kilometers north of Bujumbura, the Imbonerakure have taken charge since February, forcibly recruiting young men in the village. Some escaped again, but trying to desert is risky. It led to 24 year old Aaron Manirampa's death.
His mother Judith Ndarubayemwo is unable to tell the story. Every time she tries she breaks down and sobs, eventually beckoning her daughter Beata to tell it, which she dutifully does. "The family didn't have enough money to send Aaron to school. He tried to hunt jobs for years without luck. One day, we learnt through a friend who escaped from Imbonerakure that Aaron joined the group too. We were so sad." But the worst was yet to come, she continues. "Two months later another childhood friend of Aarons, who is still in "the army," told us that he had been killed while trying to quit."
"The police just mock us"
They don't know how he was killed, Beata concludes. "When they found his body in the bush five kilometers from our home, his body had bruised all over." The mother, briefly composed, adds that she had wanted to go to police. "But they just mock us." She then retreats back into her three roomed mud house. It has started raining. It leaks here when it rains, and it becomes a breeding place for mosquitoes.
The acts of the Imbonerakure are denied by the government. Their killings, says APRODH, never lead to any arrest or trial. Family's attempts to be heard about the murder of loved ones are met with silence.
The Italian nuns of Kamenge
It is said that even the murder of the nuns was carried out by government forces. The murders, on 8 September last year, of three Italian nuns in a convent in Kamenge, north of the capital Bujumbura, made international headlines but have so far not led to any arrest.  One former security agent, now an army soldier, Juvent Nduwimana, has publicly confessed to his participation, saying that he and his fellow assassins were following orders from 'high up.' He said he spoke out because of fears that he and his colleagues were also going to be murdered 'to erase all tracks of the crime.' He has been summoned by the army, back home from a peacekeeping mission under AMISOM in Somalia, for further interrogation.
Nduwimana may not even know why he was sent to murder the nuns. But one Bujumbura government official, speaking off the record, said that they were assassinated because they "were giving info" about activities of Imbonerakure to the "outside world."
On my way out of Murwi I meet resident Eugene Karamaga *(32). I ask him if everyone here will now vote for Nkurunziza. "We'll pretend to do that as a safety measure," he says. "But we will vote for the opposition."
An escaped political prisoner galvanizes the protests
Remarkably, the figurehead and most charismatic leader of the opposition, comes from within the ruling party. Hussein Radjabu leads a faction in the CNDD-FDD that opposes a third term for Nkurunziza and it is he who is galvanizing most of the popular protests.
A former guerrilla commander of the Forces for Democracy, and a comrade of Nkurunziza during those days, Radjabu served as secretary-general of the CNDD-FDD between 2005 and 2007. During this time he became arguably the most influential figure in the government. But, as it goes, there was a fall out with Nkurunziza's faction. He was removed from the party leadership in early 2007; then arrested and imprisoned under charges of 'fomenting insurgency' and 'plotting against the state.'
But on March 2 this year, Radjabu escaped from prison, reportedly helped by friends within the ruling party. His escape triggered mass manifestations of joy and support in Bujumbura and, from a secret location in the country, Radjabu now inspires the protest movement against the third term bid. "We are determined to use constitutional means like peaceful demonstrations until Nkurunziza realizes our cause. As Burundians we must champion the rule of law in our homeland," says Tony Nganda, a Radjabu supporter.
Frightening scenarios
But a peaceful solution doesn't seem on the cards as yet. According to the latest counts by the United Nations' refugee agency UNHCR, the violence so far has led to over 20,000 Burundians fleeing to neighbouring Rwanda, Uganda, Tanzania and the Democratic Republic of Congo. Many fear a new civil war in which Burundians could be set against one another even along ethnic lines: Burundi, like Rwanda, has a history of tensions between the Hutu and Tutsi ethnic groups. Here, too, -though not on the same scale as in Rwanda, and it must not be forgotten that Hutu militias have also attacked other Hutu groupings- some Hutus have targeted and killed Tutsis for being Tutsis. Hutu anger and vengefulness has historically been prompted by the years (in the mid-1960s and the late 1980s) when the Tutsi minority ruled over the Hutus in a succession of military governments.
Pierre Nkurunziza's rule attempted to cement 'peaceful coexistence' between the groups, with minority rights guaranteed on a local level, structures where Tutsi minorities could exercise veto rights, and quotas for Tutsis in parliament, government and in the army. Tutsis however fear what might happen if this government collapses. Though the killings of activists have so far been indiscriminate, with victims both Hutu and Tutsi, some say the repression is starting to take anti-Tutsi shape and see a frightening parallel between the make-up and acts of the Imbonerakure and Rwanda's notorious Interahamwe militias. The Interahamwe, after all, killed a lot of moderate Hutus, too.
"Tutsis have been warned in this province. We are worried"
Agnes Kamariza, a resident of Cibitoke province, lost her six sisters and parents during the civil war. She says that recently her family has been harassed again by local authorities because of being a Tutsi. "Tutsi people have been warned in this province. We are very worried," she says. Some Tutsis have reportedly called on relatives who hold positions in the army and government, hoping they will protect their less lucky cousins. 
In a reference to possible ethnic conflict, the US State Department has urged Nkurunziza's supporters and members of the opposition alike to refrain from "hate speech, violence, or other provocations, that could feed the climate of fear and instability." The International Crisis Group report on Burundi released this month has warned that it is 'increasingly unlikely' that the local, parliamentary and presidential elections will be free and fair. All scenarios presented by analysts range from protracted oppression and more killings to fully-fledged civil war. 
In Cibikote province, every evening, for the last three years, Charlotte Mpawenimana had been taking walks together with her daughter Pamela. But since the murder of husband and father Alphonse they spend their evenings inside the house, worried that Imbonerakure could come for them. Their son and brother, David, has gone into hiding. Perhaps he has left the country. The family doesn't know. "He is missed," says Pamela. "But every struggle has its cause and right time. Right now, it's time for Nkurunziza to go."
*Name changed for safety reasons
Photo: Riots in the capital Bujumbura (africanspotlight.com)

* Ignatius Ssuuna is an investigative journalist based in Rwanda. He writes on corruption cases, human rights, conflicts and humanitarian crises in the East African region. He writes on a freelance basis for DPA, IRIN, and the Daily Monitor in Uganda. He was previously investigations editor at The NewTimes, Rwanda's English daily newspaper. He is a freelance researcher with Global Integrity, an independent nonprofit organization tracking governance and corruption trends around the world.