They defraud, kill and maim their patients
Quack 'doctors' roam free in many African countries. Their victims are those who can't afford the expensive clinics frequented by the elite, predominantly among them desperate girls and women seeking outlawed abortions. Two investigative journalists, Anas Aremeyaw Anas (Ghana) and Rosemary Nwaebuni (Nigeria) went undercover to expose the quackery killing fields and to place the problem squarely on the agenda of African governments. A 'J'Accuse' from the world of fictitious certificates, dirty syringes and butcher knives.
Since abortion is illegal in both Ghana and Nigeria, it is the biggest money maker for the quack doctors here. Desperate girls and women, even if they know of the dangers of quackery, simply have no other option but to call on one of these. Our story, therefore, starts with one such abortionist: Johnson Chukwudi, a pharmacist who plies his trade at the back of his pharmacy at the Ghana market in Sapele, a town in Nigeria's Delta State.
When we meet him and ask him if I, Rosemary's 'boyfriend', can be present during the pregnancy test which he says he will conduct, Chukwudi agrees.
She is definitely carrying a foetus, he tells Rosemary, who is not pregnant
It turns out that the 'test' consists of Chukwudi poking Rosemary in the belly a few times, after which he announces: "It is there".  She is definitely carrying a foetus, he tells Rosemary, who is not pregnant.
The consultation ends with Chukwudi setting a date and a price for the abortion. He has not created a written record of the patient. He hasn't even asked Rosemary any questions.
When we come back, ostensibly to have the abortion but in reality with police to arrest him, he has absconded. Information about our true identity must have gotten to him. I have visions of Dr Drah, the quack abortionist I exposed in Ghana two years ago. Drah even raped his patients before aborting them, telling them that sexual intercourse was part of 'bringing in the medicine'. He was briefly jailed after our intervention, but was back on the streets, 'practicing' again, within months.
Abortion at the beer parlour
This time we must at least secure an arrest, we have promised ourselves. If only to alert the people in Sapele that they are being defrauded by and in mortal danger from the many unlicensed practitioners here.
The husband-and-wife couple conduct their abortion business on the side, next to their beer parlour and restaurant
Our target now is the Ogboru husband-and-wife couple, who conduct their abortion business on the side, next to the beer parlour and restaurant they also run, with their restaurant waitress doubling as a nurse. We have paid 500 Naira to Mrs Ogboru to go get her husband at the bar and take us to the inner room, where the 'examination' has taken place on a bed.
Where our first abortion doctor already saw a foetus in Rosemary's womb after poking her in the belly, Mrs Aigbe Ogboru from the beer parlour can tell from inserting a few fingers that her, Rosemary's, 'pregnancy is in an advanced  stage'.
"O and you have taken drugs!", Mrs Ogboru exclaims. "Why did you take drugs? This is not good. It is going to make your bills high now." She quotes us 10 000 Naira for the abortion, but then he husband comes in and examines Rosemary too. He tells us that his wife is right about the advanced state of the pregnancy, but we must be prepared to pay 15 000 Naira, because of the 'drug taking' and because of the fact that Rosemary has said she has pains. We negotiate and settle on 11 000 Naira. A date is set for the abortion. As we step out of the bar, another lady is ushered in.
The first thing we do when we return is to make the payment to Mrs Ogboru with marked Naira bills. The 'doctor' husband then prepares the 'operating room'. They are a tense five minutes. What if the police fail to show up in time? Will Rosemary be able to get out before harm comes to her? But thank God, as soon as her name is called, the police enter and arrest him.
In the ensuing raucus, Mrs Ogboru denies everything. Abortion? No way. She hasn't received payment for anything, she says. But the marked Naira bills are confiscated by the police and will show the truth. The couple are escorted to the police station and detained.
The Quantum Resonance Analyzer
Quacks do not limit themselves to abortions, nor do they all practice behind beer parlours. The Austin Royal Clinic at Oleh in the Niger Delta District, where one Deacon Austin Awhotu practices, has an organized ambience: well demarcated, well furnished and kept in an orderly manner. Could this be a passable health facility?
We have already had a meeting with Awhotu. Rosemary has consulted him with symptoms of a heart attack: chest pains, rapid heart beat and dizziness. She has also mentioned loss of appetite, insomnia, general body weakness and swelling in a part of her body where she had allegedly had an earlier surgery.
Rosemary is now to be tested with a machine called the Quantum Resonance Analyzer
Awhotu, then, only addressed the swelling, saying that she should buy some drugs from his pharmacy to heal the old wound, and that she should come for further tests for the other complaints.
Now that we are back, we find that Rosemary is to be tested with a machine called the Quantum Resonance Analyzer. She has to sit in a chair and hold a silvery object the size of a ball pen in her hand, with another gadget strapped on to her arm. After a few minutes of pressing the ball pen, 'results' pop onto a computer screen. One of the two nurses in charge prints out a report. "It says we must now do another test", we are told and subsequently Rosemary's hand palm is poked with yet another gadget, that has a cord linked to a box. Another report is printed. "BP 124/64, MMHG 63 b/m, prostrate P/H, Small and big intestine P/H, lungs inflammation P/H, Headache P/H, Cold and Cough mildly seen, Sugar level P/H, Right brain affected!"
The doctor shows us this report and tells us it is serious. Rosemary may have typhoid, malaria or both, and even other serious ailments, too. The treatment will consist of more visits and medicines to buy from the doctor himself.
House visits
Next, we rent a house in Sapele town. Here, Rosemary poses in the bedroom as my sick and bed-ridden wife. I go around trying to find help for her whilst the team rigs the house with hidden cameras.
The first doctor I find is called Chris Emesakoro. Again, Rosemary acts out the symptoms of serious heart attack. He misses all these. Instead, Rosemary is again diagnosed with malaria and typhoid. Interestingly, Emesakoro tells us when asked that he is not actually a medical doctor and that he 'only runs a pharmacy', but he clearly feels qualified to give this diagnosis nevertheless. It is a beneficial one to him, since the treatment for typhoid and malaria consists of pills which he sells.
The second person to come in is a nurse called Charity. She straightaway prescribes drugs for the patient without any examination whatsoever. Like Chris, she misses the heart attack symptoms. The last one, a 'Dr' Sapele, is the third one to concur that Rosemary has malaria. He knows this from pouncing his hand on her abdomen.
Dirty needles
Royal Dictac, a clinic in Warri, Delta State, Nigeria, is known to the Nigerian health department for its one-size fits-all treatment. Here, it is rumoured, Dr Charles Igudala gives every patient, old or young, man or woman, the same drug and injection - no matter what their complaints or medical history.
The 'clinic' is an auburn painted bungalow housing five small offices including a 'drugs room' and a 'children's waiting ward. Situated in a dirty environment next to a setback and canal, the facility matches its surroundings. The rug around the entrance is dirty and wet. The waiting room is full of sand, dirt and creeping ants. A young man, ostensibly, the facility's 'pharmacist,' administers drugs from behind a dirty-looking counter - often picking up tablets that have fallen on the floor and dispensing them again.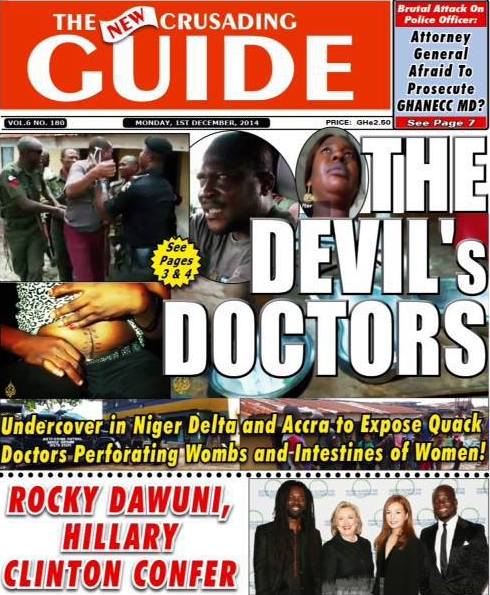 A police team is positioned around the clinic to come in and accost the doctor as he is treating me and I wait, again in fear of imminent death, as Igudala prepares to give me an injection. But again, I am relieved to find the police act on time. They arrest him as Igudala, furiously, asserts that he is a certified medical practitioner in Bulgaria.
Doctor Igudala furiously asserts that he is a certified medical practitioner in Bulgaria
But when Rosemary asks him where his certificates are, he responds that he 'left them behind' in Bulgaria. Dr Alfred Efiakobo of the Nigerian health department, who has accompanied us, intervenes, saying that he should at least have registered with the Nigerian Medical and Dental Council.
As the doctor quietens down, Dr Alfred looks around in the practice and finds old, used syringes, needles and drip lines, ready to be used again. If the doctor would have injected me with any of these it could indeed have meant my death.
Too weak to regulate
The director of the World Health Organizations' Pharmacovigilance centre in Ghana, Prof Alex Dodoo, blames the prevalence of quack doctors on a lack of enforcement of existing laws. "These people are able to evade detection or reopen quickly because our ability to regulate is weak. Even when we know we should go and check every day, we don't have the personnel." The matter is acute in his view. "Would you sit in an aeroplane where the pilot says "OK hello, I'm the pilot, but I've not been licensed?"
It is true that proper enforcement would keep quack abortionist Dr Drah -the one who rapes his patients- and his partners in quackery off the streets. But clearly, action against these fake 'doctors' will not solve the whole problem.  As long as proper clinics are few and far between, as long as people cannot find real doctors to take a look at the sick in their homes, as long as desperate girls and women get no help when faced with unwanted pregnancies, there will be a market for the doctors of death.
Why can't the government ensure basic health care for its citizens?
The question is therefore why the government of Ghana, with all its developments in the field of good governance, can't ensure basic health care and health information for its citizens? Why can't it take a serious look at the tragic deaths resulting from illegal abortions and start discussing solutions? The same questions should, of course, be addressed to the Nigerian and other governments of my continent. Nigerian Academy of Science head Professor Oyewale Tomori has stated repeatedly that no African country is too poor to provide basic amenities, such as schools, clinics, health centers or hospitals for her citizens. We concur.
Note: this story, by Anas Aremeyaw Anas with Rosemary Nwaebuni, was first produced as a documentary for Al Jazeera's Africa investigates.