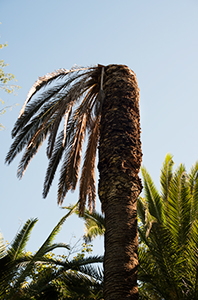 "We don't see things as they are; we see them as we are." It was said by author Anais Nin in mid-sixties France, but it serves well as a motto for Hillie de Rooij's photographs which are, ostensibly, all about Africa. Or are they?
De Rooij plays, she says, with the expectations and frames of the viewer when it comes to images of 'Africa'. "Part of my family is Namibian and I often spent time there when I was a child. I was always surprised at the confusion with which fellow 'Western' people responded to the stories I told about my nephews, nieces and holidays. Wasn't 'Africa' a place of hunger and disease? How could I tell normal childhood stories, full of black friends having fun and visiting places?"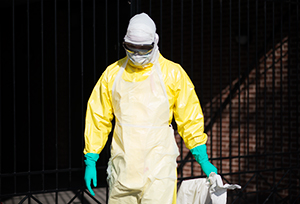 The experiences would influence her career as a photographer, ultimately going beyond the simple exchange of one image for the other, questioning in-depth the ways and processes through which people look at things. Her exhibit 'Myopia' (myopia is farsightedness, seeing clearly only what is very near) is accompanied by an essay by author Jan Postma, who illustrates visual preconceptions through the description of a 'woman standing on a subway grid'. The reader, Postma writes, will imagine the classic picture of Marilyn Monroe with her white dress flaring up, even though the description doesn't mention the words blonde, or pretty, or white dress, at all.
Maasai men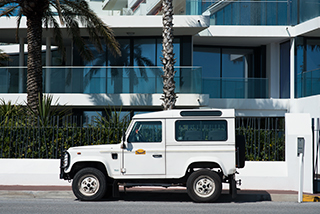 When Hillie de Rooij visits the ZAM office we compare this experience with a ZAM Magazine cover(1) of dancing Maasai men. The picture only shows the dancing, jumping legs and the red Maasai dress flaring around; the upper halves of the bodies are not there at all. But ZAM received an upset letter from a reader who saw dead 'hanging victims' –the image of black legs 'hanging' in the air had spoken to the dominant visual of victimised, in this case hung or lynched, black people.
"Of course humans often misunderstand one another," De Rooij says. "And stereotypes reign everywhere –in the case of the Netherlands it is tulips, windmills and wooden shoes. But when it comes to African countries, the visual images of the entire continent have practically all been created on the Western side of the world. I am interested in creating images that speak to these dominant, projected visuals."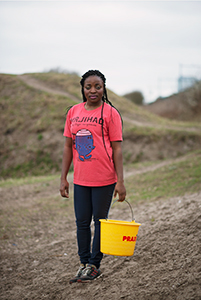 Won't that happen automatically, now that photographers in and from African countries start presenting themselves on the worlds' stages? "Yes, it is starting. I always look forward to the yearly Lagos Photo event. But it's important to be aware that just because someone is from there, it doesn't automatically mean that he is going to do different work or project a different image.
The documentary Framing the Other, by Willem Timmers and Ilja Kok, shows how the Mursi tribe in Ethiopia itself capitalises on the 'noble primitive' cliché. They make a lot of money from tourists by allowing themselves to be photographed in their 'tribal' ways. And I know of a Namibian photographer who takes pictures of a similar tribe, the Himba, in exactly that way too. That is simply because he sells to the western tourist market."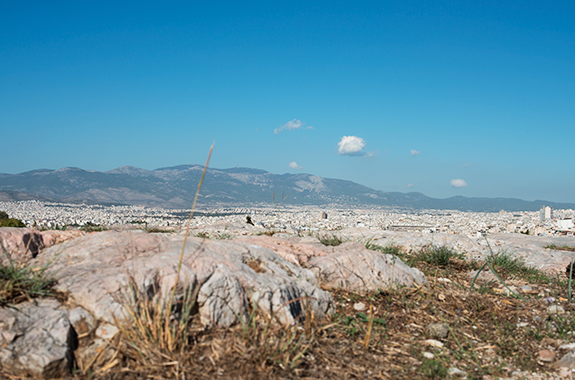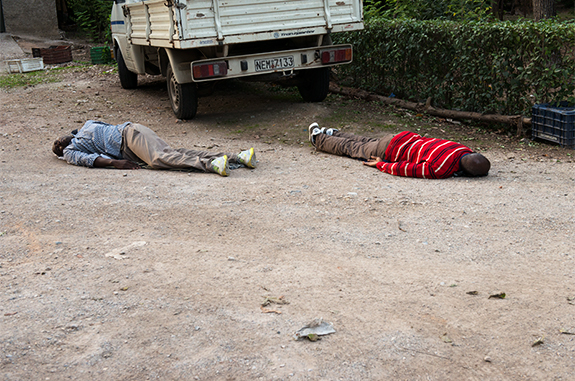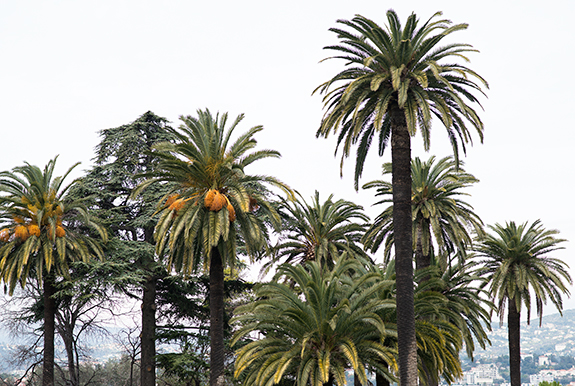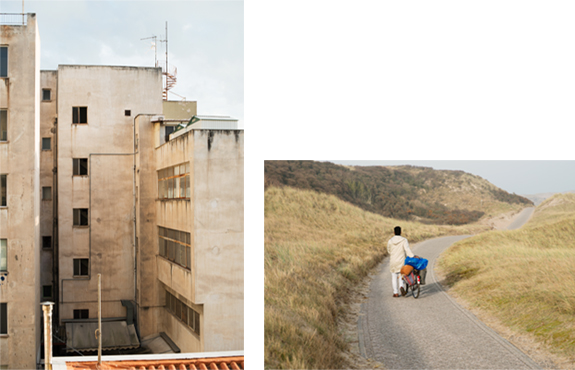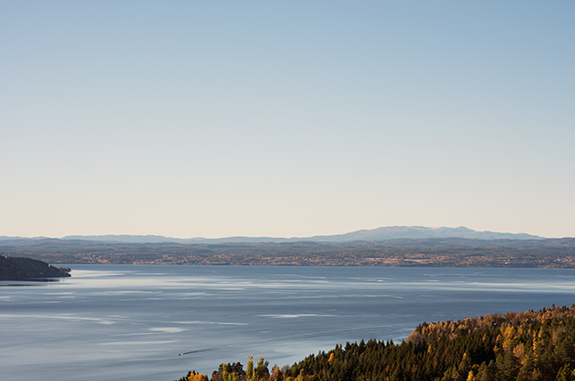 Hillie de Rooij graduated in 2010 from the Photography department at the Royal Academy of Art in The Hague, the Netherlands. Since then she has been working as a photographer. In 2013 she graduated from the two-year Master of Photography course at the Academy AKV| St.Joost in Breda, the Netherlands.
Her work focuses on the question how our knowledge about the world is affected by the images we see in the different media. She is interested in how images are constructed and the way we read them. In her work she decomposes the imagery. She uses photography in several ways: in collages, documentation, staging and sequences.
On February 3, a crowdfunding campaign will be launched on www.voordekunst.nl for the publication of the book 'Myopia'. Hillie de Rooij works together with designer Rob van Hoesel to realise the book, for which author Jan Postma exclusively wrote the text 'Seeing and believing'. Through the book project, De Rooij wants to contribute to the raising of awareness around images of Africa. Your contribution will help to publish the book. Generous contributors will be rewarded with a signed copy of the book or a special edition. The crowdfunding campaign ran until March 14, 2015.
MYOPIA book launch takes place on Friday 12 June, 2015 at Felix in de Steigers, Keizersgracht 324, 1016 EZ Amsterdam. Time: 5-7 PM. Exhibition runs until 12 July and is a cooperation between Felix in de Steigers and Stedelijk Museum Bureau Amsterdam (SMBA).

(1) Cover of Zuidelijk Afrika Magazine 01/2006. Zuidelijk Afrika Magazine, later ZAM Magazine, was a quarterly magazine about art, culture and politics in Africa published by ZAM. All back issues can be found here.