Nigeria | Boko Haram reaps what state abuse and neglect have sown
The deafening explosion shook our office, and our walls and ceiling trembled. Looking out of a now precariously loose window, I saw smoke oozing out of a high-rise building, located about two hundred metres away. The 'This Day' newspaper office had caught fire.
There was tumultuous noise and people from the nearby market and bus terminal were running helter-skelter.  One tweet at a time, we gradually understood that a Jeep left standing in the parking lot close to the newspaper's printing press hall had exploded, killing and wounding scores of people and leaving the huge building seriously damaged.  It was mid-morning on Thursday 26 April 2012, in Abuja, the elite Federal Capital Territory of Nigeria.  Moments after, in Kaduna State, about two hundred miles away from Abuja, the regional offices of This Day and The Sun newspapers were bombed, too.
The Jamā'a Ahl al-sunnah li-da'wa wa al-jihād, the Islamic fundamentalist sect popularly called Boko Haram, claimed responsibility for the attacks. Their reason: Nigerian newspapers had misquoted them. My own newspaper, Daily Trust, was among a dozen other newspapers the group vowed to attack if journalists didn't desist from publishing 'false' stories.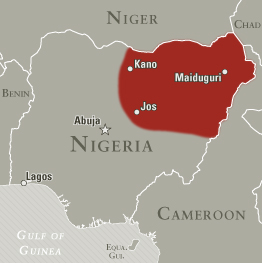 'Western education is a sin'
The full name of the fundamentalist militia translates as 'People Committed to the Propagation of the Prophet's Teachings and Jihad' but it is known as Boko Haram, which means 'Western education is a sin.' With its stronghold in the city of Maiduguri, about 1,600 kilometers north from Abuja, the sect had previously attacked Christian churches and gatherings (Christians are seen as a close ally of  'Western civilization') as well as police stations, prisons, immigration and customs offices and even individual politicians.
The attack on the This Day offices was the first time a media building had been targeted. But journalists who have attempted to analyse the origins of the fundamentalist revolt in Nigeria, or even report on the conflict, have been caught in the firing line for years now. They have not just been attacked by Boko Haram: the Nigerian government, in turn, hasn't been too happy with reporters' search for truth on the matter. The reason for this may be that any attempt to understand the violence has to answer the question: why? Why are hundreds of young Nigerian men, particularly in the poverty-ridden north of the country, susceptible to join an armed revolt by fundamentalists who decree that 'Western education is a sin'?
The sad truth is that the rise of the violence of Boko Haram could have been avoided if warnings about its social causes had been heeded.  One young reporter, Ahmad Salkida, tried to do exactly that, but he was treated as an enemy: silenced and hounded out of the country for his efforts. This is a renewed attempt to tell the story that Nigerian authorities, so far, have refused to hear.
Sharia law 'is the future'
Ahmad Salkida grew up in northern Maiduguri, the later stronghold of Boko Haram. He was fortunate enough to come from a stable family, but witnessed from a young age the devastation of the oppressed northern regions in Nigeria, where unemployment is at 75% and abandoned children swarm the streets as beggars. These children, who grow up with the violence of poverty ('even fighting dogs for food', as NGO's in the region have noted), had provided the core of recruits to several rampaging militias in the region even before Boko Haram existed. Such a militia, ironically, also provided the first recruits to Boko Haram in 2002. A group of male youth that had been armed by the corrupt Governor Ali Sheriff to help him win elections, and that had been abandoned by him thereafter, joined, with their weapons and in droves, the movement that preached revolt against his reign.  A large part of the attraction was the promise of an alternative 'fair and just' Islamic state. Anger with the southern Christian led government, which has exploited and neglected the Islamic northern regions for decades, is palpable here.
Ahmad Salkida saw that it wasn't just the street children who were attracted to Boko Haram. Even youngsters who had gone to school found themselves without a future, with what Salkida would later describe as 'cute ivory tower diplomas'. Salkida reported that many fellow youths who had followed rigorous academic programmes but could not find jobs, from 2003 burnt their university certificates in protest, convinced to do so by the upcoming Boko Haram leader Muhammad Yusuf, who had by then decreed that Western education was in fact a 'sin'. Yusuf preached a better, more prosperous Nigeria, if the country would turn away from 'corrupt Western civilisation' and embrace Islamic sharia law.
Islam had historically already provided a 'social welfare' structure of sorts in the region through the phenomenon of the 'almajiri' schools: Islamic entities where poor parents could send their children to be educated and fed by imams. At least, that was the idea. In reality, the vast majority of these 'schools' were no different from other begging rackets, with the children used by 'teachers' to bring in money from the streets. The practice was defended by the 'imams' involved as within the 'Islamic doctrine of giving and receiving help', but almajiri children were just as prone as other abandoned street kids to becoming criminals and cannon fodder – only this time, for an increasingly violent Boko Haram. "It's a solution of sorts," noted a blogger on a Nigerian social media site. "They are hurting, they are aggressive, and now here is a movement that allows them to take revenge on society and pays them for it."
Health care, social support, jobs
In the tradition of 'Islamic welfare', preacher Muhammad Yusuf was, in the early stages of Boko Haram in 2003, seen to put his money where his mouth was. Yusuf had set up a large farm in Maiduguri, where followers took turns to work as a 'service to Allah'. When the crops and fruits were harvested, they would be shared among widows and the indigent members of Boko Haram. The sect also sponsored the weddings of many of its members, by paying the bride price and providing the funds needed to entertain guests during ceremonies. Thirdly, the sect had a microfinance scheme which allowed members to take soft loans to start petty trading or engage in the motor cycle transportation business, which is very popular in the North-East. Beneficiaries were required to pay back the loans without interest by installments.  The sect had a standing contract with a hospital in Maiduguri, where its members could receive subsidized or free medical attention.
Health care, social support, jobs. The sect became so popular in its early days, and its message against the corruption of the central and regional government resounded so strongly, that prominent members of the society in the North-East (among them politicians and businessmen)  donated cash and materials, including motor vehicles, electronics, land and buildings. And the group's anti-corruption messages still fall on sympathetic ears even now. As recent as 2012, former Plateau state governor Lawrence Onoja, stated that (although he could never be sympathetic to Boko Haram because of its killings of innocent Nigerians) there was 'some sense' in attacks on 'election riggers, fake ballot box stuffers, snatchers and thumb printers, and corrupt government officials'.
By 2007, Ahmad Salkida had interviewed Boko Haram leader Yusuf several times and reported that support for the sect was spreading like wildfire from one part of the northern region to another.
When, in 2009, twenty members of the sect were shot by a joint military and police team, and the movement pledged revenge, Salkida warned in a report for Daily Trust that war was brewing. Barely a month later, the first armed revolt in Maiduguri broke out. Salkida once again went to interview Yusuf but, just to be on the safe side, had alerted the formal authorities of his plan to do so. He was nevertheless arrested on his way to the interview, taken to Maiduguri's government house, interrogated as to why he had a beard, assaulted, locked up and threatened with execution. He witnessed how fellow detainees (some members of the sect, some innocent bystanders) were taken out of the holding cells to be executed.
After his release (facilitated by a deputy governor who knew Salkida) the reporter was banished from Maiduguri. Boko Haram leader Muhammad Yusuf was assassinated by government forces later that year.
Forced into exile
After the extrajudicial killing of Yusuf, Boko Haram started plotting revenge suicide attacks.  Ahmad Salkida kept interviewing members of the group's ruling council, reporting their perspectives as well as their plans. He described the growth of the sect to new levels of sophistication, as well as the financial and military support it was starting to receive from foreign terrorist organisations such as Al Qaeda. Increasingly desperate, he even attempted to broker peace between the sect and government, but these efforts collapsed when security agencies began to threaten his life and those of members of his family. In return for trying to guide authorities, nip violence in the bud and help peace, he was increasingly seen by the authorities as a legitimate target himself. At the time of writing this, Salkida has spent some time in self-exile outside Nigeria and is contemplating a career change.
A death toll that continues to grow
As Boko Haram continued to grow in numbers and in militancy, attacks by it on the civilian population increased, too.  A sad culmination was the massive gunfire and bomb attack on the city of Kano, in January 2012, that killed 185 civilians, including journalist Enenche Akogwu, a camera man with Channels Television, who was filming the attack and wearing a vest indicating that he was a journalist.
By then, violence had already spilled over from the original conflict areas, Borno and Yobe States, to eight other states in Nigeria.  On Christmas Day in 2011, a Boko Haram bomb attack on the St Theresa Catholic Church in Mandallah, Niger State (about 100 kilometers from the Nigerian capital Abuja) killed 35 people.  Six months later, an attack on the Evangelical Church of West Africa in Kaduna (250 kilometers from Abuja) by suicide bombers led to the death of 48 worshippers.
The sect continued to target journalists as well. In Jos, in the northern Plateau State, reporter Nakon Sallah, who worked for the government-owned radio station Highland FM, and NTA reporter Zakariya Isah in Maiduguri were killed by suspected Boko Haram fighters in 2011.
The Nigerian armed forces have continued to carry out extrajudicial killings too.  Human Rights Watch has accused the military Joint Task Force of being behind the killing of 185 people in a raid on Baga, a border town in Borno State, in late April 2013. Many citizens have reported that Nigerian Military Special Forces would attack anyone found at the scene of any bomb blast and randomly demolish houses in that vicinity, because of suspicions that owners of those buildings were giving cover to insurgents. Recent death toll estimates point to no less than five thousand people killed in the crossfire between the military and Boko Haram, between 2009 and now. According to a tally carried out by Sunday Trust newspapers in Abuja, at least 1,627 people were killed in several attacks in the first half of 2013 alone.
Two paralysed states
The attacks have brought life in Borno and Yobe states to a standstill. The capital cities, Maiduguri and Damaturu (a town that used to attract businessmen from many parts of West Africa), are in the grip of civil war. On 18 June, a violent assault by Boko Haram fighters on a Damaturu high school – suspected of housing 'anti Boko haram vigilantes' – killed two teachers and seven students. Thousands of buildings have been destroyed in the crossfire between the heavily armed sect's fighters and the military. Hospitals are overwhelmed with patients and corpses. Government institutions barely function as top politicians and functionaries in the bureaucracy have fled the two bloody cities. Primary and secondary school buildings have either been destroyed by Boko Haram fighters or have been shut by the state government. About twenty rural communities, too, have come under the direct control of the sect, which imposes and collects tax from poor peasants and executes instant 'judgements' on people perceived to be loyal to government.  Since there is no more government in those areas, water and electricity are hardly available and mobile telephone services are either epileptic or totally cut off.
In the last month, since an emergency regime was imposed by the federal government in Abuja, telecommunications in the entire area have been non-existent and journalists now cannot obtain any first-hand information. For reporting on the two war-torn states, the media now rely totally on press statements by the military Joint Task Force on the one hand, and the statements by Boko Haram's leadership on the other.
The vast majority of citizens in Nigeria, meanwhile, don't buy into the Boko Haram 'sharia' message. Whilst Christians are defiant, saying that the Islamic sect is not going to 'chase' them 'out of Nigeria', most ordinary Muslims say they see the movement as a criminal, and not a religious, group. Hamid Hassan, a Muslim businessman in Abuja, voices the sentiment of many when he describes the late Muhammad Yusuf as a hypocrite.  "Yusuf owned cars; he made use of computers; he had expensive gadgets, all products of Western civilization. He was a well-educated civil servant in a Western-style state. How can he say 'Western education is a sin'?" Hassan doesn't understand Boko Haram's calls for sharia law, because, as a Muslim, Hassan already has voluntary access to (lay) sharia courts, which exist next to civilian courts in northern parts of Nigeria. "We have sharia courts in many northern states. What other sharia are they talking about?"
Promises of a utopian state
Whilst most Nigerians would want the government to win the battle against Boko Haram and jail the terrorists, it is clear that with twenty communities under the group's control, and attacks continuing, other strategies need to be explored as well. It is this realisation that recently prompted President Goodluck Jonathan's government to offer amnesty to 'repentant' fighters.  But Dr Nwokolo Amaechi, an academic expert on terrorism who now runs a security company in Abuja, said this approach is too little, too late.  "Government should have acted much earlier, before it blossomed into what we have today. Most of the youths who obtained university certificates can't get jobs, so when a man preaches that these certificates are useless, they listen. The ideology of a utopian sharia state, which they see as their hope, has to be corrected. Jobs and basic infrastructure have to be provided. This will discourage youths from embracing just any kind of teaching."
The sect still sounds defiant in spite of the military's onslaught. Its current leader, Shekau, has argued that 'it is government that should ask for amnesty' from the sect, and not the other way around. Though government has now announced the impending release of 90 women and children, held for links with ringleaders of the sect, it is not clear if the current 25-man amnesty panel has been able to negotiate this with the sect. At a meeting with traditional rulers in the later part of May, the chairman of the panel, Kabiru Turaki, lamented the team's inability to have direct contact with Boko Haram at all.
Theophilus Abbah is the editor of the Sunday Trust, the weekly edition of the Daily Trust (which employed Ahmad Salkida) based in Abuja, Nigeria. Abbah is a former board member and Secretary General of the Forum for African Investigative Reporters and has won FAIR's  Editor's Courage Award. Abbah's work has also been among the final nominations for the global Daniel Pearl Investigative Journalism Award and the Nigerian Wole Soyinka Investigative Journalism Award. He authored 'Lost in the wind', a novel about the human cost of the violence in Nigeria. Follow him on twitter: @theophilusa.