Ugandan-born, Amsterdam-based curator and researcher Musoke Nalwoga spoke to ZAM's Anna Kućma about her recent photography exhibition, titled "Brave Beauties in Communion: Imaging Black Queer Liberation". The exhibition is presented by Motormond, an Amsterdam art space founded and directed by Nalwoga and dedicated to circulating a critically-grounded Pan Diasporic Culture.
What inspired you to create "Brave Beauties in Communion"?
Brave Beauties in Communion came out of a sense of helplessness for me as a Ugandan living in the diaspora. The conceptualization of this exhibition happened in tandem with President Yoweri Kaguta Museveni's teasing and eventual passing of Uganda's latest anti-LGBTQI+ law. I felt that there should have been more avenues for those in the diaspora to participate in the protests, refusals and strikes that followed the passing of the law.
I started to develop this exhibition in January. I had just returned from South Africa, having visited Koyo Kouoh's survey exhibition When We See Us: A Century of Black Figuration in Painting at the Zeitz MOCAA in Cape Town. When We See Us demands that native Africans and Africans in diaspora congregate, that we come together and see to each other's needs.
In this spirit of Pan-Africanism, I wanted to put on a show that used photography to examine how queer communities across Africa and its diaspora imagined themselves. The larger questions were why these specific black queer artists, in these specific geographies, imagined themselves in this particular way?
In Stephen Tayo's collages, the faces of the collaborators are not recognizable, while DeLovie Kwagala's photo series actually takes place in Kenya as it was unsafe for them to go back to Uganda. Daniel Obasi presents a politically-charged fantasy but the key word here is fantasy. All these choices say something about the rate of persecution of queer communities in specific countries.
When we zoom into Keren Lasme's work, we see a broader exploration of queerness that goes beyond sexual orientation and gender identity, positioning queerness as being in the margins of society. It is legal to be gay in Abidjan. We see the faces of three chosen family sisters, blissful. And Nella Ngingo's work is also a celebration of the broader rights that her sitters have in New York. A series of six vulnerable portraits that continue to dominate the exhibition space.
It was my hope that with such a show, l could visualize the effects of anti-LQBTGI+ laws on the ways that queer people image themselves. That there is a visual language that is forced to be fugitive. I wanted to initiate a pan-diasporic movement, to form strength in numbers, to resist collectively. A call to action, to stage strikes, to critically and politically align!
Why is the importance of the imagery of black queer communities? What responses have you had from visitors?
I think it is very important. Especially since the team behind the exhibition are black women. There is a general understanding that the exhibition is pivotal. That it should have happened many years ago actually. There is a sense of celebration. This is a show that people are returning to.
I have had the pleasure of being the host of the exhibition during the first two weeks of its run and l must say it really has brought and gathered people together who would usually not come to the same place. It seems to encourage everyone to just gather, to be together, to open themselves up for new connections. And it's really beautiful to have set such joyful happenings into motion.
Can you speak more about Motormond? Was there some specific experience or moment that motivated you to found it? What is its role in the Amsterdam and Dutch art scene?
I found my passion for museums pretty early on. During my honours BA in liberal arts and sciences, I already had the chance to work in large cultural institutions. I had an apprenticeship at the Boijmans Museum in Rotterdam, I spent two years at the Vleeshal Museum in Middelburg and I went to the Royal Netherlands Institute in Rome for my Erasmus. So, I had been around the block by the time I arrived in Amsterdam for my research master's in Cultural Analysis. I knew how museums worked and I was already very critical. Instead of hoping for faster changes within historically white cultural institutions... building a new one from the ground up was a more exciting prospect.
The initial steps of Motormond were rooted in institutional critique. This is also where we get our name, A Motor-mouth; one that speaks on the truth of the current cultural situation. But we are three years further and we have found an independent identity. We stage, circulate, and archive critical pan-diasporic cultures.
Your organizational statement speaks about facilitating bonds of solidarity between all peoples in the Diaspora through culture. How would you define pan-Diasporic culture, particularly in relation to what might typically be referred to as 'African' culture?
To speak of a specific African or Diaspora culture is very difficult as they are multiple and diverse. But what we do at Motormond is to tell stories that are attached to both Africans in the diaspora and native Africans. In doing so we hope to create bonds of solidarity.
But if I am to hold on to your question and think further with it, I think pan-diasporic culture is a culture that unites all people living in Diaspora. Large historical events have caused people to move, to be abducted and migrate to other countries. If we are speaking of the Africans in the Diaspora then histories of slavery, and colonization forced these movements. African cultures of the pre-colonial time are still being practised by Africans in the Diaspora. I think that being far away from home, diaspora culture is more externally influenced and also a somewhat fantastical version of what native African culture is.
What binds the two is I feel a need to feel at home. The people in the Diaspora want to feel at home, and being in communion with native Africans offers that.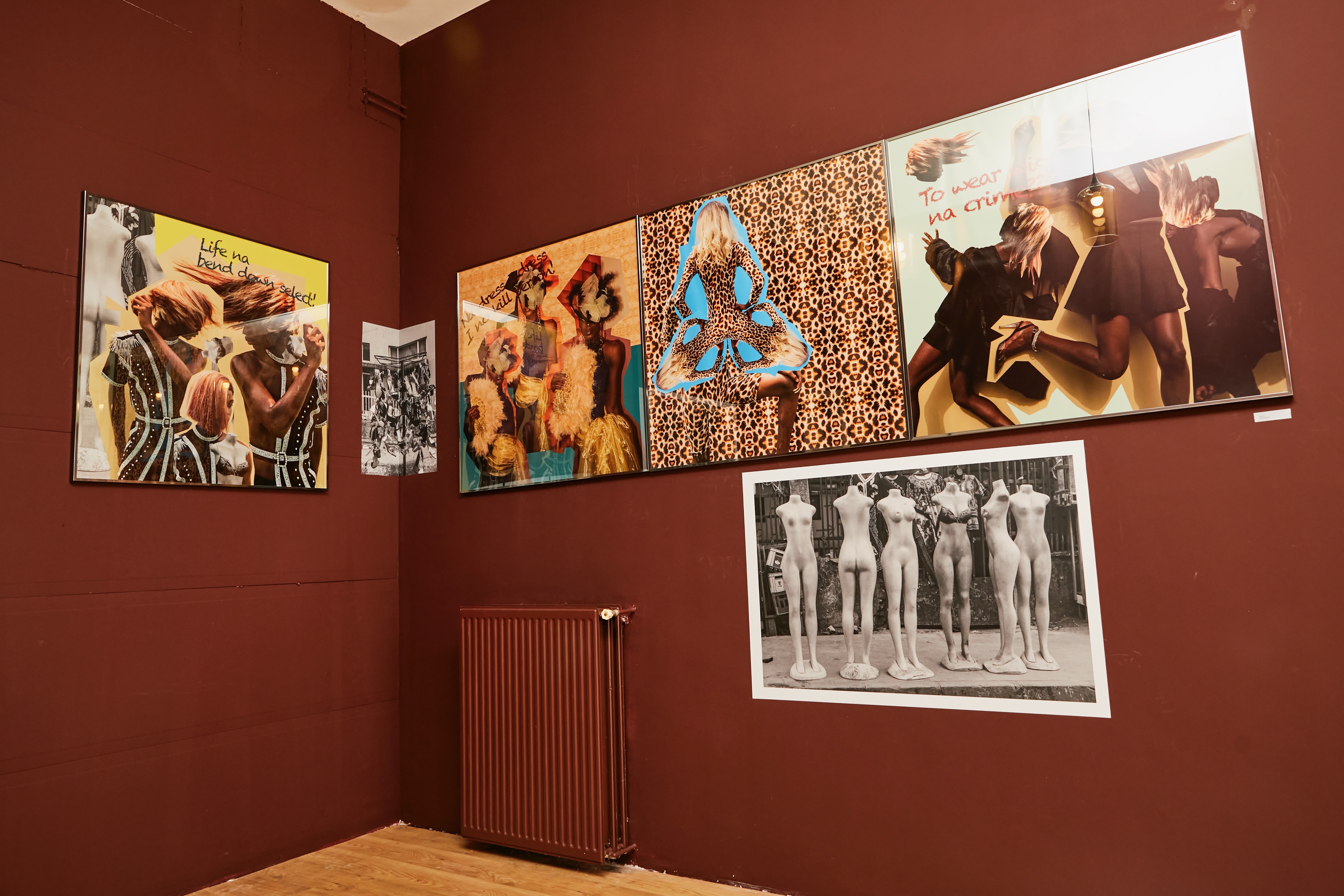 What are your plans for the future? What can we look forward to?
We are currently working on our new exhibition; Past a Surpassing Disaster: From Film Through Performance Towards Photography. For this exhibition, we have invited three thinkers whose practice balances between journalism and visual storytelling.
This exhibition will pause to look at the afterlives of three mass international protests that were all sparked by a tragic loss of black life: the impact of the BLM movement in the Netherlands, the #ENDSARS protests in Nigeria in 2019 and the 2015 Baltimore uprising.
Queering pro-democracy protest

"Most young people in Lagos don't have a problem with drag artists," says photographer Stephen Tayo (1994). "Just because they put on makeup and wear wigs doesn't make them criminals. They have an equal right to make their own choices and to be themselves and free."

It was this subculture on which he focused his lens during the massive #EndSARS protests in Nigeria in 2020, creating images that reveal and explore the surprising and lively presence of drag culture during the anti-police protests. We see the visible presence of combative drag artists in protest marches against the brutality of the Nigerian police Special Anti-Robbery Squad. Exuberant fashion shoots, with the original texts in pidgin English, meaning: I have the freedom to choose. I am beautiful, not a criminal.

Looking at Tayo's work, a sense of reunification is overwhelming. A restoration of the fault lines that were, and are, drawn with enthusiasm by old and new rulers, colonial and post-colonial. But those who delve into earlier African cultures should not be surprised that similar fluid forms of sexuality show themselves in the mainly youth-based contemporary protests against violence. "That men recognize feminine sides in themselves is not a Western invention," Tayo says. Consider the gender expressions in pre-colonial Yoruba culture, "and how those have been warped by contact with the West."

But how one should understand his work, the photographer prefers to leave up to the viewer. "Above all, I want to provoke thought."

Thinking is the core of the study of philosophy in which Tayo earned his master's. He agrees that this presumably laid the groundwork for his photography – for which he never trained. Yet he does not call himself self-taught: "I looked it up from YouTube."

The results, with exhibitions in London, Arles, Harlem, Milan, Lisbon, and on Amsterdam's Kinkerstraat, as well as commissions from leading fashion magazines, Patta, and Nike, are spectacular.
Musoke Nalwoga (1994) was born and raised in Uganda. She is currently working in Amsterdam as a curator and researcher with a focus on contemporary art. Musoke studied Art History at University College Roosevelt in Middelburg, a Master's degree in Cultural Analysis at the University of Amsterdam, and a Master of Research degree in Critical studies at the Sandberg Institute. Musoke is the founding director of Motormond Amsterdam, a new art gallery that aims to give a much-needed update to the idea of the 'white cube'. In her role as a researcher she has contributed to the curatorial programs of Sonsbeeck 20-24, The Cobra Museum of Modern Art, and Framer Framed. She is also a guest lecturer on the University of Amsterdam's MA Art and Performance Studies program.