Dutch theatre-maker and visual artist, Dries Verhoeven, explores a Western audience's fear of African refugee influx and birth explosion. By bringing Kininso Koncepts, a Lagos-based Nigerian storytelling and performance company, onto a Dutch stage, perceptions of how 'we' see 'them' are turned around.
A live video connection takes us to Lagos, Nigeria. A city by night with more than 15 million inhabitants seems deserted except for a lone man walking the street – as if he is an occupation force.
Then there are more men appearing on the screen, separated from us, the audience in an Utrecht theatre, by a thin wall of fibreglass. They walk, connect, run, dance, play joyfully, and wink at us flirtatiously. We are slowly becoming part of a world in one space, but still thousands of miles away from us.
That engaging scene of men walking and running to meet us fades away as the camera pulls back to a man walking on a treadmill in an isolated warehouse. The video becomes a theatre performance on screen. Creative means, technology, and design innovation, are all at play now. We see them and they see us. Is this a new way of telling two stories simultaneously?
As we watch, we get a sneak preview of other actors preparing to come on stage. Some disguising themselves with a full head latex mask, depicting dormant white men whose existence seems obsolete. A new argument is made: white men can be replaced with a new type of man, stronger with excessive energy. Men looking like trained stallions, not shy of showing their virility, strength, energy, and masculinity, capable of functioning in copulation. Is this a way to change the Western perception of their fear of an African exodus to Europe? Or does it add salt to injury?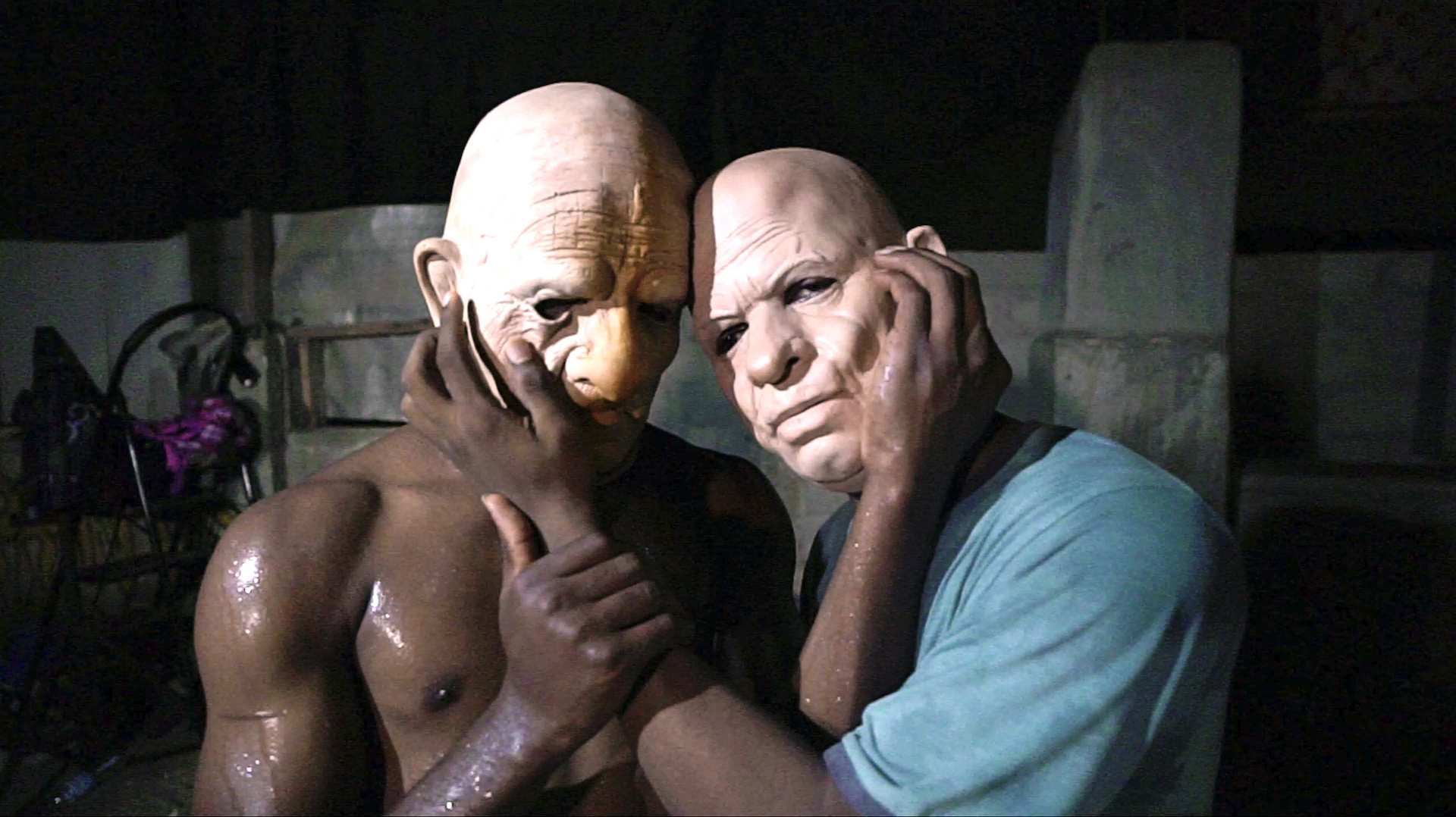 It has become clear to the audience that the performance comes to us straight from a Lagos suburb. Grasping the men's gaze, it shows in unspoken words that they love us. And that they will do anything to please us, as long as we accept their existence and humanity. Uneasy and shy to reciprocate, we hold our breaths, our smiles and our laughter. Aware of a world of men getting ready to break through the fibreglass, we are enveloped by a fear that they will flood our space in their millions, occupy our houses, take our jobs and our women, and change our way of life.
But what we fail to realise our spiritual well-being, rids us of the boredom in our skulls, and gives us a reason to live a life fully, and with all our five senses.
Minute after minute, the performance shows us a group of men walking and running towards us. Now it seems that they are in touch with us.
A lady I spoke to after the spectacle told me she at some stage had the feeling that one of the men was making direct contact with her. "It felt so real," she said. "He is coming after you," I joked. They see us and we see them, and sometimes it felt as if we dwell in the same space.
Dear Beloved Friend is a true reflection of our fear for the 'other'. But it is also a reminder that we are not fully human until we accept that humanity is about sharing spaces, bonding, and understanding that we are interrelated. We cannot continue to define our humanity through the colour of our skin, the passports we carry, and the arrogance of being a better human than the rest of mankind. You are only human when you accept that the other, too, is human.
Seated comfortably in our luxury theatre watching this live performance coming from a world that can hardly reach us in real life, due to travel bans and visa issues. It's easy to love what you see from a distance, but not when they are coming closer, entering our backyards. We love to adore their artefacts in museums and watch them from afar in our comfortable theatre seats. I ask myself: but what do we fear from them the most?
Dear Beloved Friend reminds us of the bitter policies restricting their movements and reducing their passports to toilet paper; it is a reminder to look at them as third-class humans. Or not humans at all. So, we see and enjoy them as a theatre piece on our screen. But the further we move away from them, the longer we make our journey to understand the source of life we all came from. By denying them to fully be, we deny ourselves to fully become.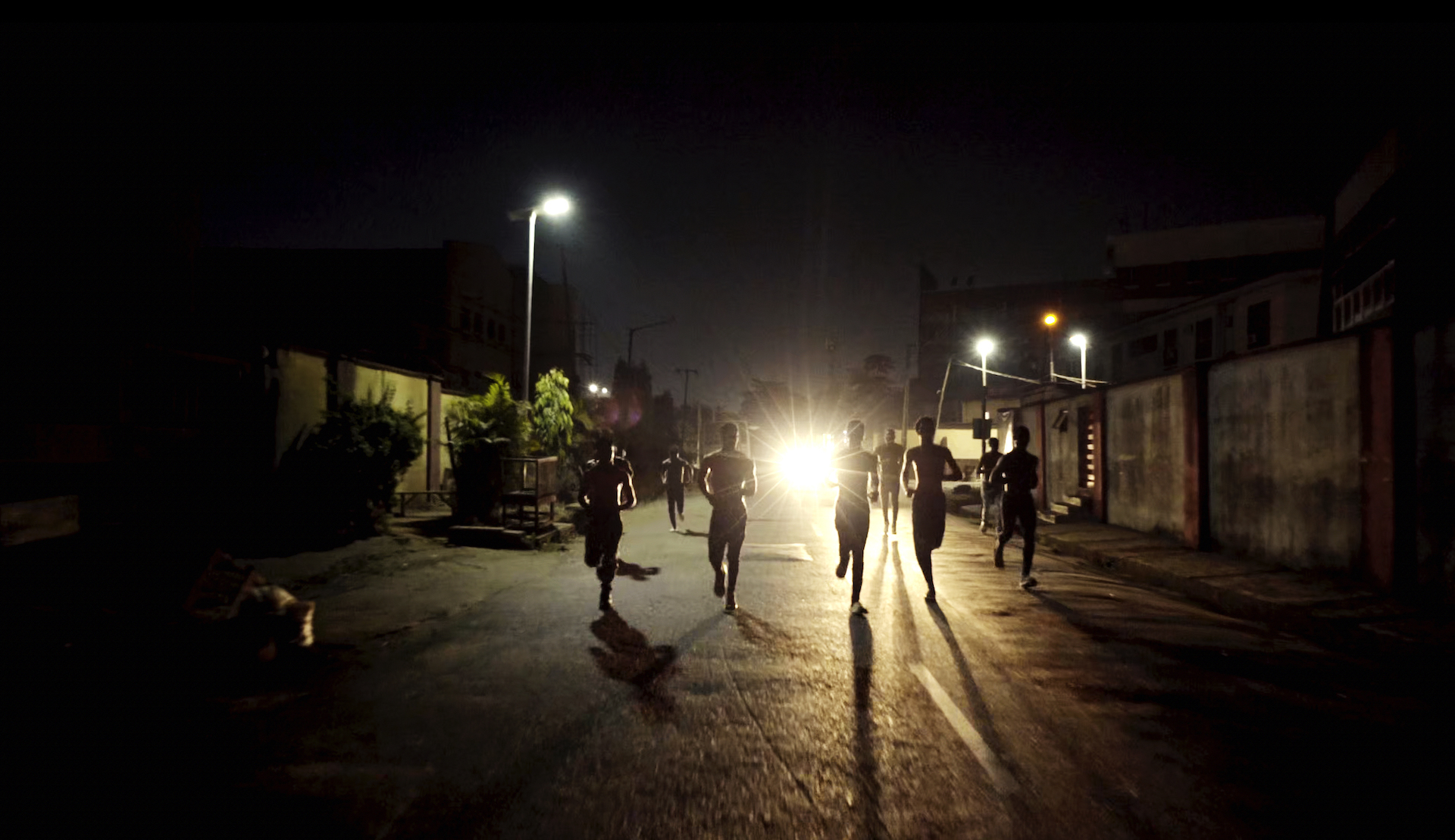 This multimedia performance is as much about how they see us as how we see them. They mock us with a caricature of how we decay before we meet our end. Struggling in our old age to understand what life was all about, asking ourselves: Did we live our lives fully? As songwriter and singer, Stef Bos, sings: "We once played hide and seek during the break on the square. We had big dreams because were little then. Is this now later?" One day we will regret not allowing others to fully attain their potential.
Dear Beloved Friend is a must-see piece of art if we want to challenge ourselves to do better and live a much more fulfilling life by breaking the fibreglass wall that keeps us separated. But most important of all is to teach ourselves to love diversity and look towards the future without fear.
More about Dear Beloved Friend and future performances here.