Amsterdam film theatre Kriterion will host the award-winning film about love and resistance in the final years of British colonial rule in Zanzibar. The special screening is organised by Africadelic in collaboration with African Architecture Matters.
The film will be introduced by Elisabeth Hesemans, who was involved as an actor trainer in the production of the film, and Franka van Marrewijk, who lives and works in Dar es Salaam and is a member of African Architecture Matters, an organisation involved in the redevelopment of Majestic Cinema in Zanzibar, where parts of the film were shot. The evening also serves as a pre-announcement of the Africadelic Festival 2023, which will take place from May 24 – 31 at various locations around Amsterdam.
Tug of War
On the coast of the ancient trading port in the 'Spice Islands' of the Indian Ocean, under British protectorate and overseen by the Sultan of Oman, Denge, a young Mswahili revolutionary, fights for a free Zanzibar. Denge and his companions import socialist pamphlets and distribute Swahili translations around the island. They stage uprisings from foreigners in dance halls and clubs to demand political independence. Denge dreams of nothing else, until he meets Yasmin. She is a young Indian-Zanzibarian woman in search of her own forbidden freedoms and she didn't expect to be intrigued by Denge's mysteries…
Director: Amil Shivji | Country: Tanzania | Year: 2021 | Duration: 92 min | Language: Swahili | Subtitles: English
Watch the trailer here.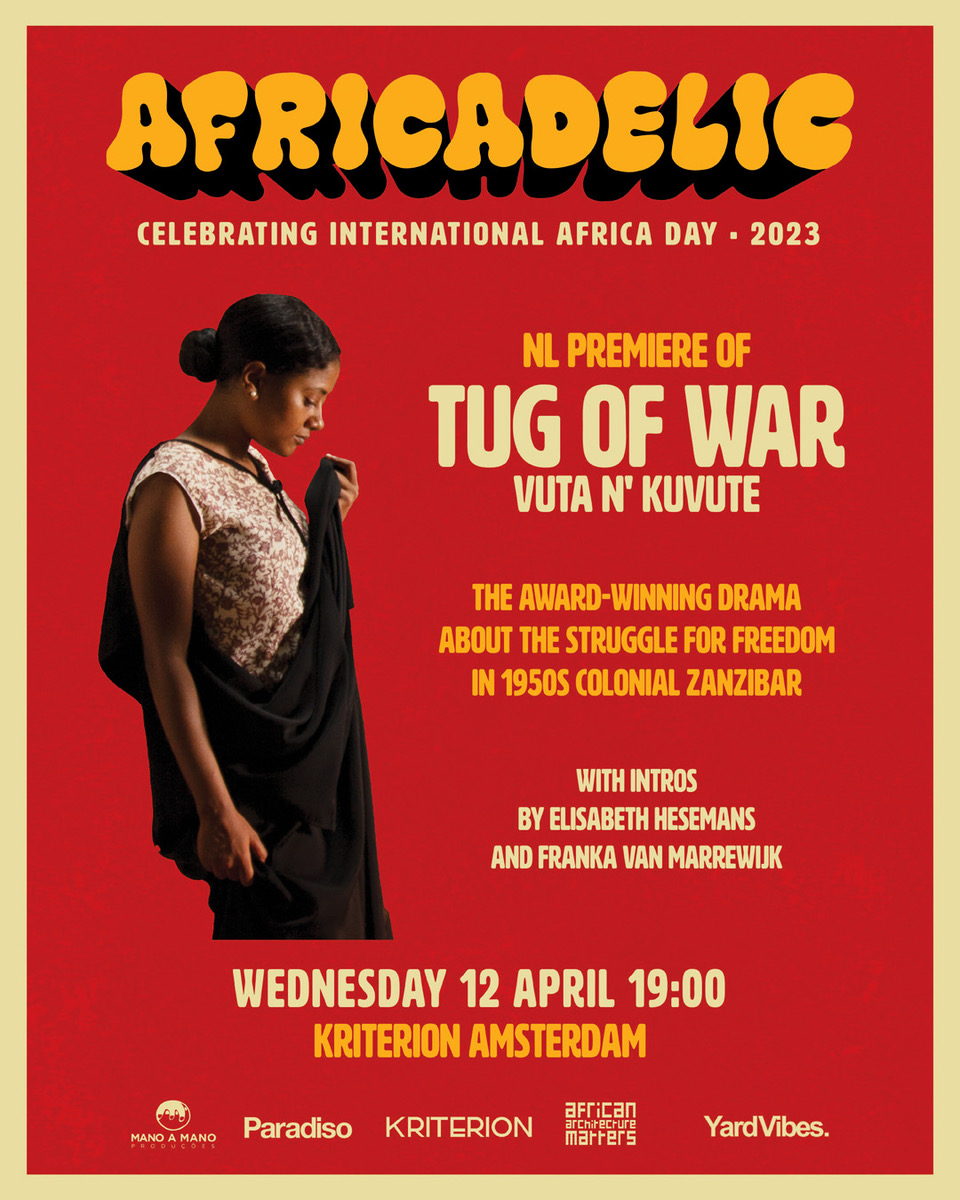 About Africadelic
Africadelic is an annual festival on and around International Africa Day (May 25) celebrating the cultural creativity, diversity and community of Africa and the African diaspora. The Africadelic Festival is an ode to the motherland, its cultural riches, and the impact that Afrodescendants, i.e. people of African descent, have on global culture and society. From May 24-31, 2023, the festival offers another week full of concerts, films, talks and other engaging events in Amsterdam. This premiere screening of Tug of War in Kriterion serves as the pre-announcement of the festival in May.
About African Architecture Matters
African Architecture Matters is a not-for-profit consultancy working with the African built environment in the fields of heritage, planning, research and education. They are particularly concerned with the question of how to manage and develop the dynamically changing built environment with respect to the community, culture and history. By collaborating with experts and organisations from various disciplines, they explore and develop multidisciplinary strategies and interventions that respond to that question.
Date: Wednesday, April 12, 2023
Time: 7 pm
Extra: Introduction by Elisabeth Hesemans and Franka van Marrewijk
Subtitles: English
More info & RSVP: click here