The 19th edition of Afrovibes presents the first solo exhibition of graphic designer, artist and activist Sindiso Nyoni. His work fits perfectly into the wider festival, whose packed schedule of more than 15 theatre productions from 10 countries explores the synergy between rapture and rupture.
A poster featuring South African jazz legend Hugh Masekela holding his trumpet like a weapon sets the tone for Sindiso Nyoni's exhibition Riot by Design. There is wit, but there's also a dedication to art as an instrument of power as well as a desire to honour those who defined the musical landscape of South Africa. African heroes appear often in Nyoni's works- that's Winnie Mandela's clenched fist dominating another of the exhibition's posters.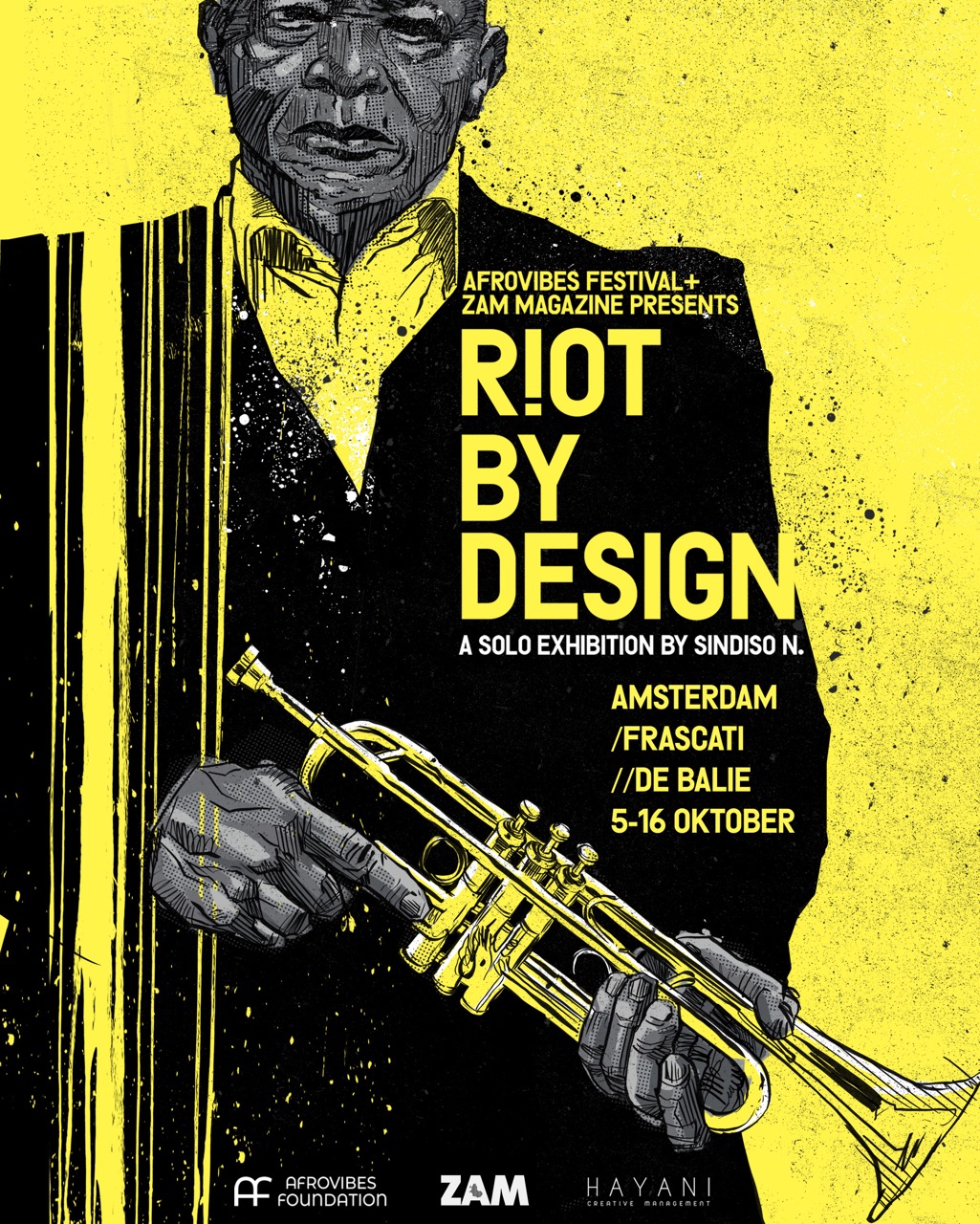 The Bulawayo-born artist, who moved to South Africa after the Mugabe regime threatened his freedom of expression, is a strong, critical voice against abuses of power in his country of origin and elsewhere on the continent. Trigger-happy communities may feel addressed by a work he previously presented to the ZAM audience, a pistol from which a penis shoots out. This will also be on view during the upcoming exhibition.
Work by Nyoni has been seen at group exhibitions worldwide, but this first solo exhibition offers a unique opportunity for viewers to become acquainted with his peripatetic and diverse output, which spans the spectrum from protest art to commercial design. Nearly thirty works are on display, including several videos, and editions of a number of works will be for sale to those interested. The accompanying catalogue will be online from October 5.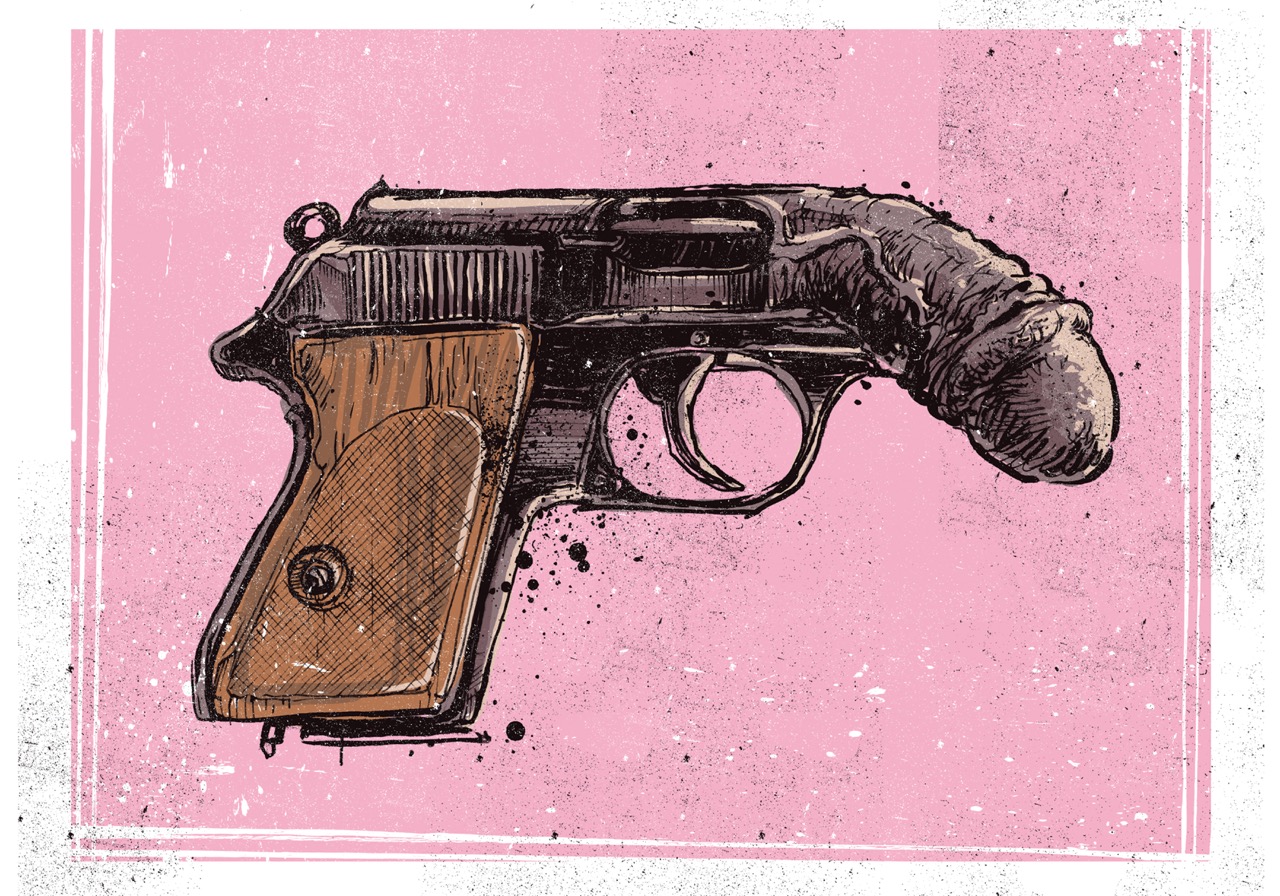 Riot by Design will officially open on Thursday, October 6, 2022 at 5 p.m. in the Frascati Theater, Nes 63, Amsterdam. You are most welcome.

The exhibition can be seen in Frascati until October 9 and in De Balie, Amsterdam, from October 10 to 16.
The festival
The 19th edition of Afrovibes presents performances by contemporary artists from Senegal, Ivory Coast, Cameroon, Guinea, Congo, Kenya, South Africa, the Netherlands and the African diaspora in Europe. Performers will be presenting works in dance, theatre, music, visual arts and fashion.
So what might audiences expect to see?
-Men on heels in the French-Ivorian dance production l'Homme Rare, with choreography by Nadia Beugré in collaboration with Faustin Linyakula
-The dance of the wolf in La Dernière Danse du Monarque, with choreography by Babacar Cissé (Senegal)
-Maya Angelou's 'The Caged Bird Cries Out For Freedom' inspired South African choreographer Lulu Mlangeni's Kganye dance piece
-A passionate plea for love in Speech of Love – Absence by Congolese/Austrian choreographer Elisabeth Tambwe
-Back to nature in Hominideos, by Cameroonian/French choreographer Marlin Nyakam
-Confronting the vulnerability of black and queer bodies in Pina by South African choreographer Kwanele Finch Thusi.
-Tearing down Nairobi's Nyayo House, where Kenya's autocratic former president Daniel Arap Moi held his opponents captive, in Kaspale's Playground by director Syowia Kyambi
-A tragedy about migration and exile in A Bout de Sueurs by Guinean/French director/scriptwriter Hakim Bah
-What changes and what remains when you become a father, Senegalese choreographer/dancer Alioune Diagne wonders in Dag Papa
-Congolese choreographer/dancer Éric Androa uses his male body to tell the story of two women in Cible
-More on the black body black and how to decolonize it in Moving Beyond, a collaboration between South African dancer Kwanele Finch Thusi and choreographer Igor Vrebac
-Exploring black queer identity in Suwokono by Dutch choreographer Sarah Huygens Jawla. She also presents Bénin Vibrations, three short dance performances.
-And, last but not least, Riot by Design.
If you want to preview the performances in advance, you can check out some videos here:
l'Homme Rare https://www.youtube.com/watch?v=mfz8IV4PKlE
La Dernière Danse du Monarque https://www.youtube.com/watch?v=g8_84Gmw4vs
Hominideos https://www.youtube.com/watch?v=Gr8mL2QhGEs
Pina https://www.youtube.com/watch?v=LgdT6KpMOaE
Kaspale's Playground https://www.youtube.com/watch?v=etu4Sm54HFo
A bout de sueurs https://www.youtube.com/watch?v=F3Uo2zjDVS8
Dag papa https://www.youtube.com/watch?v=AevWTwtDQkA
Cible https://www.youtube.com/watch?v=-InRgv_hP-g
Suwokono https://www.youtube.com/watch?v=3DeRICFgt58
Benin Vibrations https://www.youtube.com/watch?v=52dKaBU5e6s