In October this year, Dutch-Liberian writer Vamba Sherif attended the 5th edition of what has become the leading literary festival in the country. "The future of Africa lies in its writers."
Monday
I am at Schiphol, on my way to Accra, Ghana, to attend the Pa Gya! Literary Festival. The festival is in its fifth year, and this is my first time visiting it. Attending this year's edition are more than a hundred writers from all over Africa and the diaspora, including Nigerian critic and writer Molara Wood, Barbadian Yewande Omotoso, Ugandan Jennifer Makumbe, Liberian poet and professor Patricia Jabbeh Wesley, Ghanaian artist and writer Bernard Akoi-Jackson, and many others. I am especially looking forward to meeting professor Wesley, with whom I've had fruitful contacts over the years. Omar Sherif, my nephew and namesake of my father, who lives in Accra and is married to a Ghanaian, is expected to welcome me at the airport.
It takes me more than three hours to reach the gate and board the plane, and it's another hour before we are in the air. The queues at Schiphol seem to stretch on endlessly. The long wait tests my resolve and in the end breaks it. I am angry, exhausted and frustrated at the incompetence and lack of vision that has led to this chaos. Then, after landing at Kotoka International Airport, it takes another hour and half before I finally emerge into the sultry Accra air. In the crowd I spot my nephew, as well as Fui Can-Tamakloeloe, a writer and one of the organisers of the festival. Sitting in the car with them and conversing on the way to the hotel feels very much like a homecoming.
Tuesday
I wake up in Susanna Lodge, a small hotel in a quiet neighbourhood. The Goethe Institute, where I will be giving a reading in a few days, is just around the corner. The hotel looks much more beautiful than it did in the pictures on the internet. Martin Egblewogbe and Nana Yaw Sarpong, the organisers of the festival, have arranged for me to have a radio conversation on Wednesday on the popular Citi FM station. I look forward to it. I've decided not have any European food during my stay- no salad, pasta or fried egg. I want to relish the full gamut of culinary delights for which Ghana is famous. For breakfast I order the popular waakye, brown beans mixed with rice, and I add the dark and red hot spices that go with it. For dinner I have jolof rice, secretly weighing it against my memories of the Nigerian equivalent to see who I would pick as the winner in the ongoing Jolof Rice War between the two countries. Once again I add the hot spices. My stomach is not used to the spicy food, but I am in Africa and I want to relish the food as it should be served. That night I do not sleep. My stomach roars, and a fever such as I've not known for a long time rocks my body. My festival has ended before it even began.
Wednesday and Thursday
The fever has reached its height. I call Martin and Nana Yaw to cancel my radio interview for the Wednesday afternoon. I hardly leave my bed. My nephew Omar comes to take me to the hospital but I am wary of going, preferring to see how I feel at the end of the day. But nothing much changes and I remain indoors for most of Thursday too, subsisting on juice and yoghurt. On Thursday evening I venture out of the hotel for the first time, and head for the Goethe Institute, where I meet Jennifer Makumbe and the Nigerian writer and journalist Chike Frankie Edozien, two good friends of mine. After an hour I return to the hotel. I am beginning to feel much better now.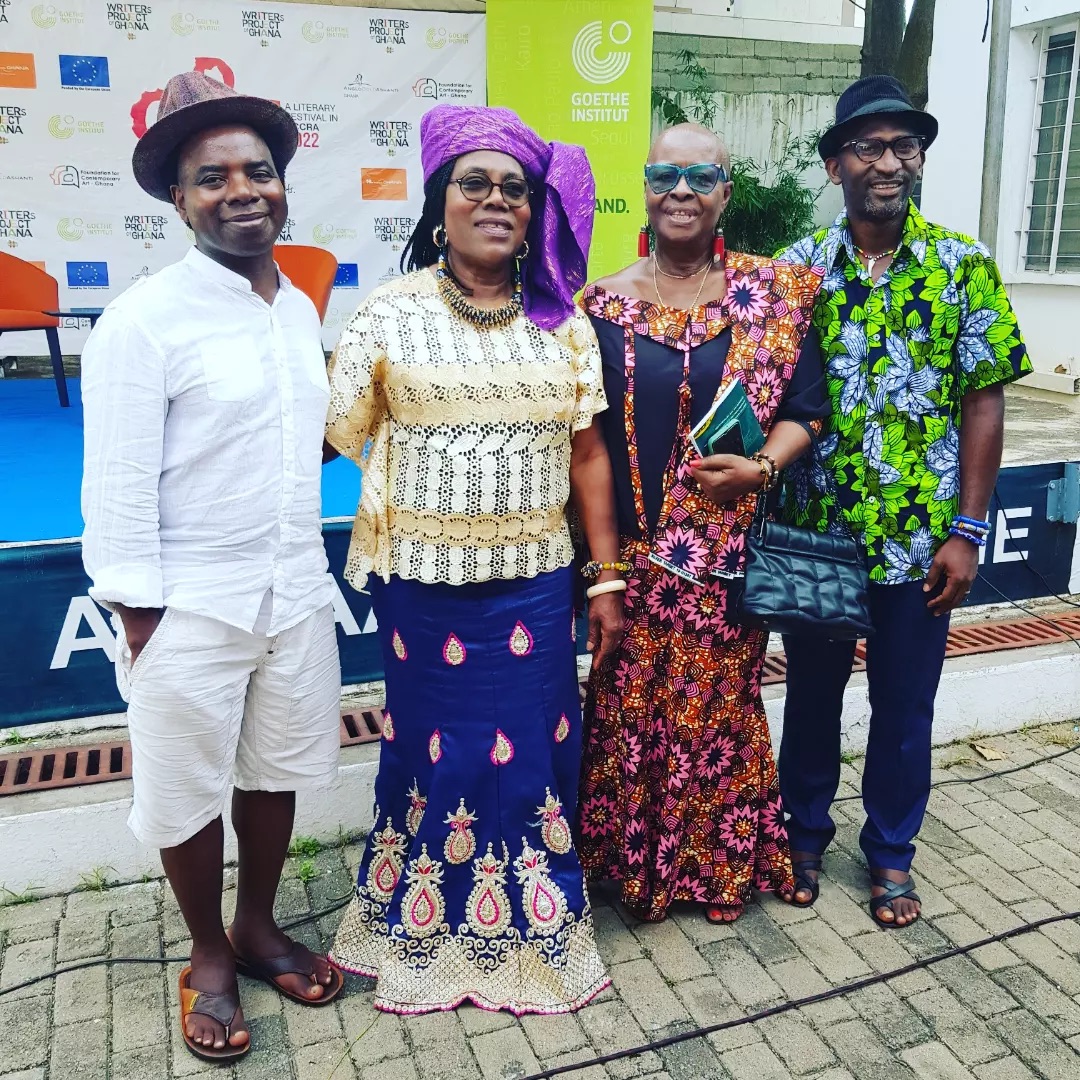 Friday
I am in a festive mood. I'm eager to explore the city and to meet fellow writers, and not without reason. During breakfast I meet the documentary filmmaker Mohammed Rafi, a Ghanian from Tamale. His name sounded familiar; he shares it with the famous Indian composer and singer Mohammed Rafi who, along with Nusrat Ali Fateh Khan, Lata Mangheskar and others, conquered Bollywood with Sufi praise songs ('Qawali' songs, often about the Prophet Mohammed and sung in Hindu and Urdu), which were lip-synced by actors and actresses.
The Ghanian Mohammed Rafi also has a remarkable story to tell. He has made a documentary about an extraordinary woman, Hajia Mariam Alolo, the first female Islamic preacher in Ghana. Alolo is an Imam in her own right who learned to quote the Quran and its exegeses, and whose knowledge forced other religious scholars, mostly men, to recognise her talents and achievements. The documentary charts her rise, but also tells the story of one of her daughters, a young woman who received her PHD at an early age. After spending her childhood uninterested by Islam, one day she decided to delve into the religion out of curiosity and quickly found that she had inherited her mother's talents. Eventually she becomes her mother's likely successor but she is a divorcee, which is considered a taboo in the community.
I was drawn to the story because it reminded me of my grandmother. She had the same passion for learning as Hajia Mariam Alolo, and during my childhood she would quote verses of the Quran and Hadith which her husband, a great scholar and my namesake, had shared with her. How would my grandmother had turned out had she gone on to amass knowledge like Hajia Mariam? As it was, despite her limited resources my grandmother managed to raise her daughter, my mother, into a successful woman.
Just after Rafi had left and as I was about to head to the Goethe Institute, the official site of the festival, I saw a tall man leaving the restaurant. I recognised him and called out to him. It was Chuma Nwokolo, the novelist and publisher! Some years ago Chuma published my first short story, Faces (Dutch: Gezichten) in his online magazine, African Writing. Chuma's enthusiasm for my story was infectious and we later worked together on another story, Homecoming, which tells the story of my return to Liberia for the first time after the civil war. I would learn later that Chuma had written books for the popular Pacesetters series, a series of novels that was popular among readers in many countries including Nigeria, Liberia, Sierra Leone, Kenya, South Africa and elsewhere.
In this place I was completely at ease, surrounded by people with whom I shared a passion that bound me to them more deeply than words could adequately express. The conversations that I had with Chuma, with Mohammed Rafi, and like similar conversations I would have with others in subsequent days, left me hopeful and excited about Africa. These conversations and the feeling of optimism they evoke in me have become a recurring theme during all of the literary festivals on the mother continent that I have had the fortune to attend; the subject matter, ranging from deep understanding of African history, to politics and literature, often silenced my qualms about the continent and its future, instead leaving me with the feeling that Africa would be all right with these men and women in its midst.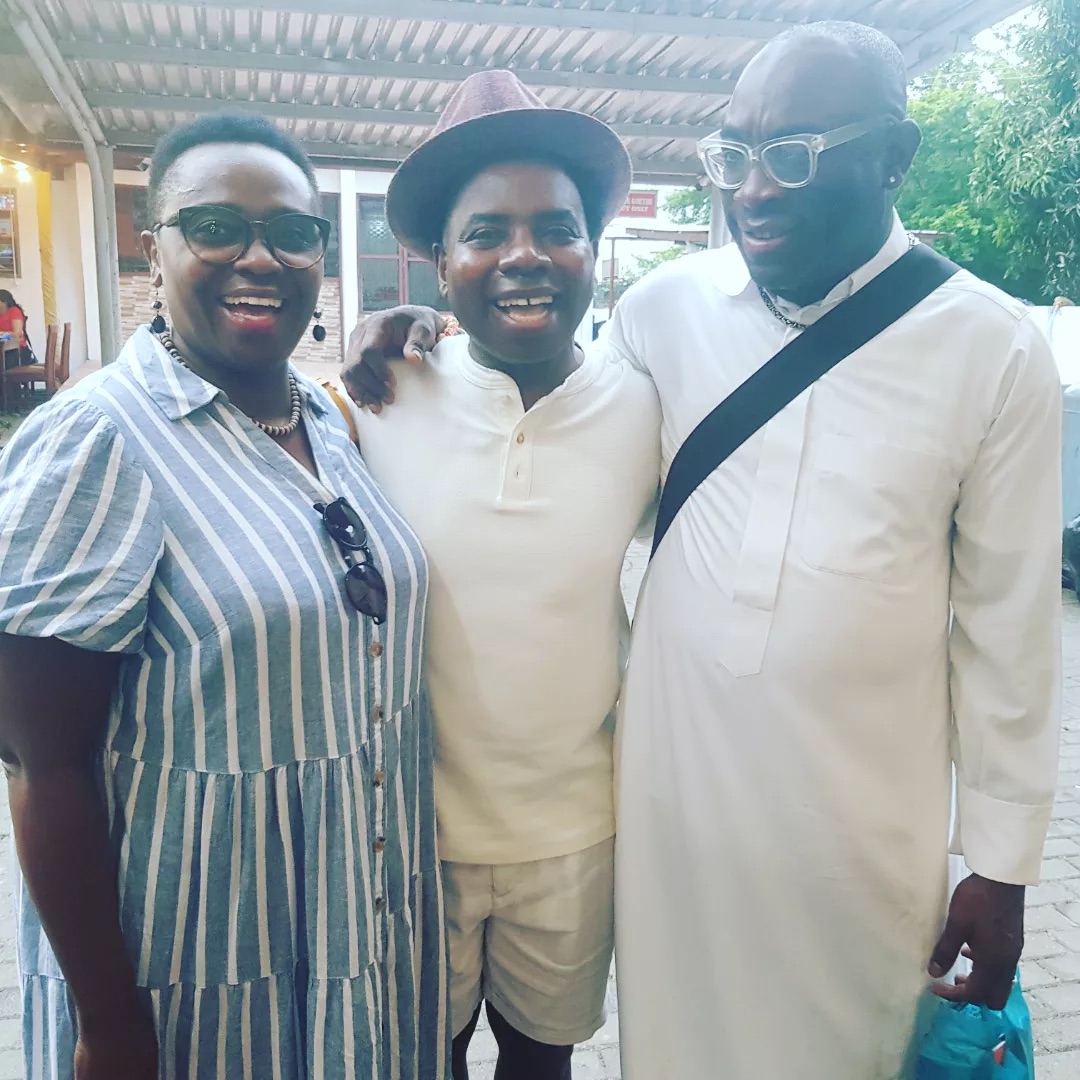 Saturday 15, October, 2022
At breakfast I strike up conversations with some Ghanian, Nigerian and Liberian writers and publishers; the critic Molara Wood, the poet and professor Obari Gomba, and publishers Othniel Forte and Eghosa Imasuen. These men and women are making a huge difference on the continent, publishing books by Africans and still having time to write their own books. In our exchanges I witness the future of Africa. We delve into African history and into migration within the continent, a topic which is hardly ever discussed outside its borders.
Sunday
I leave my hotel for the Goethe Institute to give my reading. It is moderated by the talented Ama van Dantzig, with whom I feel a great affinity. Looking out across the audience I am pleasantly surprised to see the award-winning Liberian poet and professor Patricia Jabbeh Wesley, whom I met on the second day of my arrival, and the legendary artist and singer Miatta Fahnbulleh. I chose to talk about my first novel, Land of My Fathers, the novel about Liberia. The two women guard my steps, egging me on, interacting in sisterly ways with me, and finally leading me home. Thanks to them I feel safe and at ease.
Afterwards Miatta Fahnbulleh invites me to her home to cook some Liberian food, but unfortunately I have to leave the next day. I depart Ghana carrying with me the feeling that this young festival, in the brief period of its existence, had achieved much, bringing together authors from around the continent and beyond.
The future of Africa, I believe, lies in its writers.

Vamba Sherif is a Liberian-born writer residing in the Netherlands. He writes in English and Dutch. His 2018 novel, The Black Napoleon, is about Samori Toure, who founded a great empire in northwestern Africa in the 19th century.