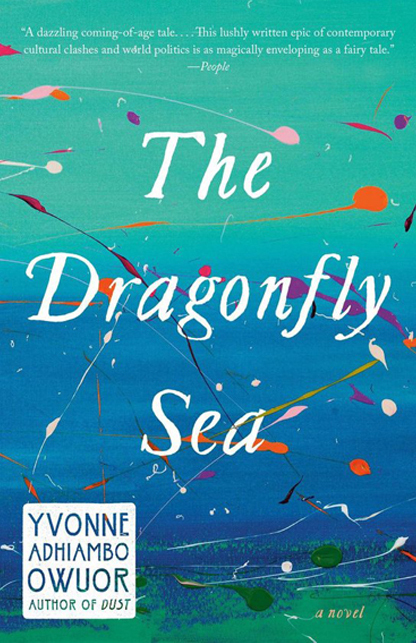 In The Dragonfly Sea, Kenyan writer Yvonne Owuor, speaker at the 2022 ZAM Nelson Mandela Lecture, explores the deep influence of Arabic and Islamic cultures in many African countries.
Prior to winning The Nobel Prize for literature in 2021, Abdulrazak Gurnah, the Tanzanian novelist, gave a lecture called Indian Ocean Journeys. In this lecture, as in his novels, he went on to explore the cultural importance of a scattering of islands along the coast of Africa, including his birthplace Zanzibar, where a confluence of African, Arabic, Asian and Western civilizations mingled. Gurnah called it an Archipelago of cultures, and he lamented, as did other writers, as the Indian writer Amitav Ghosh did in his Antique Land, the lost and disillusions of dialogues that have linked these territories over the centuries.
One of the writers who of recent has attempted to explore these links so effectively is the Kenyan novelist Yvonne Adhiambo Owuor. Owuor made name for herself with her searing novel Dust. With the second, The Dragonfly Sea, she took a bold leap into new and for her surely challenging territories. It takes great courage to write about themes that are unfamiliar to the writer, about themes that are unpopular, such as the deep influence of Islamic and Arabic cultures in many places in Africa, one of the Triple Heritage, according to Historian Ali Mazrui in his famous television series and book of the same name.
Owuor places her novel on Pate island, where, as in many places in East Africa and beyond, in places as far as Oman and India, Swahili is spoken. She uses phrases that are Arabic in origin, but that have been Africanized, Swahilinized over the centuries, expertly weaving theses phrases into her narrative. Swahili is a rich language, and the novel is replete with it, with proverbs, wisdoms and aphorisms in the language. For a reader, it is as challenging as it is refreshing to stumble on these African words, which carry loads of civilizations and histories of millions of people.
The novel revolves around a precocious girl, Ayaana, who has a deep affinity with the sea. She swims it at dawn or at night, when the world sleeps. Ayaana lives without a father in a place whose rhythm is dictated by a strict tradition, and where every step of a child is monitored by a whole community. She has the misfortune of being the daughter of a woman, Munira, who is unwed and is shunned by her family. Munira is an outcast. The mother is silent regarding the past that drove her from another place to Pate island, even as her daughter attempts to wrest that past from her. Ayaana goes through life bugged down under the burden of her mother's terrible reputation. Sometimes she is openly scorned, and so early in the mornings she escapes it all to seek refuge in the sea, in its waters and the possibilities and dreams it offers. At home she helps her mother with painting henna on the skin of the women who had shunned them.
Life changes for Ayaana when a man with a troubled past, Muhidin, enters her life. In a culture where love is hardly ever articulated in words, the presence of this man in the young girl's life is so profound that she declares him her father and expresses her love for him. Between the two a deep and life affirming tenderness develops and that transforms a wayward child into one with a steady focus, making her one of the best students in school. It is Muhidin who introduces Ayaana to Sufism, reciting to her lines from the Divan by the great and pleasure loving Sufi poet Hafiz of Shiraz, in present day Iran. These lines, as well as those of the famous woman Sufi Poet, Rabiyat, Al-Adhawiyah, are a celebration of life in all its colors. And they have profound effect on the child Ayaana, for it was Hafiz who sang:
I was created to smile
To Love
To be lifted up
And to lift others up.
But life has its limitations, and the child is flung into its whirlwind by a slew of events over which she has no control, the introduction of Islamic fundamentalism, which wreaks havoc on her island, instantly transforming her life, and robbing her of the security she had enjoyed with her adopted father Muhidin. The novel goes to great to explore the harrowing effects of fundamentalism on the innocents.
Zheng Hi, a muslim, is believed to have reached America before Columbus
But then light shins on Ayaana once again. She's discovered to be The Descendant of a sailor in one of the fleet of the great Chinese admiral, Zheng Hi. He was a Muslim and it is believed that he reached America before Columbus. One of his fleets was shipwrecked on the coast of Africa, where there are still traces of his men on the faces of its inhabitants. Ayaana bears Asiatic features alongside her slender, graceful African features. In her, various worlds come together, which is the true story of Pate island. The Chinese government reached out to her, in a cultural gesture meant to strengthen the relationship between China and Africa.
In a novel that is not linear, with new characters being introduced as the story progresses, Owuor succeeds in making Ayaana leaps beyond grief and the limitations of her world, to create a future, albeit one with great challenges, that she can call her own.
Owuor is a courageous writer, directing her focus not to the west, but towards Azia, China in particular, and revealing to us in the process aspects of China and the Chinese that are unknown to us. They confirm that the story of the migrant is the same everywhere: the constant struggle to gain a foothold in a new world is very evident as we follow Ayaana during her Chinese adventure. Owuor is clearly leading the way with this work, telling us that every story matters, and what counts is how well a story is told.
Vamba Sherif is a Dutch/Liberian writer.