27/11/2014
Mandela moment
Events /
One year after his passing, the world is commemorating the spirit of Madiba.
The Nelson Mandela Foundation has partnered with Cricket South Africa and the South African Rugby Union to commemorate the first anniversary of the passing of Nelson Mandela. On Friday, December 5, 2014, the Ticketpro Proteas will host the Springboks in a 20-over-a-side cricket match at Bidvest Wanderers Stadium in Johannesburg. There will be live music, team signings and more from 15:00. The match starts at 18:30 and will be televised on SuperSport 2. Tickets range from R90 to R200 and can be bought online by visiting www.ticketpro.co.za.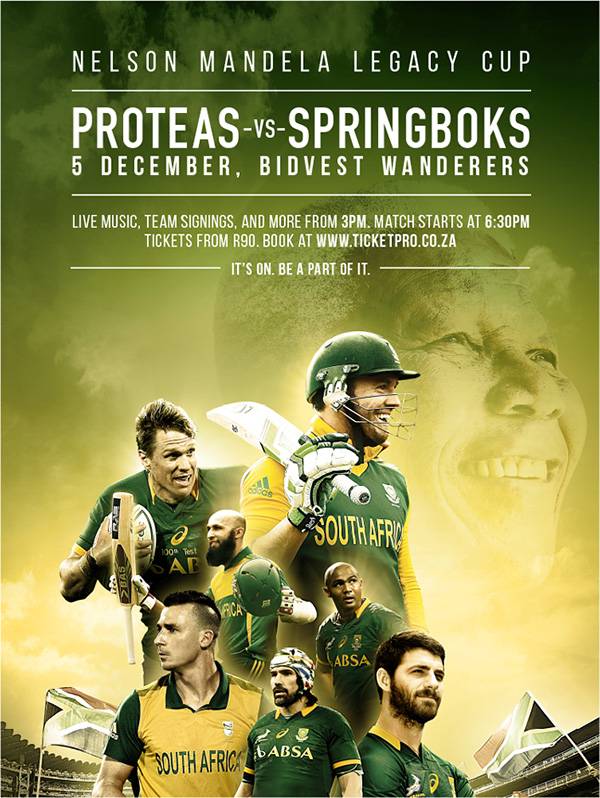 In Amsterdam, the Netherlands, New Urban Collective and Krater Art & Community organize Tribute to Nelson Mandela: Amandla! at Bijlmer Parktheater. Through this event, they want to keep the legacy of Mandela alive and inspire and motivate people to change the world in his spirit. An evening full of art, music, speeches and poetry by various artists, activists and 'change-makers', who will share their view on the legacy of Mandela: Conny Braam, Kno'ledge Cesar, Ernestine Comvalius , Sandew Hira and Mitchell Esaias. Time: 20:00-21:30.
Pak je Avond, a new initative by Frouwkje Smit, Beylula Yosef, Melanta Heuijmans, and others, is a party in the spirit of Nelson Mandela. A night filled with music, theatre, poetry, open mic & and last but not least delicious food. All this at the Tolhuistuin in Amsterdam. Starting at 19:00.