The artists' road trip from Lagos to Sarajevo
A road trip: long hours crunched into the backseat of a moving vehicle; the hum of the engine, the slow changes in scenery; being at the mercy of a flat tire, a leaky tank or an obstinate border agent. But the discovery is what counts. Beginning on 2 June of this year, a group of ten African artists will be embarking on a four-month-long journey from Lagos, Nigeria, to Sarajevo, Bosnia. Travelling under the banner of the Invisible Borders Trans-African Organization, they will move through twenty-one countries in a single van, leaving the road only to bridge the water that separates Tangiers from Gibraltar. Their goal: to explore new ways of documenting and interpreting realities in Africa.
This trip is Invisible Borders' most ambitious yet. Launched in 2009, the organization has so far completed four road trips across Africa, each with a different itinerary and set of participants. Following well-trodden highways and muddy back roads, it has already charted new paths from Lagos to various cities in Western, Central and Eastern Africa:  to Bamako (2009), to Dakar (2010), to Addis Ababa (2011), and, most recently, to Libreville (2012). With various forms of artistic and social intervention (exhibitions, seminars, performances, to name a few) organised in each pit stop along the way, it has sown the ground for new understandings of what it means to be in and to practice art in Africa today.
Photographer and self-styled 'border being', artistic director Emeka Okereke, launched the project back in 2009. New York-based writer and art critic Emmanuel Iduma has participated in the past two editions of the 'Invisible Borders' road trip and works as its director of research and concept development. In the interview below, Okereke and Iduma offer their perspectives on Invisible Borders' genesis, its evolution, and what lies in store for the 2014 trip.
How did the idea for Invisible Borders come about? What were the initial goals of the project?
Emeka Okereke: It began with one of my adventurous feats with the late (fellow photographer, LB) Ray Daniels Okeugo. We drove from Lagos to Aba in Nigeria in a somewhat dilapidated Land Rover SUV. Despite the obstacles and breakdowns, we forged ahead. What that did to both of us was to take away the fear of uncertainties. So when the Bamako Photography Festival was approaching and only few of us were selected for the show, it struck me. Why don't we go by road? Who says we cannot go to Bamako by road? I mean this is not like we are invited to Europe, so why can't we? I approached some of the photographers already selected for the festival and proposed the idea of us forfeiting our flights to Bamako so that the money retrieved will support the project. (Felllow photographer, LB) Uche Okpa-Iroha answered the call and came along. This idea also came at a time when artists felt wary of being identified with the challenges and limitations that are often associated with the continent. We wanted to see if we could create alliances and exchanges with people in similar realities, in other African countries. After the first road trip, when we saw how many identified and shared with us, we decided it would be a continuous annual project.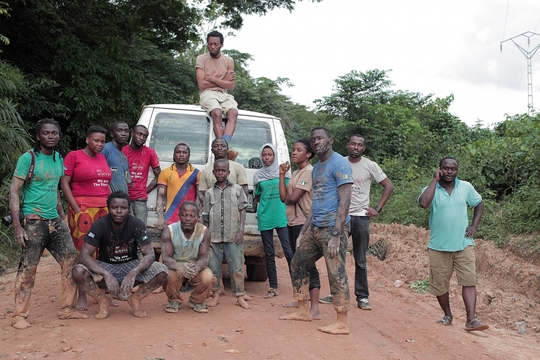 What common threads, if any, have woven through the road trip project in terms of participants' artistic development? Have you developed thoughts on what it means to be an artist in Africa today?
Emmanuel Iduma: In the road trips I've been part of, in 2011 and 2012, it seems a requisite for each artist to possess a kind of hunger, an inclination to learn, to record the rush of happenings. It's always a mix of some who have a measure of exposure in the field and those who are coming into being, yet everyone's hunger is equal. Being trans-African also suggests modesty in the face of the continent's diversity; you'll have to assume a form of ignorance. I am speaking first as a writer, but I think the question that applies to every artist is, how do you respond to an imperative to record what you see? So, trans-African exchange will begin with an impetus to go beyond one's self, one's preconceived notions, to be generous in the process of making art and in collaborating with other artists. Hungry for a different narrative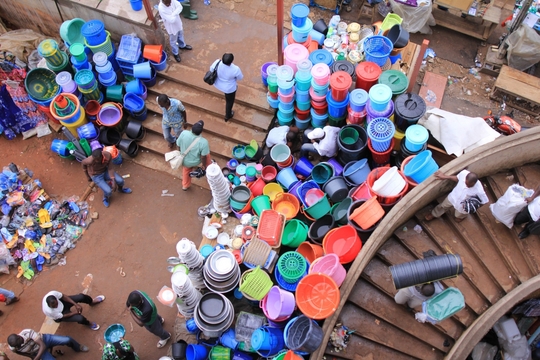 What kind of participants are you looking for in terms of artistic concerns, subject matter, approach? What mix do you seek to create?
Emeka Okereke: We are attracted to artists who exude a sense of a defiant energy, sometimes waiting to be guided to a concrete end, hungry for a different narrative, but also with a sense of service towards the idea of proposing alternative experiences of the African continent. We are passionate about Africa, and we want to travel in it, smell the air, match on her soil, share with her people and be bamboozled by its intensity and unexplored knowledge. We welcome artists who are not too set in preconceived notions nor weighed down by the heaviness of the challenges of the continent. They are photographers, writers, filmmakers and art historians, working on individual themes but also in collaborations, especially between photographers and writers. Their endeavours have inspired us to conceive a journal, The Trans-African Journal, that is to be launched by end of this year – something to watch out for!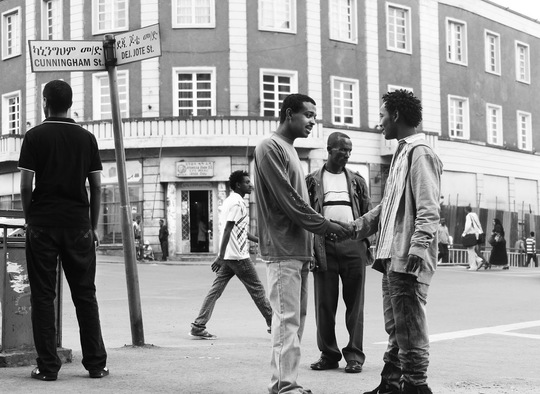 How do you engage with the different places where you stop? How would you describe the impact of Invisible Borders on the arts scene(s) in Africa?
Emmanuel Iduma: It begins with the impulse that says, "I'm a visitor, but I wouldn't want to be a stranger." We spend a short period of time, almost like being thrown into the ocean before you can grab a life jacket. We're street artists. We recognize that amazing things happen when people are in motion; so we insert ourselves in people's lives. When we arrive in new cities, we break up into groups, or sometimes let each artist do their own thing. Everyone has an idea they like to explore, and we say, go ahead, make friends with a local artist, uncover the subtleties of your idea. I used to think that we could make a distinction between how a photographer works and how a writer does, but now I don't think so anymore. Whether holding a camera or facing a blank screen, we're asking: what are my impressions about this town? And what will it mean to be honest about sharing these impressions?
It's quite early to judge our impact, however. I know the work we're doing is important. We feel a Kantian (rational and moral, LB) imperative to invest in the ethics of the exchanges. We ask if the 'average' African artist will act in the way we are acting. Surely not in every situation, but, since we will be offering our interpretations and images to the world, would people like to emulate us?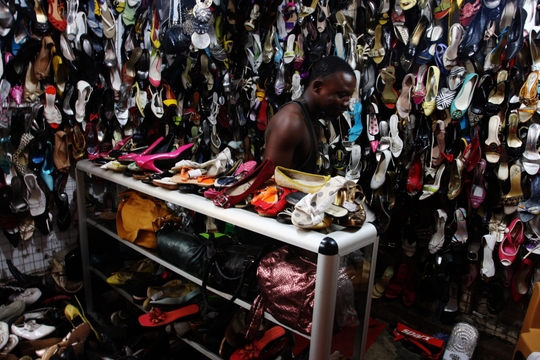 What have some of the highlights of past editions of the road trip been for you? Including the frustrations and the challenges?
Emmanuel Iduma: Hah, it's certainly frustrating to sleep in a van for days! I would say the 2012 trip was frustrating because of the logistical challenges we had. Too many improbable situations, like having to deal with being stuck in borders, or being refused entry by surly immigration officers. Yet a highlight for me was when, in one of these situations, I realized that the real value of the trip was its uncertainty. I knew it would end soon, and I'll be back to my life of comfort and privilege. So I wanted to immerse myself in the difficulties.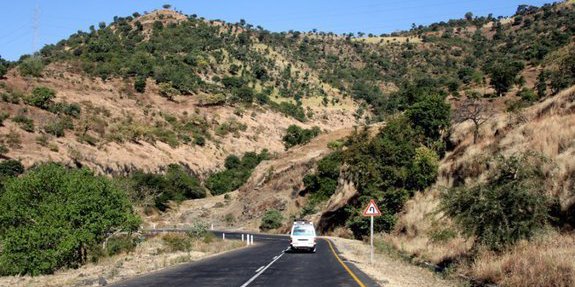 A world that hardly imagines us
This year you are embarking on your most extensive trip yet. Why did you decide to extend beyond the African continent to Europe?
Emmanuel Iduma: There are many important reasons but I'll give a banal one. We're extending this trip to Europe because our entire enterprise aims to disrupt maps and borders. When we say 'invisible borders,' we mean we can make the borders appear at any city of our choosing, and make them disappear as well. For this trip, we've chosen to imagine that Africa extends to Eastern Europe. The implications of this disruption will become very clear: it's expensive, defiant, intrepid, maybe even pointless. Yet, it isn't merely an exotic idea: Western Europe has always been part of Africa in colonial and socio-economic terms. The real disruption lies in drawing a tangible line from Nigeria to Eastern Europe. Our detours will lead us to the most revealing encounters. For instance what does it mean to be black in Sarajevo? We'll have to become the proverbial guinea pig, testing the waters, imagining ourselves as part of a world that hardly imagines us.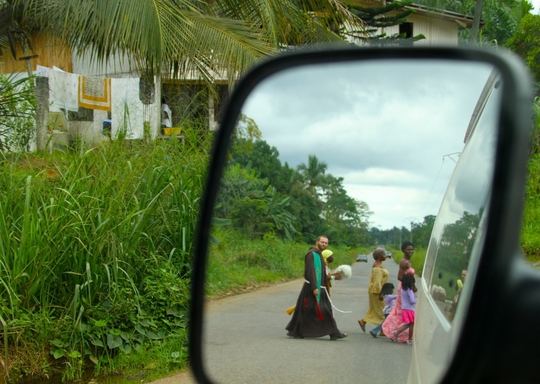 The saying is that "it's not about the destination but about the journey." Nevertheless, is there any particular significance behind your chosen departure and arrival points?
Emmanuel Iduma: Lagos represents the hurricane of change happening on the continent. Administratively, it's easy to begin there because we have our roots in the city. It really could be any city, but I think Lagos reminds us where we began, the sense of wonder and adventure that the first Nigerian participants had when they set out in 2009.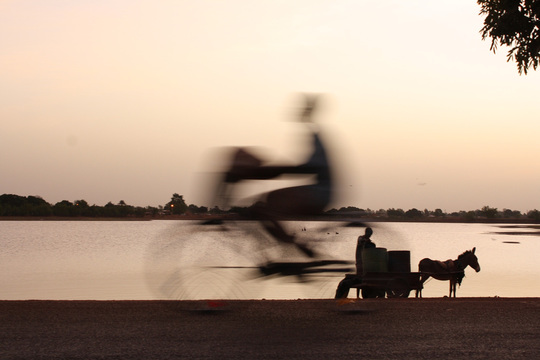 The participants in the 2014 edition of the trip are: photographers Emeka Okereke (Nigeria), Dawit L. Petros (Eritrea), Angus McKinnon (South Africa), writers Emmanuel Iduma (Nigeria), Lindokhule Nhlakanipho Nkosi (South Africa) and Renée Mboya (Kenya), graffiti artist Breeze Yoko (South Africa) and filmmaker Heba Yamin (Egypt).
To learn more about Invisible Borders or to support the upcoming edition of the road trip, check out the website at http://invisible-borders.com/ and the Facebook page at https://www.facebook.com/invisiblebordersproject.
Invisible Borders was featured in Al Jazeera's documentary series "The New African Photography" in spring 2013. Click here to watch the episode.
Lara Bourdin is ZAM Chronicle's arts editor.