Art for ZAM
This artwork was donated to ZAM as a gesture of support.
Ruan Hoffmann is a celebrated South African ceramics artist whose work has been displayed all over the world. While staying in Amsterdam, Hoffmann created, especially for ZAM, a limited edition series of 10 artworks. 8 artworks are currently available.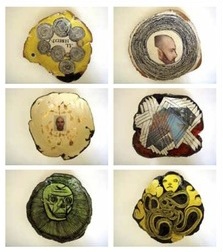 Specifications
Size: approximately 25x25cm
Material: Ceramics
Number of works: 10 (displayed works are currently available) 1 2 3 5 8 9
Price: €750 (including 21% VAT, but excluding shipping costs)
This email address is being protected from spambots. You need JavaScript enabled to view it.
Build Solidarity. Join ZAM.

Morphing the Stories of the Past

Tsoku Maela (1989, Lebowakgomo, South Africa) went to a film school with no intention to become an artist. When he started to make pictures, he found that the self-portraits he shot impacted positively on his manic depressions. Finally, he started writing as well. It all helps to better understand the world, to raise issues people fear to talk about and break through stigmas.